Increasing demand for food as a result of exponential population growth has prompted the agriculture and fishery sectors to improve efficiency so as to meet the needs for consumption. To mitigate impact of the Company's operations on the balance of nature and environment, we put our utmost efforts in sourcing our key agricultural raw materials in a responsible and sustainable manner in accordance with our
Sustainable Sourcing Policy and Supplier Guiding Principle
and our
Supply Chain ESG Management Approach
.
With the recognition that traceability systems can effectively help manage environmental and social risks in supply chains, we put every effort in sourcing our agricultural and marine raw materials from responsible and sustainable sources. We collaborate with the government agencies, the civil society, business networks and farmers to build capacity of the agricultural and industrial sectors despite the complexity and length of the supply chain.
Agricultural Raw Materials Traceability in 2020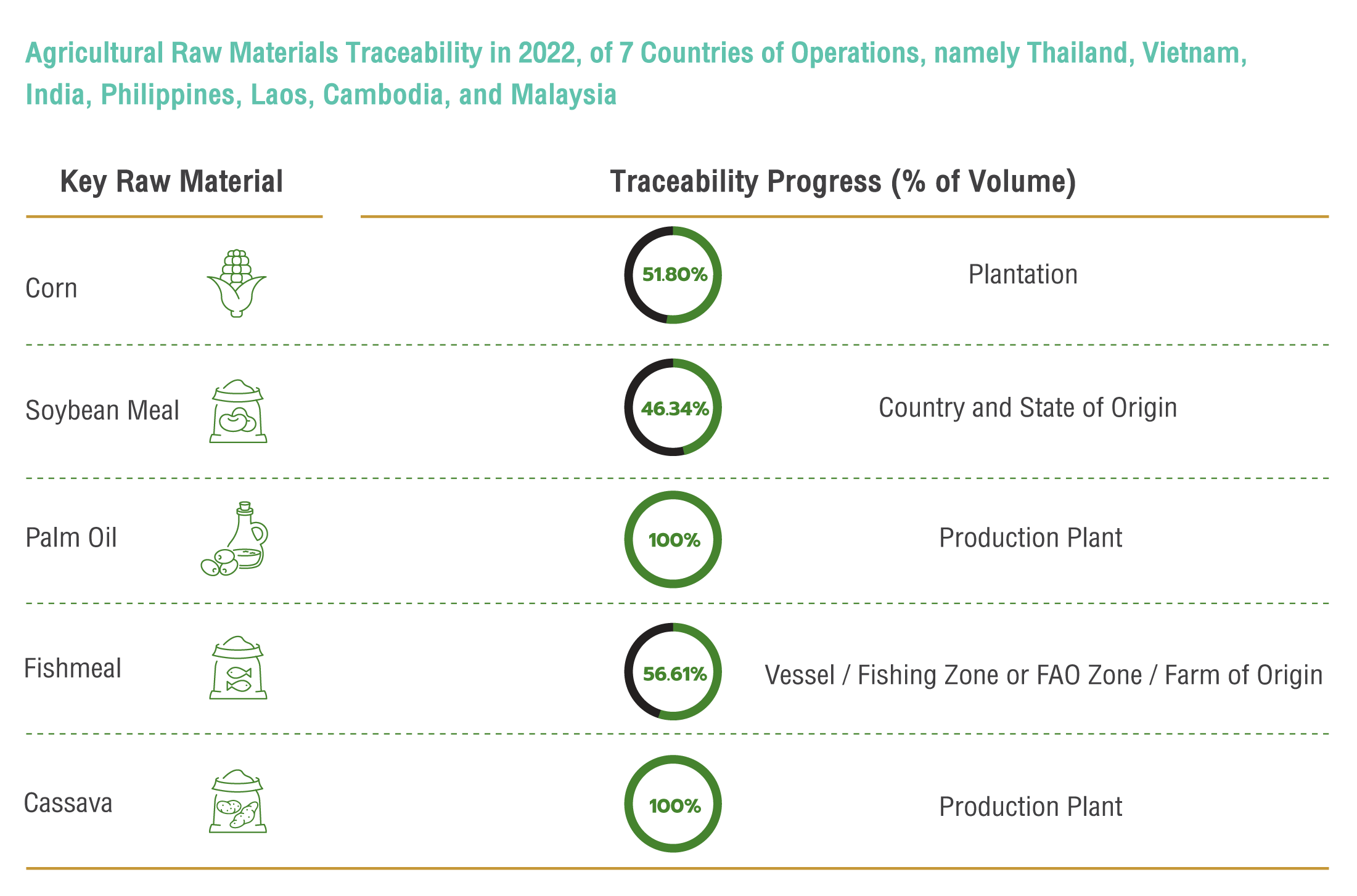 Responsible Sourcing of Corn for Animal Feed
The dust and haze situation in Thailand over the past few years has affected the health, especially respiratory system, of both humans and animals. Corn farming, one of the causes of this problem, has been under the public attention over these years. As a major animal feed producer, we have been striving to mitigate the impact of corn sourcing as it is our responsibility to operate in a sustainable manner. We are driving this through our stringent policy to source corn for animal feed from business partners and farmers whose corn is grown on land with legal title deed and registered with us on
our online corn traceability system
. We also promote sustainable corn farming among famers to mitigate long-term impacts on the society.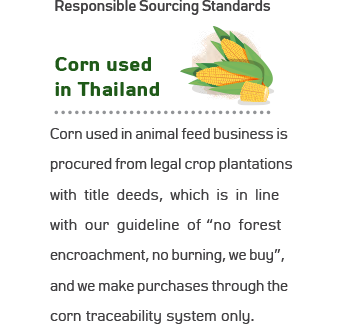 Traceability System of Corn for Animal Feed
We began to develop the corn traceability system with the use of the mass balance model since 2014. The system underwent the participation from various stakeholder groups, for example, business partners, farmers, academia, the government and civil society.
We organized workshops for all corn suppliers in order to create understanding about how to use the system. In addition, we also organized a workshop in 2015 prior to the official launch of the traceability system on 1 January 2016. We successfully sourced all of our corn for animal feed through the traceability system in 2016.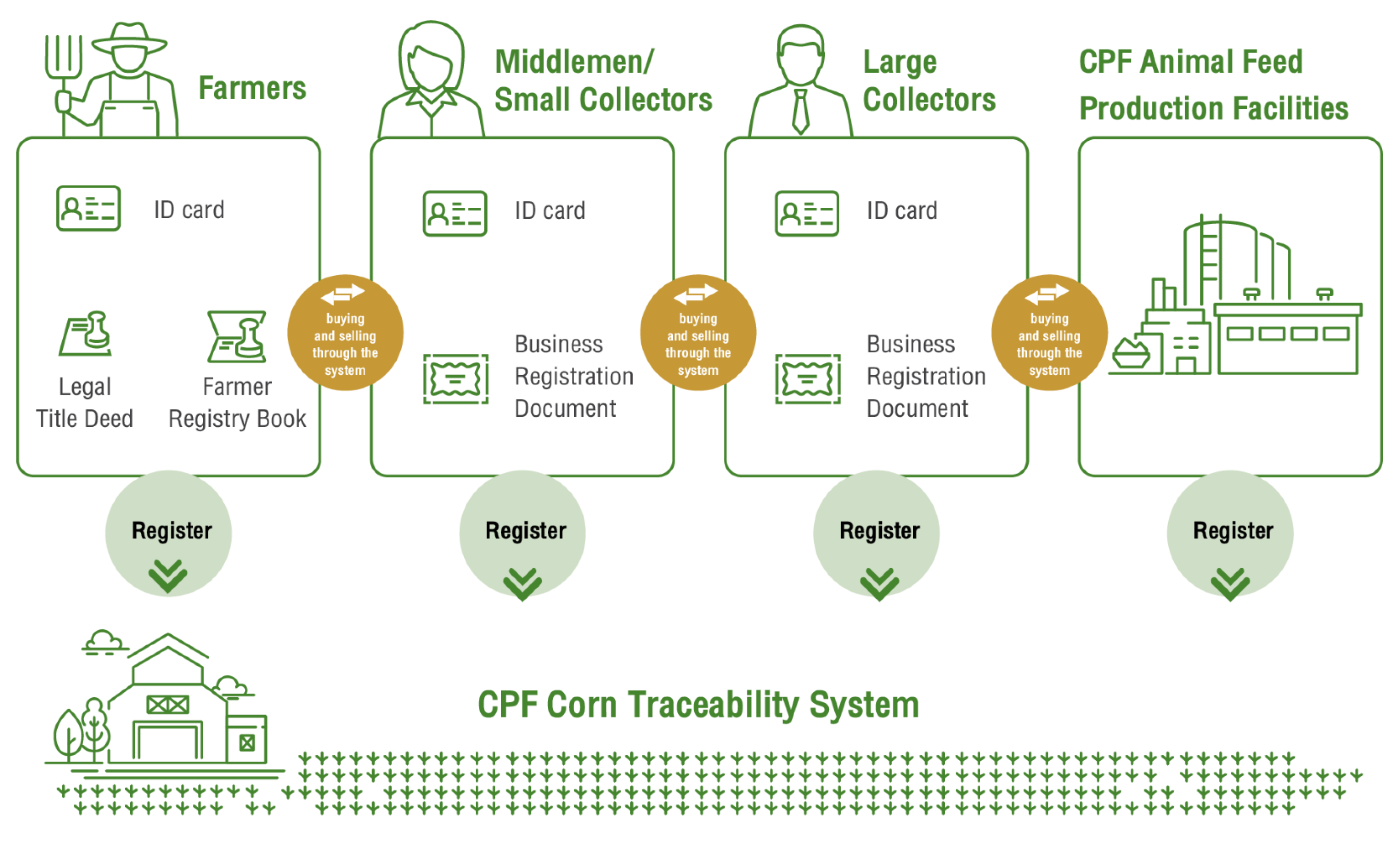 Responsible Sourcing of Fishmeal
It is important to note that the Company is a producer of farmed shrimp and shrimp feed. We have never been an operator nor owner of any fishing vessel and we do not produce fishmeal. We buy fishmeal to use as an ingredient in the production of our shrimp feed. We have not used any resources from the sea, just only fishmeal as above mentioned.
However, as one of the world's biggest shrimp feed producers, we are committed to supporting and promoting sustainability in the seafood industry to address various concerns including marine resource degradation, unfair labor practices, human rights violation and impacts of illegal fishing on the community.
1. Fishmeal made from fish by-product e.g. surimi production facilities, canned tuna production facilitie, and fish ball production facilities; and

2. Fishmeal made from by-catch. Nowadays, there is an internationally accepted standard on sustainability and traceability of fishmeal, namely MarinTrust (IFFO RS) Chain of Custody (MarinTrust CoC) certified by the International Fishmeal and Fish Oil Organization (IFFO).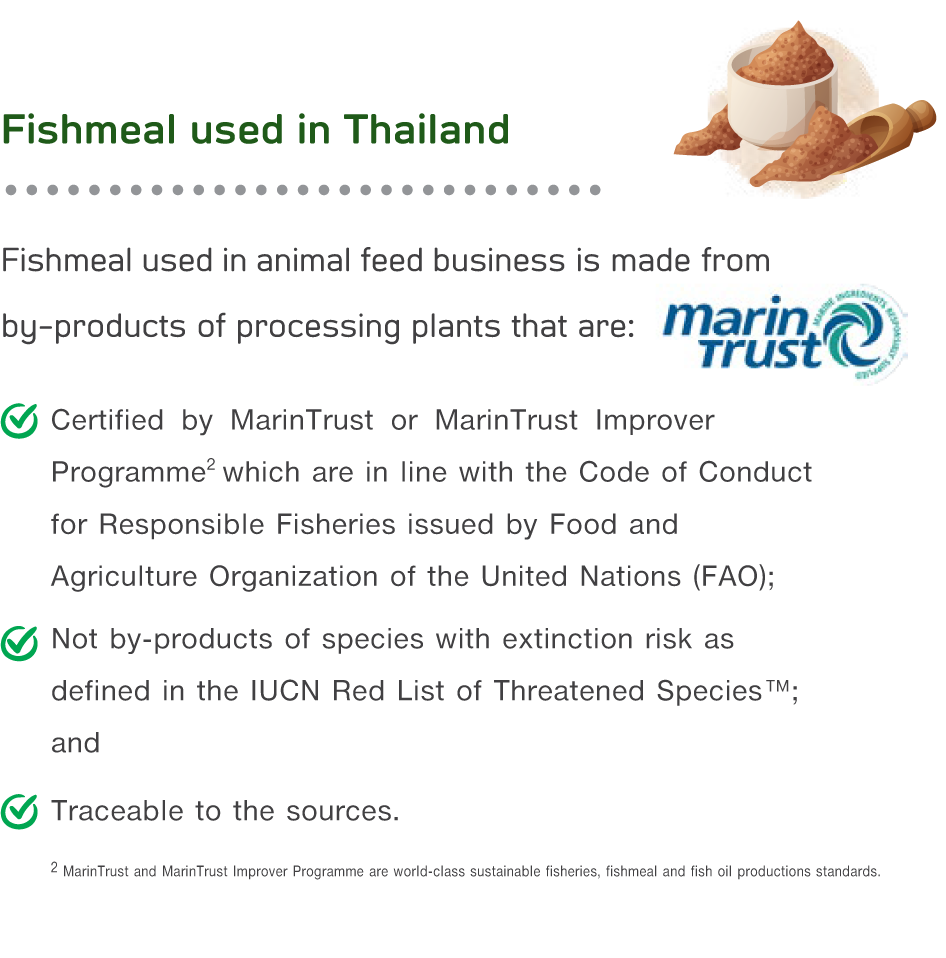 Responsible Soybean Sourcing
With the collaboration from our business partners, We have been sourcing soybean through the piloted Sustainable Soybean Sourcing System. The system has been certified under the U.S. Soy Sustainability Assurance Protocol (SSAP) since 2016.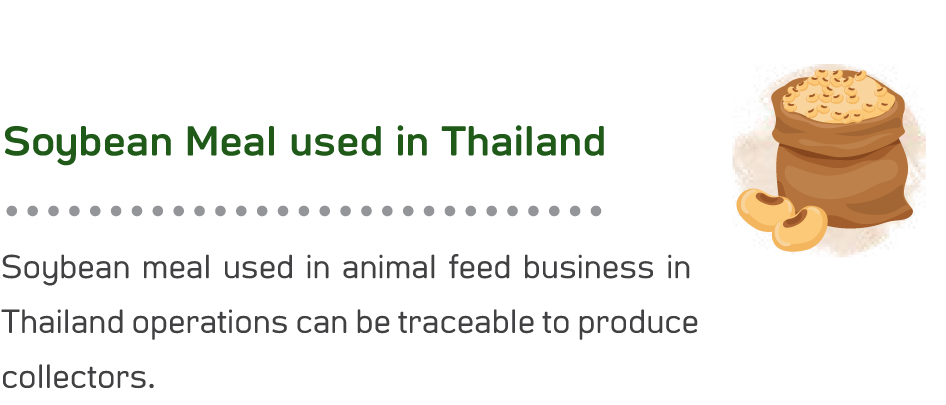 Responsible Palm Oil Sourcing
Recognizing the importance of eliminating forest encroachment from palm oil plantations, which supply us with one of the key raw materials for animal feed production, the Company is committed to sourcing palm oil from responsible and systematically traceable sources or sources in line with the international standards, namely the Roundtable on Sustainable Palm Oil (RSPO).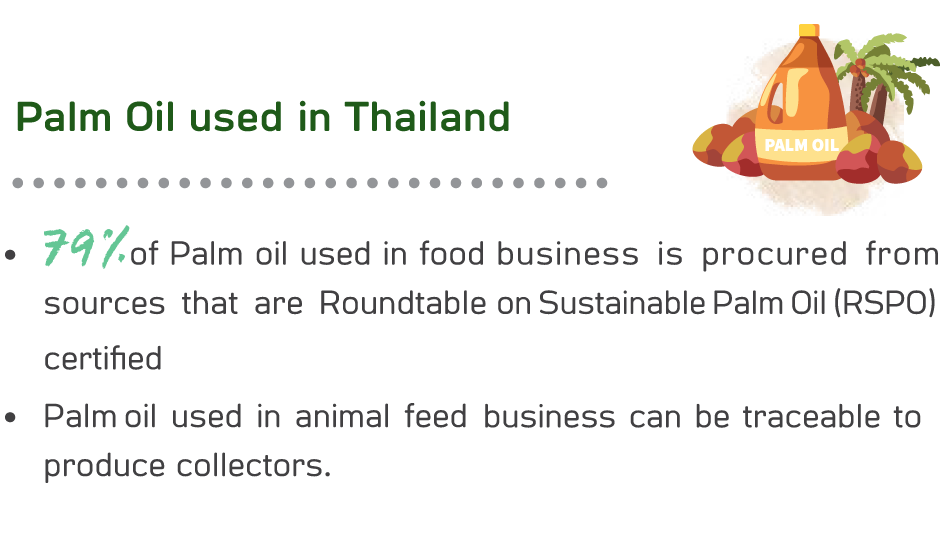 Responsible Cassava Sourcing