We promote energy efficiency, increase the use of renewable energy and support the management and valorization of waste/wastewater in our feed, farm-processing, and food business in order to reduce greenhouse gas emissions. At the same time, we also promote the increase in green areas in our operations to help absorb carbon dioxide. We, therefore, have set the targets to reduce direct and indirect greenhouse gas emissions and energy consumption per production unit by 25% and 15%, respectively by 2025, compared to those in the base year 2015.
Greenhouse Gas Emissions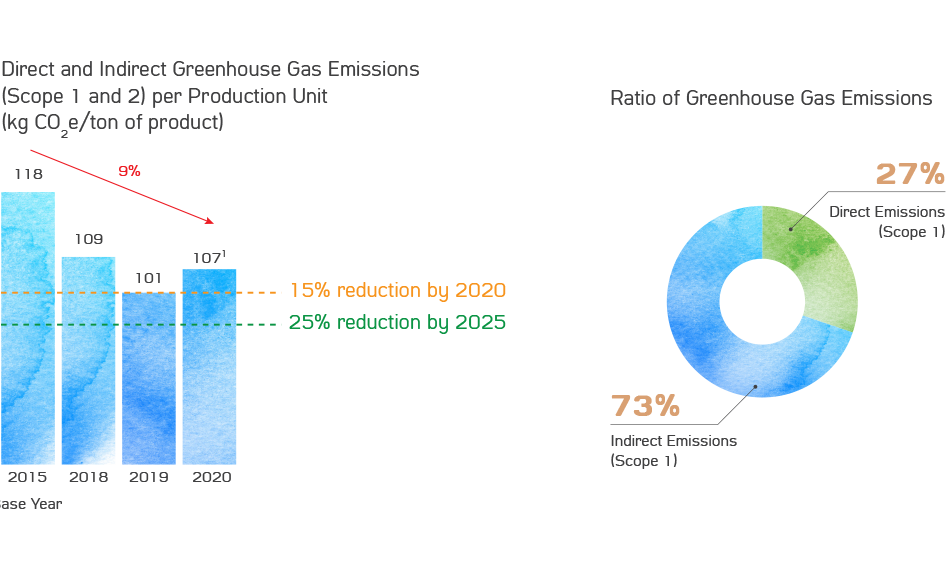 Due to coefficient used for calculating greenhouse gas emissions from electricity consumption determined by the Energy Policy and Planning Office (EPPO) in 2020 was higher than the coefficient used in 2019, and CPF had increased the ready-to-eat foods in product portfolio which have higher energy consumption per unit of production than feed and farm and processing businesses.
Energy Consumption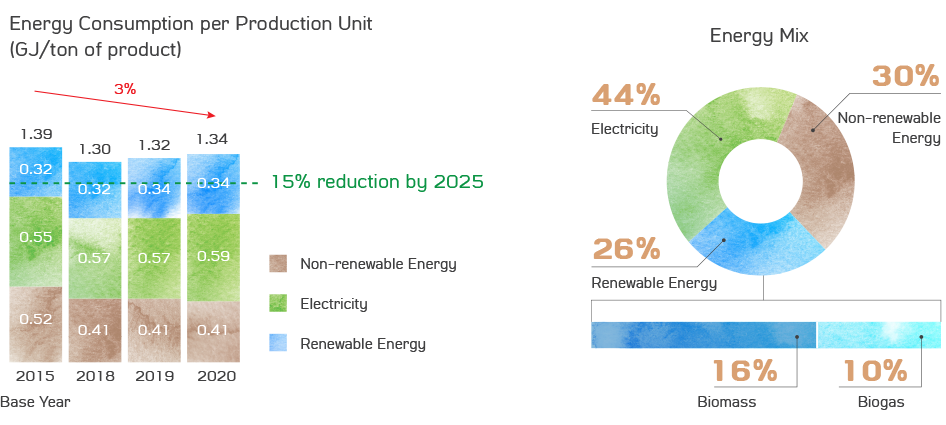 Promoting Renewable Energy
Electricity Generation from Biogas Project: we implement the "Green Farm" project in our own and contract farmers' swine farms by transforming wastewater and swine manure into biogas through a wastewater treatment system. Biogas is a by-product that can be used to power the farms, replacing purchased electricity from external sources and help reduce greenhouse gas emissions. The success of the "Green Farm" Project in swine business has been further expanded to the layer business since 2017.

Biomass Energy for Steam Boilers: We attempt to continuously increase renewable energy ratio in the production process to replace coal consumption. We have set the target to end the use of coal as fuel for Thailand operation in 2022 and also plan to expand it to overseas operation.

CPF Solar Rooftop Project: The Company signed a Memorandum of Understanding (MOU) with Gunkul Engineering Public Co., Ltd. on the "CPF Solar Rooftop" Project, which aims to generate electricity from solar power by installing rooftop solar panels on the roofs of livestock and aquaculture feed mills, animal farms, food processing plants, ready-to-eat production plants, and distribution centers.
Environmentally-friendly Swine Feed Innovation
It is widely known that pig manure has a nitrogen compound that generates nitrous oxide, one of the greenhouse gases which are the causes of global warming. To mitigate the impact right at the source, in 2017 we invested in the research and development of "green swine feed" to reduce the level of nitrogen during excretion (N-excretion) by using our feed production technique together with the use of synthetic amino acids produced using biotechnology.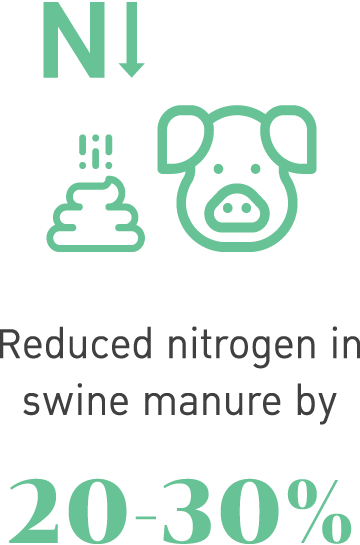 Our green swine feed innovation helps reduce the level of nitrogen in pig manure by 20-30% and helps reduce cost without affecting the quality of meat.
Activities Promoting Climate Change Awareness
Carbon Neutral Event

In 2020, in cooperation with Thailand Greenhouse Gas Management Organization (Public Organization), we organized the CPF Run for Charity at Fort Adisorn at the Royal Thai Army Cavalry Center of Adisorn Military Camp in Saraburi province. There were over 2,000 runners participating in the activity which was arranged in the form of net zero carbon emissions or "Carbon Neutral Event" to raise all sectors' awareness on responsibility for nature conservation and contribute to sustainable mitigation of global warming. CPF has made efforts to minimize the event's greenhouse gas emissions. Our efforts included using running shirts made from PET bottles, using biodegradable packaging instead of plastic and foam packaging, and making best use of resources. From this activity, CPF was able to offset a total of 72 tons of carbon CO2 equivalent.

Carbon Neutral Man

CPF created employee awareness on global conservation by organizing the "Carbon Neutral Man" or carbon offsetting for individuals which was approved by Thailand Greenhouse Gas Management Organization (Public Organization). CPF's employees jointly offset their greenhouse gas emissions in everyday life to achieve net zero emissions through carbon offset of 108 tons of CO2 equivalent.