Water Management within the Production Process
We emphasize appropriate water use at every process and manage data on water consumption for the analysis and planning of water management. We invest in research and development and utilize modern technology throughout our production process to help reduce water consumption and optimize water use, especially in our farm business which is the most water-intensive. We, therefore, have set the targets to reduce water withdrawal per production unit by 30% by 2025, compared to those in the base year 2015.
Water Withdrawal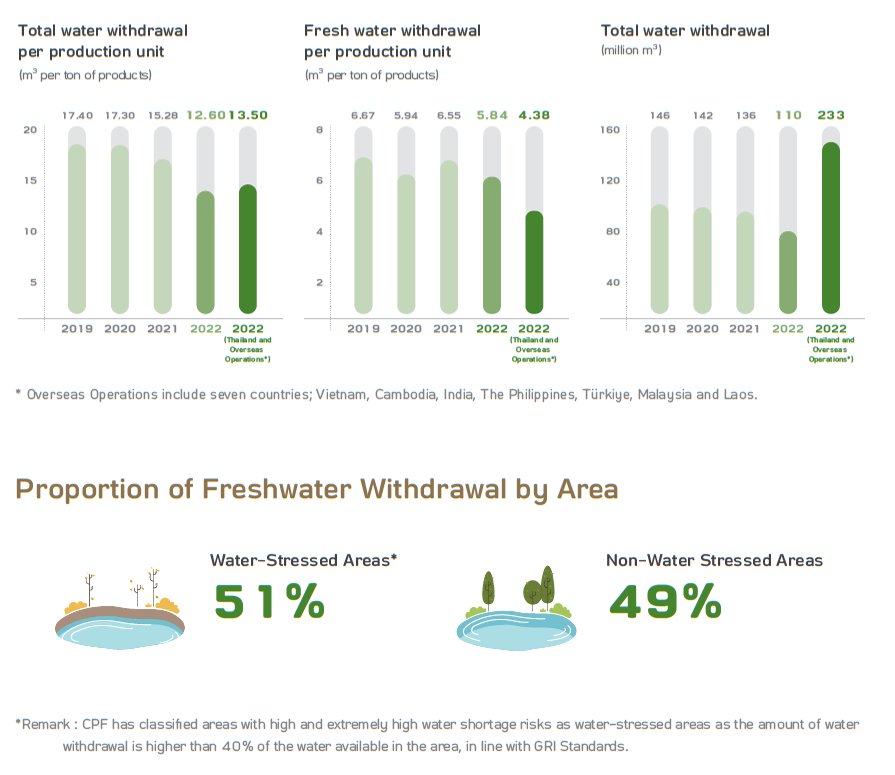 Replacing Water Chillers with Air Chillers
In 2011, we were the first in Thailand to replace water chillers with air chillers at our Korat Chicken Processing Facility to reduce the temperature of chicken carcasses. It can reduce water consumption by over than 426,000 cubic meters per year and reduce cost by THB 9 million per year.
Sharing Bio-fertilizer Water with Communities Project
The swine farming business is committed to managing its water use in ways that would deliver maximum benefit and decrease the impacts of water shortages on communities around our operations. Since 2004, swine farms across Thailand have implemented the Sharing Bio-fertilizer Water with Communities Project with communities for agricultural use, such as to grow corn, napier grass, sugarcane, cassava and longan. The water distributed to farmers has been treated by the biogas system and is of legally standard quality. It also contains nutrients suitable for growing crops, such as potassium, nitrogen and phosphorus. In 2019, the Company distributed more than 1.3 million cubic meters of bio-fertilizer water to communities around our swine farms, which also helped more than 100 farmers, covering the areas of over 3,650 rai (560 hectares), to reduce fertilizer costs by over THB 1.5 million.