We implemented the "Circular Economy" concept in driving our business towards sustainability. We put an emphasis on optimizing resource consumption, minimizing waste generation and maximizing resource recovery throughout our feed, farm, and food production.
From our feedmills, we modified boilers to be able to use biomass from agricultural residues to substitute fossil fuel consumption. In 2018, our feed business in Thailand used renewable energy accounted for 52% of total energy consumption. Moreover, The Company has set a goal to end the use of coal as fuel for Thailand operation in 2022 and also plans to expand it to overseas operation.
At our animal farm and food processing plant, waste and wastewater are turned into biogas for electricity generation for our operations. In 2018, our farm and food businesses in Thailand used renewable energy accounted for 15% and 1% of total energy consumption, respectively.
In addition, animal manure has been turned into compost used in agricultural sector. The Company also shares bio-fertilizer water with communities for agricultural use which helps to reduce the use of chemical fertilizer. Read more details
here
Furthermore, we recycle used vegetable oil from our food processing plant as raw material for biodiesel production. This helps reduce dependency on fossil fuel and prevent the use of oil from being reused in the food production.
As we try to minimize waste generation and maximize waste recovery, resulted that only 3% of all generated waste is disposed by incineration and landfill.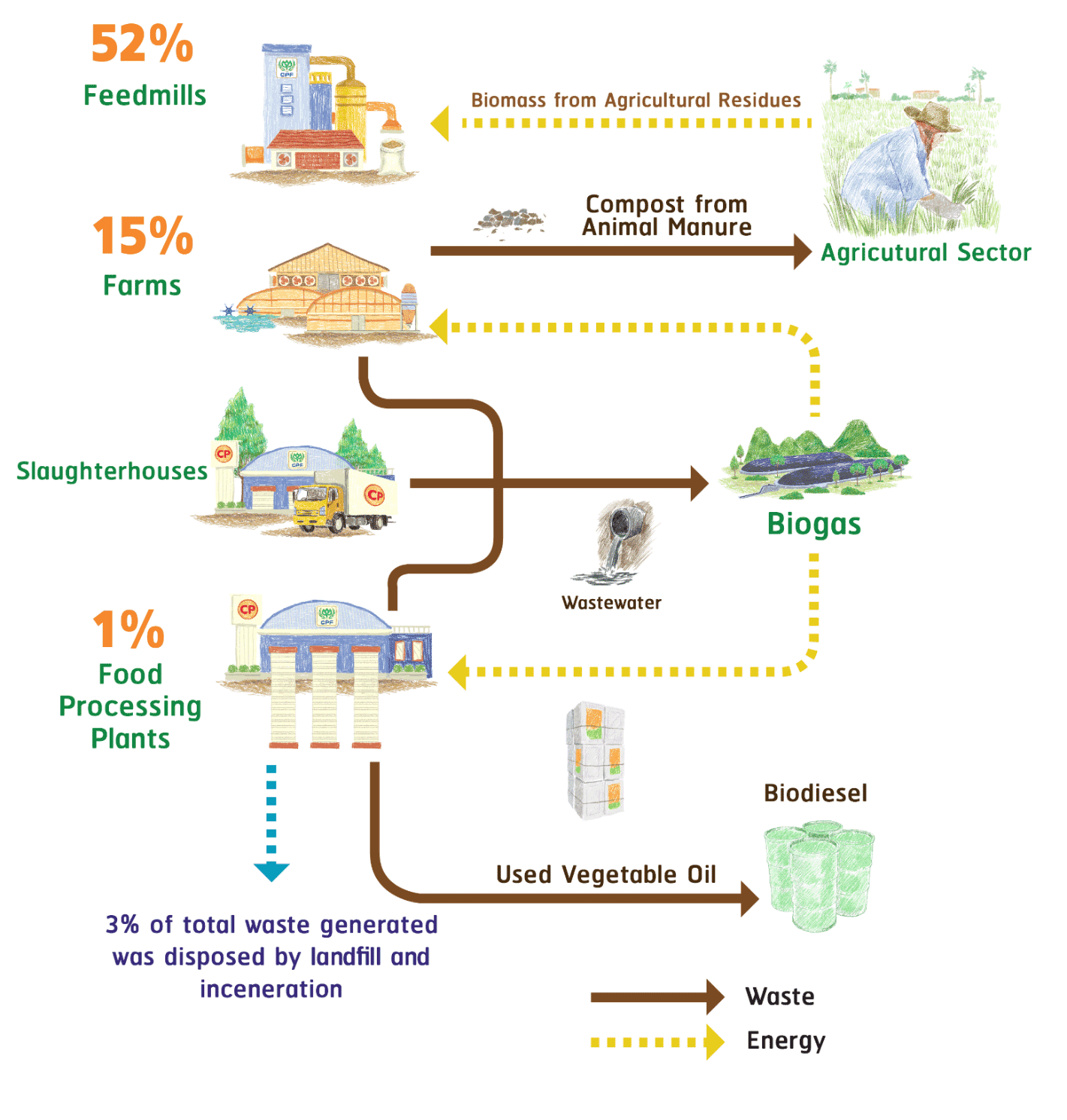 The Layer Complex Project
Since 2017, an important change occurred with our layer business, emerging from the concept of integrated chicken egg production and improving the prevention of external diseases according to the biosecurity principle. The Company began consolidating the farms of pullets and layer chickens, an egg sorting plant, and an egg processing plant into one single area, becoming the "The Layer Complex under the Zero Waste Concept." The Complex was developed by integrating the circular economy concept into the production process, from the design of the production process, to renovating machinery using environmentally-friendly technologies and innovations, production planning, and managing resources for optimum efficiency. These measures will help us to minimize waste generation, and environmental impacts, as well as to build up trust to communities and stakeholders. The first pilot complex was built in Chana District, Songkhla Province. The Company was also able to use animal manure and wastewater to produce biogas, where it is used to generate and supply electricity to the Complex that aims to 100% substitute from purchased electricity in the future. In 2018, the electricity generated from biogas was replaced from purchased electricity by 80%, saved costs more than 23 million Baht, and reduced up to 26,000 tons CO2e of greenhouse gas emissions. Owing to the success of the model Layer Complex, the Company plans to expand the Project to six more locations covering all regions of Thailand, which is expected to be completed by 2019.