We promote energy efficiency, increase the use of renewable energy, and support the management and valorization of waste/wastewater in our feed, farm, and food business in order to reduce greenhouse gas emissions. At the same time, we also promote the increase of green areas in our operations to help absorb carbon dioxide.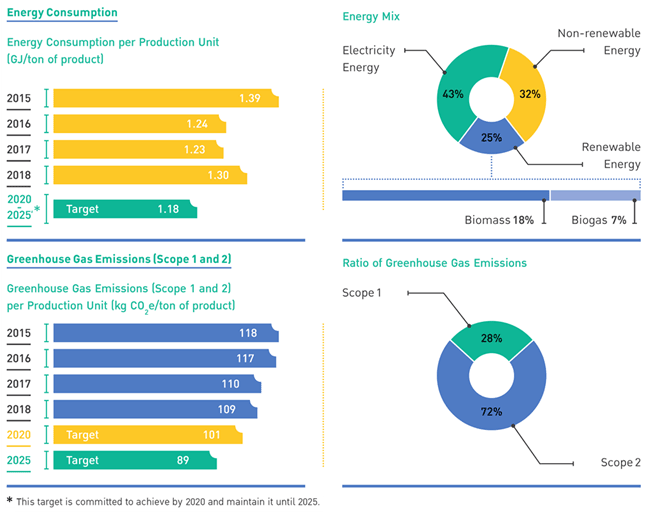 In 2018, the energy consumption per production unit increased by 5% compared to 2017, due to increase in production of cooked chicken products e.g., fried and grilled chicken. However, the scope 1 GHG emissions per production unit, decreased by 1% compared to 2017. This was resulted from the Company increased the ratio of renewable energy consumption from 21% of the total energy consumption in 2017 to 25% and the following projects;
Renewable Energy Promotion Projects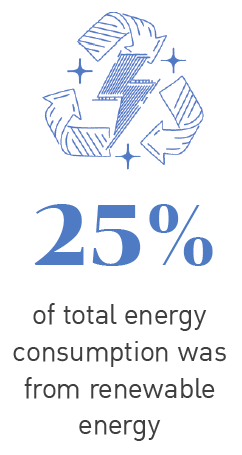 Electricity Generation from Biogas Project: Stemming from the success of the "Green Farm" Project in swine business, which reduced greenhouse gas emissions by transforming waste to energy, the concept has been further expanded to the layer business since 2017. In 2018, electricity generated from biogas was substituted of purchased electricity up to 41 million kilowatts per hour (kWh). It amounted to over 163 million Baht in cost savings and reduced GHG emissions up to 322,000 tons CO2e.

Biomass Energy for Steam Boiler Project: We attempt to increase renewable energy use ratio in the livestock and aquaculture feed businesses continuously. In 2018, steam boiler combustion chamber with ten tons of steam capacity in Ratchaburi Feed Production Plant was adjusted by changing its fuel source from coal to biomass. As a result, the plant is able to save 8 million Baht per year in costs and reduce GHG emissions over 11,000 tons CO2e per year.

CPF Solar Rooftop Project: The Company signed a Memorandum of Understanding (MOU) with Gunkul Engineering Public Co., Ltd. on the "CPF Solar Rooftop" Project, which aims to generate more than 40 Megawatts of electricity from solar power by installing rooftop solar panels on the roof of 34 plants, consisting of livestock and aquaculture feed mills, food processing plants, and ready-to-eat production plants. In total, the Project is estimated to help reduce GHG emissions by 28,000 tons CO2e per year, and substituted for 53 million kWh of purchased electricity per year. The Company plans to install the solar PV panels at the beginning of 2019 and expects to be completed within the same year.
Efficiency Improvement of Large-scale Cooling and Air Conditioning System Projects
The swine, broiler, layer, and ready-to-eat food businesses, in collabouration with the Department of Alternative Energy Development and Efficiency launched a total of 32 projects geared towards improving the energy efficiency of large-scale cooling and air conditioning systems. The projects are able to reduce annual electricity consumption by up to 8.5 million kWh, saved more than 29 million Baht per year, and reduced GHG emissions by 4,600 tons CO2e per year.
Environmentally-friendly Swine Feed Innovation Project.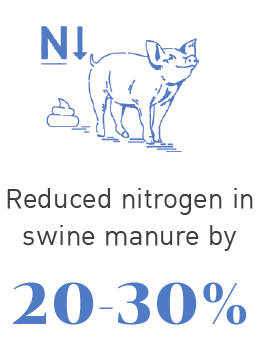 It is widely known that pig manure has a nitrogen compound that generates nitrous oxide, one of the greenhouse gas causing global warming. To mitigate the impact right at the source, in 2017 we invested in the research and development of "green swine feed" to reduce the level of nitrogen during excretion (N-excretion) by using our feed production technique together with the use of synthetic amino acids which was produced by using biotechnology.
Our green swine feed innovation helps reduce the level of nitrogen in pig manure by 20-30% and helps reduce cost without affecting the quality of meat.
In 2018, the Environmentally-friendly Swine Feed Project was able to reduce the quantity of nitrogen in swine manure by 20-30%, equivalent to a reduction of approximately 90 tons of nitrous oxide emissions, or 23,700 tons CO2e in Thailand operations. The Company expanded the implementation of the Project to its swine feed production businesses in seven countries: Laos, Cambodia, Vietnam, Philippines, China, Taiwan, and Russia, which reduced GHG emissions by more than 41,000 tons CO2e.