We do not only pay attention to the quality, safety, and nutrition of our products, but we also aim to protect the environment by making our production processes and resource use more environmentally friendly.
The First to Implement Carbon Footprint Project in Asia
We were the first company in Asia to begin our "Carbon Footprint Project" back in 2008. At present, our chicken, shrimp, pork and milk have been registered and certified Carbon Footprint Label by Thailand Greenhouse Gas Management Organization (Public Organization) (TGO).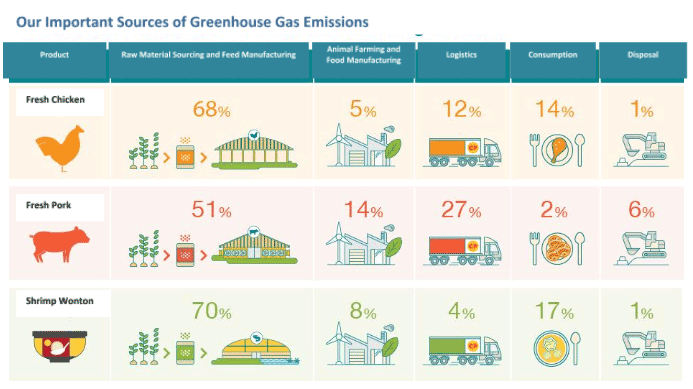 The World's First Sustainable Chicken Products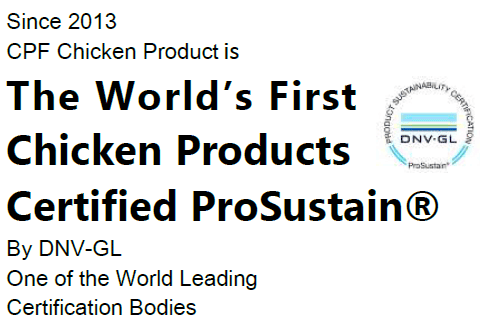 In 2009, we began the "CPF Product Sustainability" project which applied the concept of Product Life Cycle Assessment covering our production process from raw material sourcing, feed production, animal farming, and food processing following the ISO 14040 and ISO 14044. We also applied the Eco-Efficiency Analysis – the assessment of cost efficiency and the environmental and social impacts of products. Since 2013, over 700 of our chicken products have been awarded ProSustain® certification by the DNV-GL, one of the world's leading certification bodies for product sustainability. We were the first company with sustainable chicken products.
The First Shrimp Product in Thailand to be Certified Carbon Footprint Reduction
In 2015, our Shrimp wonton, which was the first Thai shrimp product that received the Carbon Footprint Reduction from Thailand Greenhouse Gas Management Organization (TGO.), which reduce 23% GHG emissions.
At present, CP raw product received this label raw chicken product has 50% lower carbon emissions than other Thai chicken manufacturers.