We emphasize appropriate water use at every process and manage data on water consumption for the analysis and planning of water management. We invest in research and development and utilize modern technology throughout our production process to help reduce water consumption and optimize water use, especially in our farm business which is the most water-intensive.
In 2018, we reduced the water withdrawal per production unit by 32% compared to the base year 2015. This was due to the fact that our aquaculture business, continuously develop the nursing method in the shrimp farming business by adjusting proper density of shrimp and increasing the pumped air rate in nursing pond, and also reusing treated water.
In addition, we recycle treated water in our non-production processes for purposes such as watering plants in the green areas within our operations. This has reduced the amount of water withdrawals from external water sources by 28 million m3, or 18% of total water withdrawal.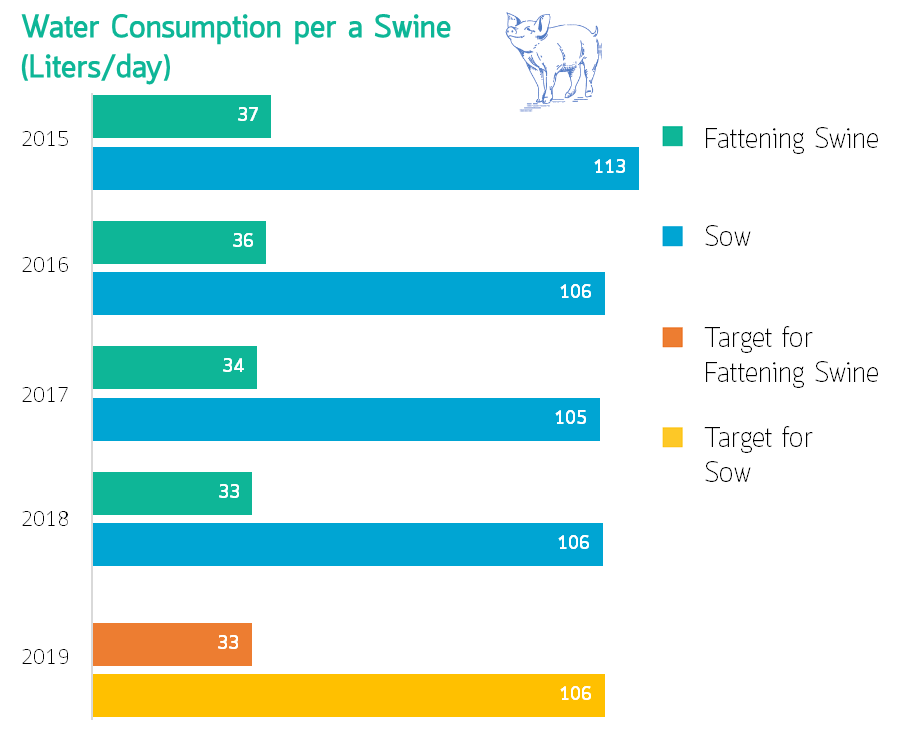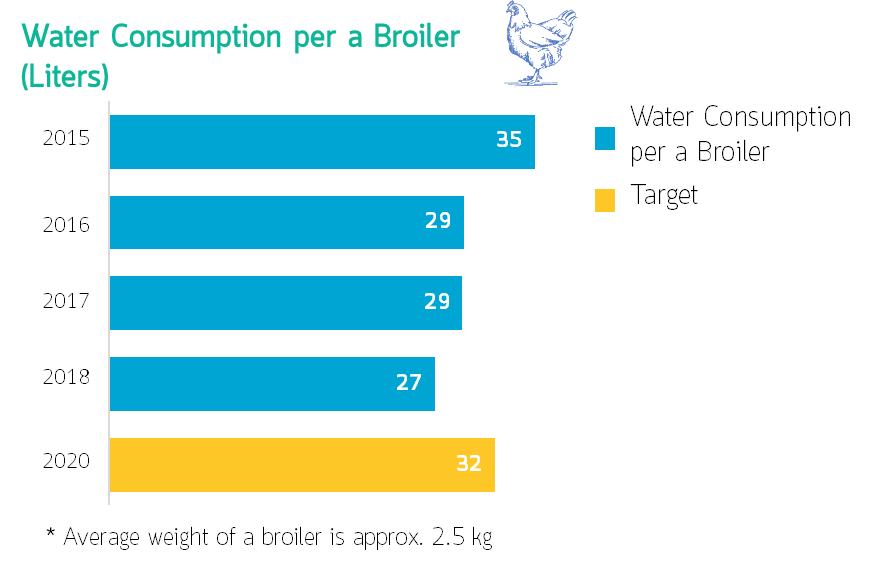 Replacing Water Chiller with Air Chiller
In 2011, we were the first in Thailand to replace water chiller with air chiller at our Korat Chicken Processing Facility to reduce the temperature of chicken carcasses. This helped us to reduce water consumption by more than 521,400 m3 and reduce energy consumption by 1.82 million MJ, equals the reduction of GHG emissions by 3,400 tons of CO2e.
Water Scarcity Risk Assessment
We recognize the importance of water resource to the continuity of our integrated agro-industrial and food business and are well aware of frequent water scarcity situation that tends to worsen continually. We carefully selected operational sites and managed possible risks to basic public utilities. This is also done simultaneously with the promotion and development of efficient water consumption.
In 2018, an assessment of the Company's operational sites in Thailand found 0.9% of the operational sites were located in extreme water scarcity areas and its suppliers' operational sites. Specifically those of water-intensive businesses, revealed 25% of the operational sites located in water scarcity areas. The assessment was conducted by WBCSD's Global Water ToolTM. In response to this, we have water risk-related management plan in place, along with engaging with communities to listen to their concerns regarding water consumption. In addition, a staff has been allocated to provide knowledge and to support suppliers in setting up a water scarcity risk response plan. All of these efforts not only reduce the operational risks of both the Company's and the suppliers', but can also reduce impacts that may incur to the surrounding communities when water is scarce, which could happen at present or in the future.