The Company helped children and youth improve their access to food by providing them knowledge and skills on food production and/or on consumption of safe and nutritious food with the aim to address malnutrition.
Since 1989, we have been working in partnership with the Rural Lives' Development Foundation under the support from CP Group and our employees together with other partners on the "Raising Layers for Students' Lunch Project" to help improve access to protein sources among the youth in remote areas.
In 2006, we began the "Open the World of Learning Project" to enhance knowledge and understanding of children and youth nationwide on the production of quality, safe and nutritious food through experience in the Company's food processing facilities.
In 2015, we strengthened our commitment in nutritional food production and consumption by collaborating with the Office of the Basic Education Commission, Ministry of Education to implement the "CPF Growing Happiness, Growing Futures Project" which helped improve nutrition among students around our factories and farms.
To date, we have supported more than 369,00 children and youth to have access to knowledge and skills on food production and/or on consumption of safe and nutritious food. This helped reduce the number of malnourished students from 15% in 2015 to 11% in 2019.
Case study: Good Deeds Company (Un) Limited
Ban Mai Samrong School in Lad Buakhao Sub-district, Sikhio District, Nakhon Ratchasima Province has participated in the CPF Growing Happiness, Growing Futures Project since 2014. They have been successful in reducing the number of students with malnutrition from 7.6% in 2015 to zero in 2016.
Students at the school built on their knowledge by establishing the Good Deeds Company (Un)Limited which has two subsidiaries: Huahed (mushroom) Student Company, and Paktip (vegetable) Company. The companies were established to provide an opportunity for students to be business owners, develop team working skills, and learn how to do income and outcome report by themselves. Mushroom and vegetable that students and teachers grow are used to cook for school lunch. The remaining will be processed to be food products such as dry shredded oyster mushroom, herbal mushroom, and fermented mushroom, and sold within the community. This enables students to learn, gain experience, and use their knowledge to add on to their future job. Therefore, 80% of the graduate students choose to study at Nakhon Ratchasima College of Agriculture and Technology after completing Grade 9 at the school.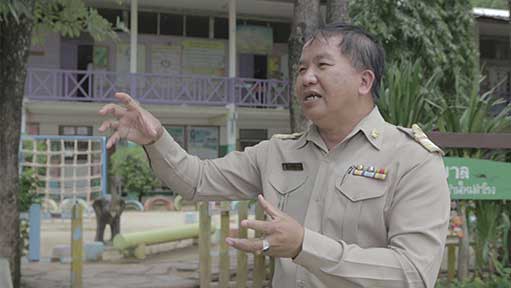 "After participating the project, none of our students have malnutrition. As a teacher, I am very glad. I also want to educate and support the students with other experiences so they can learn, be trained about responsibility, and have some job skills. Knowledge and skills like these cannot be developed in a day, they need some time to cultivate and flourish. All the teachers want to take part in assisting the students to learn, equip them with some job skills, and reach their goals."
Mr. Nattapong Tohsoongnoen
Ban Mai Samrong School Director