The Company supports the management of the problem of Antimicrobial Resistance (AMR), which is considered an urgent agenda at the United Nations under the "One Health" initiative. This initiative focuses on driving multidisciplinary collabourative efforts from all sectors at all levels to bring about holistic good health for humans, animals, and the environment.
Under this commitment, the Company announced our
Global Vision for Antimicrobial Use Stewardship in Food Animals
in 2017. We are determined to produce safe and quality foods that adhere to sustainability principles through the responsible and prudent use of antibiotics in both our own farms and those under the Contract Farming Scheme. According to that, the farming practices must be
free from human-only antibiotics,

free from shared-class antibiotics which is important in human medicine with the purpose of growth promotor, and

free from hormones with the purpose of growth promotor.
Meanwhile, the antibiotics should only be employed under veterinary oversight for therapeutic uses without compromising on animal welfare principles. Additionally, all medicines that are used by the Company must be permitted by the Food and Drug Administration of the Ministry of Public Health, and the Department of Livestock Development, Ministry of Agriculture and Cooperatives of Thailand.
Furthermore, the Company has distinct policy and guideline of antibiotics uses for the purpose of therapy in the broiler and swine businesses. They must not be included in the "Highest Priority Critically Important Antimicrobials (HPCIAs)" group which is categorized for human-only antibiotics or shared-class antibiotics, as specified by WHO in their 5th revision of the Critically Important Antimicrobials for Human Medicine. Besides, the Company has eliminated the use of Colistin in the broiler and swine businesses since 2015 and 2017, respectively.
Other than that, we are committed to reducing our use of antibiotics by partnering with the Department of Microbiology, Faculty of Medicine, Mahidol University and the Department of Microbiology, Faculty of Veterinary Science, Chulalongkorn University to study antimicrobial resistant strains within the Company's swine farms from 2016 to 2018. A total of three research projects were carried out, as follows:
Study of Antimicrobial Resistance Genes in swine farms that employ different forms of antibiotics uses

Study of the Mobilized Colistin Resistance (MCR-1) gene in swine farms

Study of antibiotic resistance based on all types of probiotic bacteria used in swine farms
We also encourage the testing of local herbs as remedies for swine illnesses. Examples include the White Siris leaf, which is highlighted in the traditional knowledge of local communities for treating diarrhea in piglets, and the use of probiotics (or good bacteria) to treat diarrhea in swine.
As a result of our commitment to reduce, avoid, and eliminate the use of antibiotics, in 2018, our broiler integrated business in Minburi achieved the international-level certification for chickens "Raised without Antibiotics" (RWA) from the NSF15 in the United States of America. The certification verified that our Minburi operations did not use antibiotics throughout the entire of production processes, from broiler chicken hatchery, broiler chicken farm, slaughterhouse to processing plant.
In our layer business, the Company applies probiotics and natural extracts to recover injured or ill layer chicken, resulting in free of antibiotics in the layer chicken farms belonging to the Company and to the farmers under our Contract Farming Scheme.
For shrimp larvae hatchery and nursery business, there is currently no need the application of eyestalk ablation on female shrimp to induce reproduction, as we have applied biotechnological innovation to allow female shrimps spawning–a much better alternative to eyestalk ablation.
Finally, for the shrimp farming business, the Company uses probiotics for health benefits of shrimp as well as water quality improvement, thus eliminating the needs of antibiotics.

Benja Chicken
"Benja Chicken" is the first raw chicken product in the world in which the chickens are raised with brown rice. This is due to the Company's belief that, "If the chickens eat well, they will be in good health."
Come from excellent, healthy, and non-GMO breeds.

Raised according to animal welfare principles: cage-free, a method of large-scale farming for disease prevention wherein the air and temperature are controlled; whereas the chickens are fed according to the needs of nutrition as appropriate to their life phase, provided with clean drinking water from a special filtered system, and provided with regular health checks.

Received nutritious food from brown rice abundant in Vitamins B3, 6, 9, and Gaba, which contributes to the chickens' strong muscles. This results in the chicken meat that has a texture and taste which differs from widely available chicken meat, in that it is juicier by 55% than other chicken meat and tender and aromatic.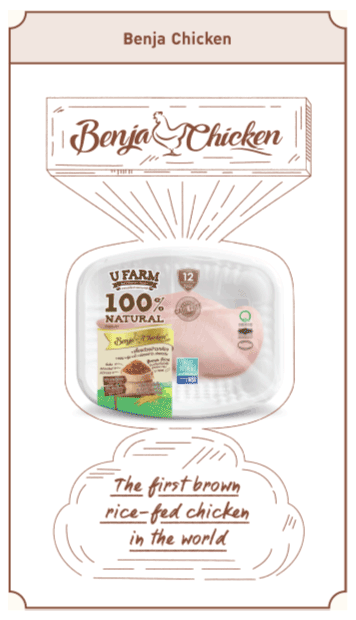 By raising the chickens through these careful means, the result is that our Benja Chickens are healthy and strong. They grow appropriately according to their age, are disease-free, and do not require antibiotics throughout their entire lifespan. This has led to an NSF certification for the product as being 100% free from antibiotics, and is the origin of the phrase, "Brown rice-fed, nice aroma, tender, juicy, safe and chemical free."