Despite the business growth and the rapid expansion of the supply chain, we still put our efforts and commitment in sourcing key agricultural raw materials responsibly and sustainably. We focus on collabourating with business partners and promoting network of collabouration with our partners from all sectors including the government, the private sector, community, and civil society organizations.
Our goal is to source five key agricultural raw materials for animal feed production responsibly and sustainably. These raw materials include fishmeal, corn, soybean, palm oil, and cassava.
Progress from Our Thailand Operations
2020 Target
100% of targeted key agricultural raw materials are responsibly sourced and traceable.
2018 Performance
72% of targeted key agricultural raw materials were from responsible/ sustainable and traceable sources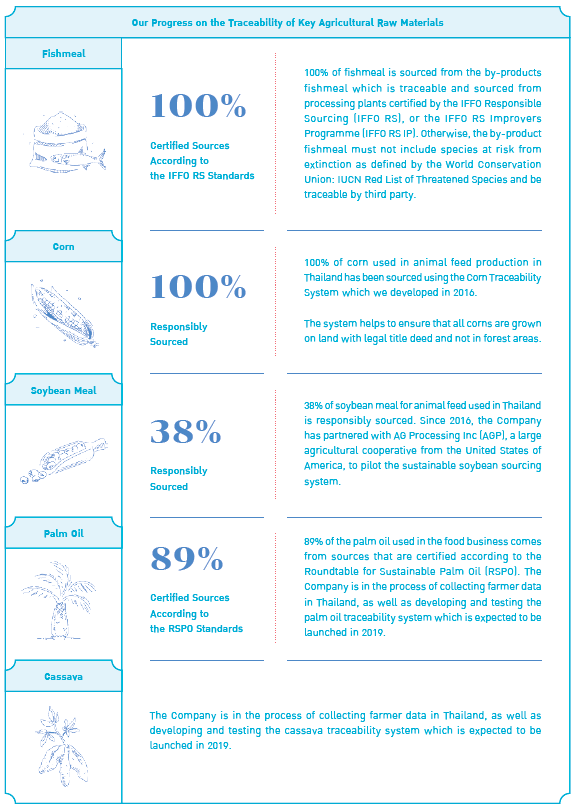 Sustainable Fishmeal Sourcing
It is important to note that the Company is a producer of farmed shrimp and shrimp feed; we have never been an operator nor owner of any fishing vessel, and we do not produce fishmeal. We buy fishmeal to use as an ingredient in the production of our shrimp feed. We have not used any resources from the sea, just only fishmeal which we used as above mentioned.
However, as one of the world's biggest shrimp feed producers, we are committed to supporting and promoting sustainability in the seafood industry to address various concerns including marine resource degradation, unfair labour practices, human rights violation, and impacts on the community from illegal fishing.
Generally, there are two main sources of fishmeal; 1) Fishmeal made from fish by-product e.g. surimi production facility, canned tuna production facility, and fish ball production facility; and 2) Fishmeal made from by-catch. Nowadays, there is an internationally accepted standard on sustainability and traceability of fishmeal namely, International Fishmeal and Fish Oil Organization's Responsible Supply Chain of Custody (IFFO RS CoC).
Supports for Sustainable Seafood Supply Chain
Developed fishmeal traceability system and set the Principles of Validation in collabouration with business partners, the government, NGOs, civil society, and other related parties. The objective was to push for better fishery practices and eliminate overfishing which would help protect Thai seas.
Paid a premium for fishmeal producers that are non-IUU (Illegal, Unreported, Unregulated) certified and follow our raw material traceability system, enabling us to trace back to the origin of fishmeal. We were the only company that paid a premium for certified and traceable fishmeal.
Announced CPF Fishmeal Purchasing Policy to promote non-IUU fishing and prevent human trafficking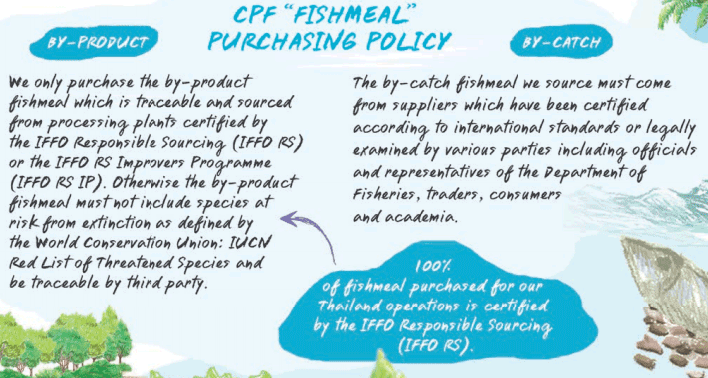 Reduced the use of fishmeal in aquaculture feed through the research and development in substituting fishmeal with alternative protein sources such as plant-based raw materials.Currently, fishmeal makes up 10% of shrimp feed components. Our target is to decrease the use of fishmeal to 5% in the future.
All fishmeal used in Thailand operation has been purchased from sustainable sources – it is made from fish by-product that is traceable and sourced from processing plants certified under the IFFO Responsible Sourcing (IFFO RS) standard, which is consistent with the Code of Conduct for Responsible Fisheries of the Food and Agriculture Organization of the United Nations (FAO), and does not include species at risk from extinction as defined by the World Conservation Union: IUCN Red List of Threatened Species. The Company also owns and operates the first IFFO RS Chain of Custody certified shrimp feed mill in the world
Audited fishing vessels, ports, and fishmeal producers in our supply chain including our own feed mill by UL, the independent auditor, using the traceability system developed by the Seafood Task Force. The audit was completed in early 2016.
Supported the business partners who provided fishmeal from by-catch in getting the GMP+ certification (Good Manufacturing Practices for Animal Feed Production) and further to the IFFO certification. Even though our Thailand operation does not currently purchase fishmeal from by-catch, we see that this is an important effort to promote sustainability in the Thai fishery.
Expanded the scope of the Fishery Improvement Plan (FIP) from Thailand to cover Vietnam, India, and the Philippines to drive our business partners towards IFFO RS IP. This also promoted participation of relevant parties in the development of sustainable fishmeal supply chain. Our target is to purchase fishmeal in four countries under the IFFO RS IP by 2018.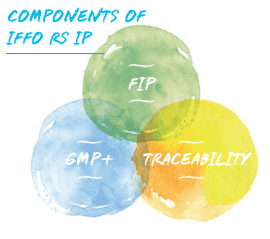 CREATING VALUE THROUGH COLlabourATION
THAI SUSTAINABLE FISHERIES ROUNDTABLE (TSFR)
To contribute to the long term resolution for Thai fishery, TSFR collabourates with World Wildlife Fund Thailand (WWF) and Sustainable Fishery Partnership (SFP) in developing the Fishery Improvement Plan (FIP) for the Gulf of Thailand and the Andaman Sea.
TSFR comprises eight Thai fisheries associations covering the whole fishery supply chain from upstream to downstream. These associations include the National Fisheries Association of Thailand, Thai Overseas Fisheries Association, Thai Fishmeal Producers Association, Thai Feed Mill Association, Thai Food Processors' Association, Thai Shrimp Association, Thai Frozen Foods Association, and Thai Tuna Industry Association.
SEAFOOD TASK FORCE

We co-founded the Seafood Task Force in 2014, to drive the social and environmental changes across in the Thai seafood industry through a responsible, transparent and traceable supply chain. It is aimed at eliminating forced labour, human trafficking, and Illegal, Unreported and Unregulated Fishing (IUU).
THE FISHERMEN LIFE ENHANCEMENT CENTER (FLEC)
To eliminate forced illegal workforce in Thai fishery while enhancing the quality of life of workers in fishing industry and their family. Support is provided to victims of human trafficking, meanwhile, thought leadership is encouraged among workers to prevent the risks of being victimized in the fishing vessels.
A learning center was also built to promote occupations among women and to support learning among pre-school migrant children.
FLEC is a model that integrates the support from five parties including the Fish Marketing Organization under the Ministry of Agriculture and Cooperatives, the Department of labour Protection and Welfare, Planned Parenthood Association of Thailand, Stella Maris Seafarers Center Songkhla (Baan Suksan), and CPF.
SEAFOOD BUSINESS FOR OCEAN STEWARDSHIP (SeaBOS)
We are signatory to the Seafood Business for Ocean Stewardship Initiative or SeaBOS, an international collabouration, to protect the oceans, natural resources, and the marine ecosystem. The ambition is to achieve the goal of conserving the ecosystem and producing quality seafood with sustainable responsibility.
SeaBOS was initiated by Stockholm University in Sweden as well as the global leading seafood producers who recognize the importance of the security and abundance of marine resources. The participants in the Initiative also jointly signed and issued a statement to apply international laws throughout the supply chain. The aims include, but not limited to, to reduce IUU fishing, eliminate any form of modern slavery, and reduce the use of antibiotics and plastics as well as Greenhouse Gas emissions. It has been implemented through co-investment in research and development for sustainable fishery and aquaculture.
GLOBAL DIALOGUE ON SEAFOOD TRACEABILITY (GDST)

The Dialogue is a global platform to set up a framework on implementing a traceability system through knowledge exchange across different sectors throughout the seafood industry supply chain. It puts high emphasis on seafood traceability, interoperable traceability systems and building trust within the industry.
Being signatory and consistently contributing to the Global Dialogue helps the Company to manage seafood traceability in a more sustainable and internationally recognized way.
GLOBAL SUSTAINABLE SEAFOOD INITIATIVE (GSSI)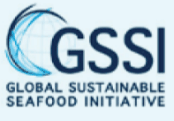 The Company is partnered with the Global Sustainable Seafood Initiative (GSSI) to collabourate with member groups from public and private sectors, which comprise of leading seafood producer companies with a seafood supply chain operations, related government units, civil society sector, and international organizations like Food and Agriculture Organization of the United Nations (FAO). GSSI aims to ensure confidence in the supply and promotion of certified seafood, as well as to promote improvement in seafood certification schemes. This is achieved through GSSI's Global Benchmark Tool, which meet the United Nations Food and Agriculture Organizations' (FAO) Code of Conduct for Responsible Fisheries (CCRF) and FAO Ecolabelling Guidelines. The initiative collabourates with partners to develop solutions to address other pressing issues facing the seafood sector including, social compliance and Illegal, unreported and unregulated fishing (IUU). Furthermore, it provides a single recognition of regional and global seafood certification schemes that enables fisheries and aquaculture operations to reduce their certification costs and eliminate redundancy while still being recognized as a credible and robust in the global market
Responsible Sourcing of Corn for Animal Feed
With the recognition that traceability system can effectively help manage environmental and social risks in the supply chain, we put every effort in sourcing our raw materials from responsible and sustainable sources despite the complexity and length of the corn supply chain.
Policy and Requirements for Sourcing of Corn for Animal Feed
Our policy is to only source corn for animal feed production from business partners and farmers who grow crops on land with legal title deed and registered in our online corn traceability system.
Corn Traceability System
We began to develop the corn traceability system with the use of the mass balance model since 2014. The system underwent the participation from various stakeholder groups, for example, business partners, farmers, academia, the government and civil society.
We organized workshops for all corn suppliers in order to create understanding about the system usage. In addition, we also organized a workshop in 2015 prior to the official launch of the traceability system on 1 January 2016. We successfully sourced all of our corn for animal feed through the traceability system in 2016.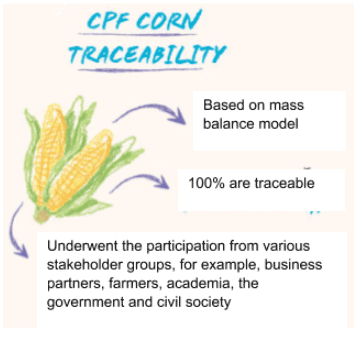 Self-Sufficient Farmers, Sustainable Corn Project
We launched the "Self-Sufficient Farmers, Sustainable Corn" project in collabouration with Agricultural Land Reform Office to build capacity of small farmers with legal title deed in the proximity on farming practices in accordance with Thai Agricultural Standard–TAS4402-2010, Good Agricultural Practices for Maize. The training covered a wide range of topics including analysis of soil nutrition, post-harvest management, and productivity increase. We also plan to support the establishment of learning center to be used as resource for the development of Thai corn farmers towards sustainability. We target to engage with more than 15,480 small farmers and to cover 36,000 hectares of plantation areas through the project by 2019.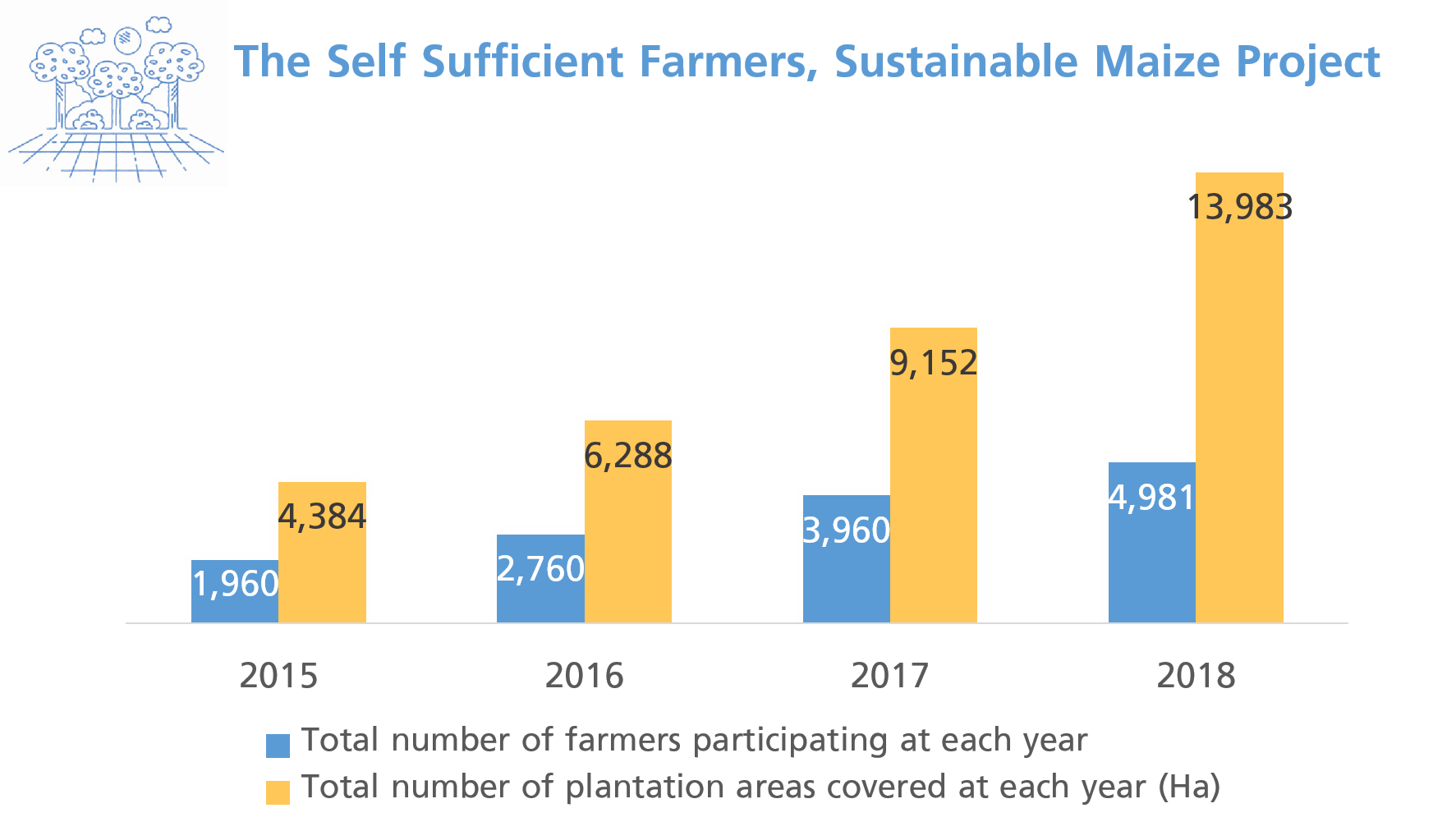 The result of the project evaluation shows that the program helped farmers to increase yields and reduce cost. The program also helped minimize negative impacts to community and environment due to suitable agricultural waste management during cultivation and no burning during post-harvest period.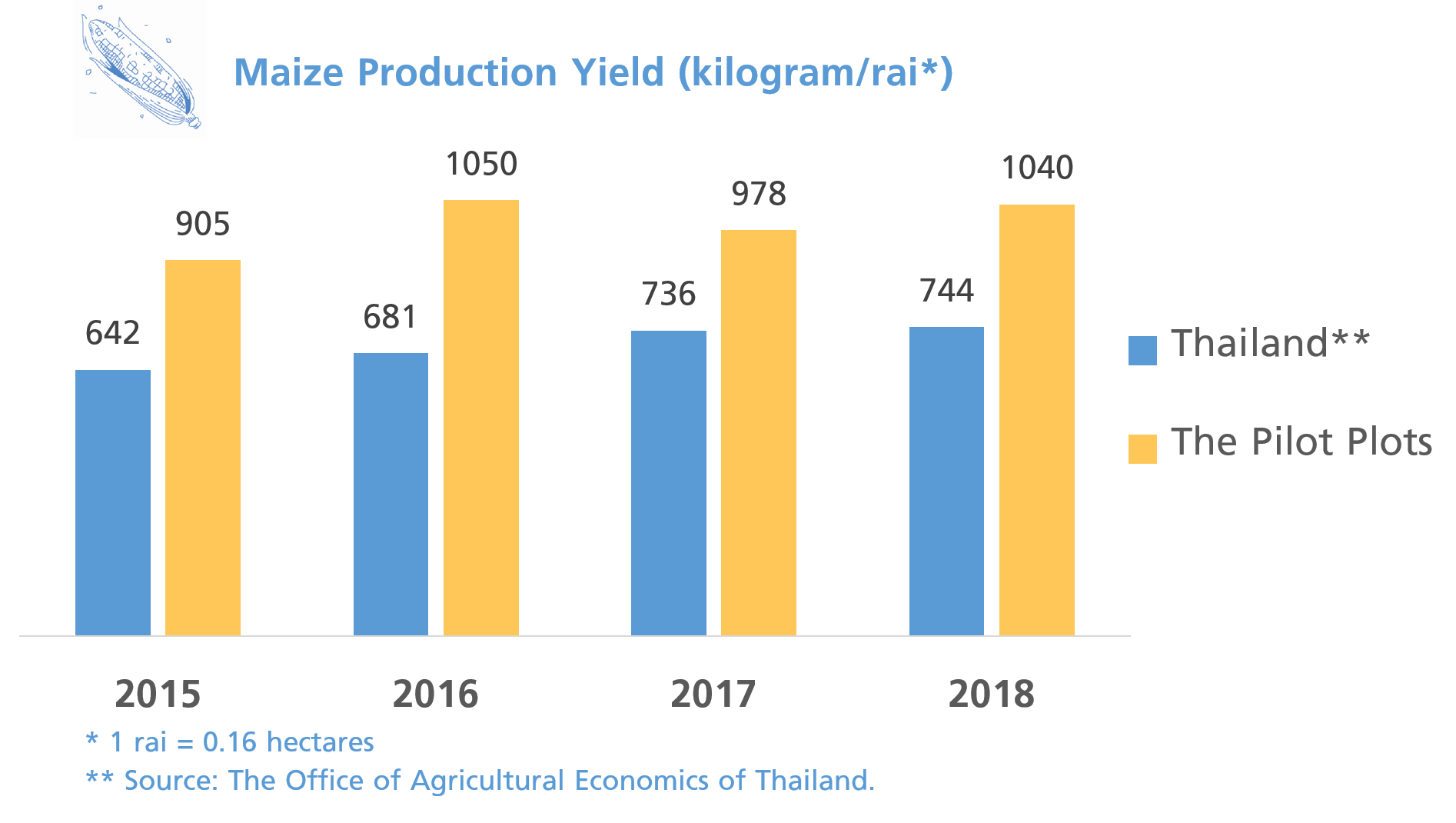 Promoting Markets and Supporting Farmers' Produce
The Company supports smallholder farmers to sell their produce directly to our animal feed production plants at 15 locations across Thailand, and opened two points of sales and produce collection near to the cultivation areas of maize farmers participating in the Project. The first point is located in Nonthai District, Nakhon Ratchasima Province, which has been launched since 2016, and the second one is in Lan Sak District, Uthai Thani Province, launched in 2018. This is to facilitate the farmers' convenience by reducing the burden of transporting their produce, and enhancing their confidence that the Project offers a guaranteed market to sell their produce in a fair and transparent way. As for the Company, this enables us to collect high quality corn for animal feed raw materials from the source and thus offer good value chain, from the farmers into the hands of consumers.