CP Pork Shop…An Alternative for Better Quality of Life
With our commitment to improving the quality of life of people in the society, we initiated the CP Pork Shop business in 2016 as an alternative for income generation for small entrepreneurs and helps to enhance the safety standard of pork products under the Livestock OK Standard. The CP Pork Shop business model focuses on two forms – CP Community Fridge for Fresh Pork and CP Pork Shop. We also expanded the piloted business model from fresh pork retails to quality processed pork products such as grilled pork, fried pork, pork sausage and pork ball. At present, more than 4,000 small entrepreneurs have joined our program.
We encouraged butchers to participate in the Department of Livestock Development's Livestock OK Standard. In 2017, about 52 percent of butchers were assessed and certified. We also set the target to reach 100 percent of certified butchers by 2018.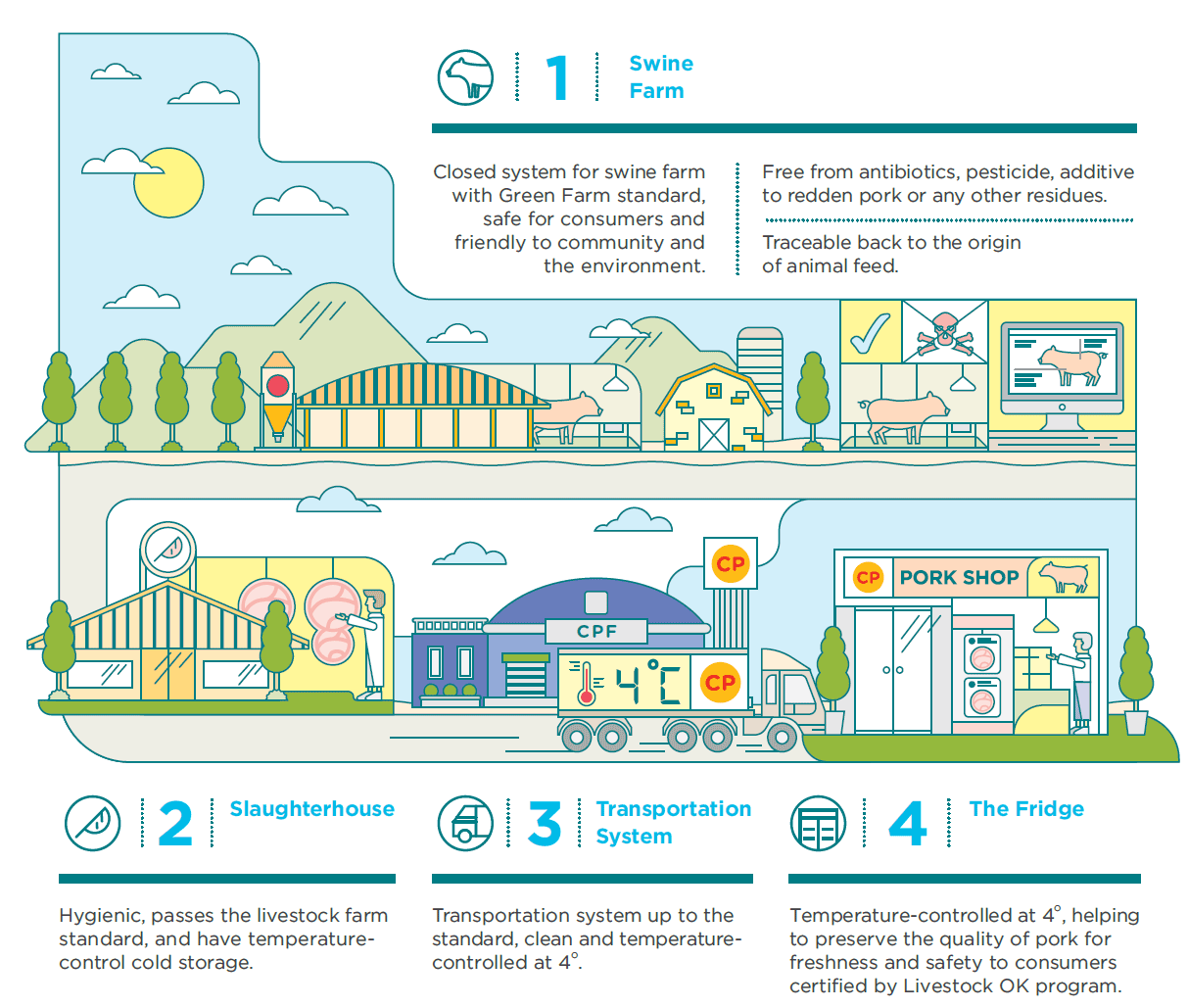 Supporting Local Employment
To help small entrepreneurs own a business, our CP Pork Shop Business thus only requires very low investment. For the success of small entrepreneurs, we also support them with site selection, fridge lending and installation, production of marketing materials, and training on pork retailing and processing to add value to fresh pork meat.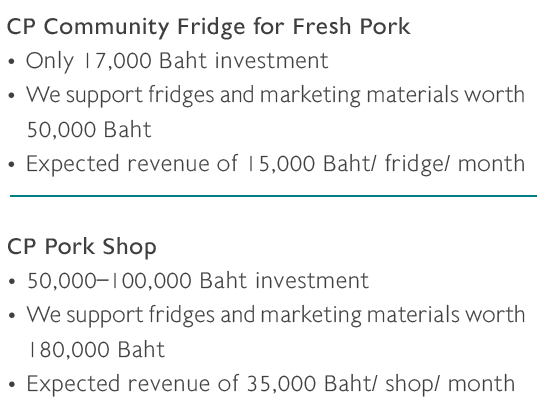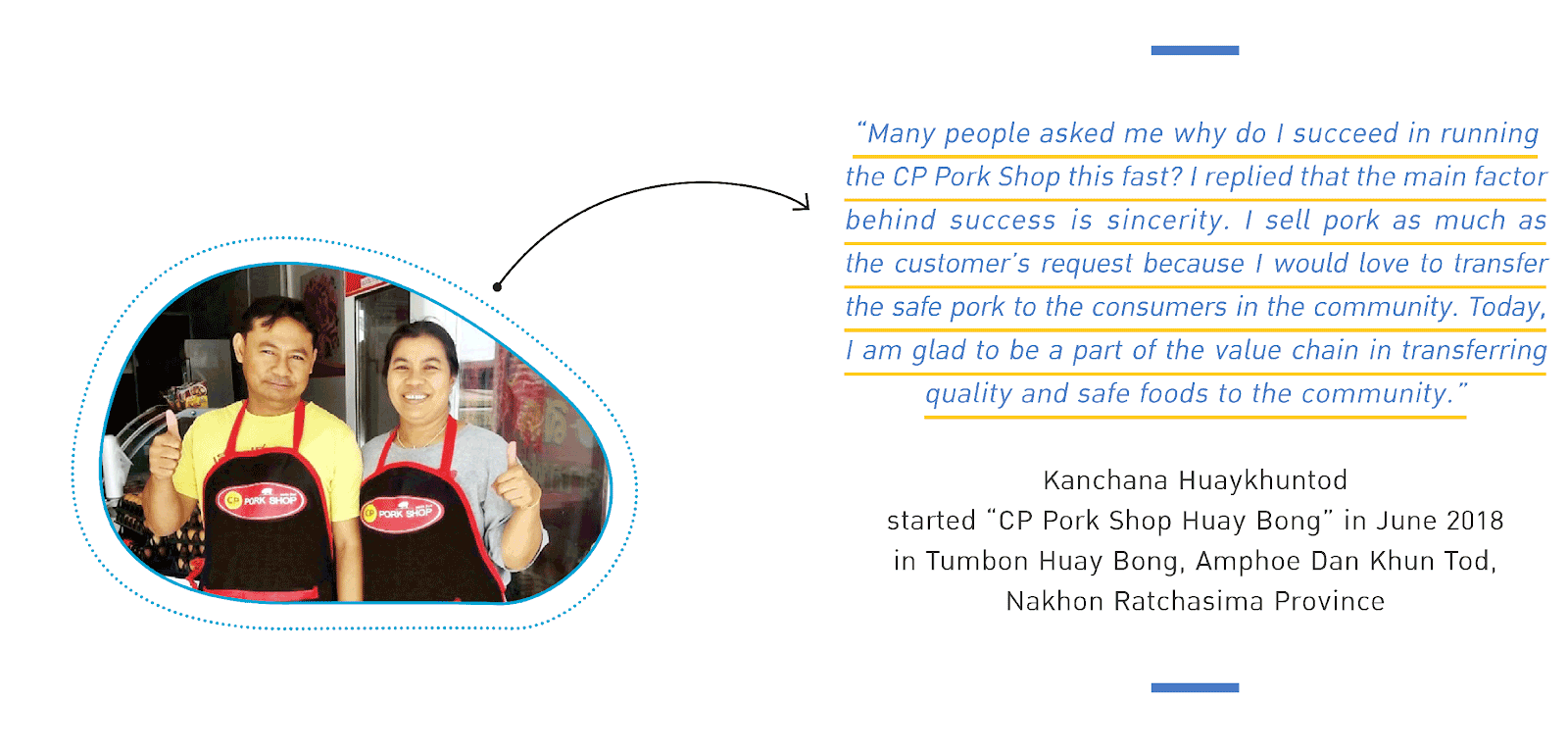 Five Star Business…Opportunity for Small Entrepreneurs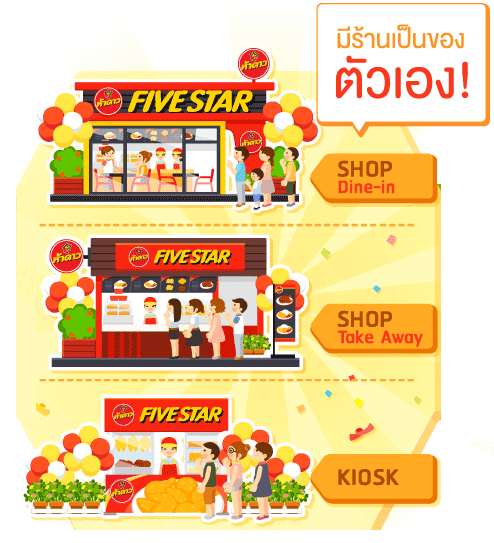 We continue to promote employment prospect and provide the opportunity for small entrepreneurs to own a business. Since 2000, we provide this opportunity to own a business with very low investment through the
"Five Star Business"
for small entrepreneurs which operates based on franchising business model.
As we operate under the "Collabourative Development" concept, we are able to provide a variety of sell channels and products to franchisees. These include owning a kiosk for take-away and a dine-in shop. In terms of products, we provide Five Star Grilled Chicken, Five Star Fried Chicken, Five Star Chicken Rice, Five Star Noodle, ready-to-eat meal, and snack.
We also support our franchisees by sharing knowledge on equipment management and marketing techniques including product development, marketing communication, and logistics. Our aim is to continually increase their income and promote sustainable and mutual growth.

Our three main success factors are Quality, Service, and Cleanliness (QSC) which are the operating standards for all Five Star shops.
Quality

– Quality control from the production process to serving our customers

Service

– Professional sales management skills

Cleanliness

– Cleanliness of production equipment, the selling point, and the seller.
From the success of Five Star Business in Thailand, we are expanding the business model into other countries including Vietnam, India, and Cambodia. At present, there are more than 5,500 franchised outlets in total.
Promoting Quality of Life of the Communities Surrounding our Manufacturing Plants and Farms
All of our manufacturing plants and farms have engaged with the surrounding communities in many ways, including conducting field survey to learn about their needs and identify potential community impacts prior to initiating the projects or activities. This is to ensure that our projects aiming to promote quality of life are truly carried out in harmony with way of life and needs of the communities. In 2018, we supported the quality of life of those communities through over 200 projects/ activities.
The "Three Collabouration for Community Enterprise Development Project" is implemented in collabouration with three sectors: Kasetsart University Kamphaeng Saen Campus, CPF's Sai Mun Slaughterhouse from Northeastern Swine Business Unit, and Sai Mun Sub-district Municipality in Yasothorn Province. It is a project to train and share knowledge of safe food processing for pork products, the Company's product. The Project has brought research into practice and offered a hands-on training to help the community learn and be able to advance their knowledge further.