CPF funds for the elderly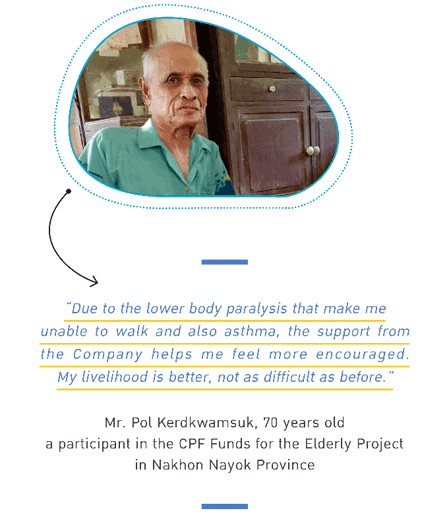 Recognizing the importance of providing care for the elderly who contributed to their family and the community, we launched the "Happy Returns for the Elderly" project in 2011 and developed the "CPF Funds for the Elderly" in 2012. The aim of this project and the fund is to find a sustainable solution to continuously support the elderly so as to increase their quality of life and enable them to live happily.
CPF Funds for the Elderly aims at supporting the elderly above 55 years old surrounding the factories and farms who are neglected, unaided, or impoverished. Under the scheme, we provide financial support for 2,000 Baht per person every month until their last day of life. We also provide food and consumer staples and make a monthly visit.
In addition, we also organize activities for the elderly that create values physically, mentally, and emotionally. In collabouration with local government, the community, and our employees, we organized activities to show respect to the elderly during Songkran Festival, activities to listen to Buddhist sermon, health check-up for the elderly, house cleaning activities, and home repair.
At present, we support about 460 elderly people under this scheme, with the approximate budget of 14 million Baht per year.