The Company engages in animal farm and processing business which comprises animal breeds, animal farming, and primary processed meat production. The Company select and develops animal breeds in response to the market demand. At the same time, we incorporate advanced and eco-friendly technology throughout the farming procedures and focus on animal wellbeing in compliance with the international animal welfare principles in order to deliver products of high quality and food safety. Our core product categories are animal breeds, live animals, primary processed meat and eggs; and our main animals comprise swine, broiler, layer, duck, and shrimp.
The Company operates the farm and processing business in 15 countries i.e., Thailand, China, Vietnam, Russia, Cambodia, Philippines, Malaysia, India, Republic of China (Taiwan), United States, Laos, Turkey, Sri Lanka, Poland, and a joint venture in Canada and Brazil. Each entity adopts different business approaches based on the market opportunity and suitability. Total sales of the farm and processing business in the year 2021 was 277,446 million baht or 54% of total sales of the Company.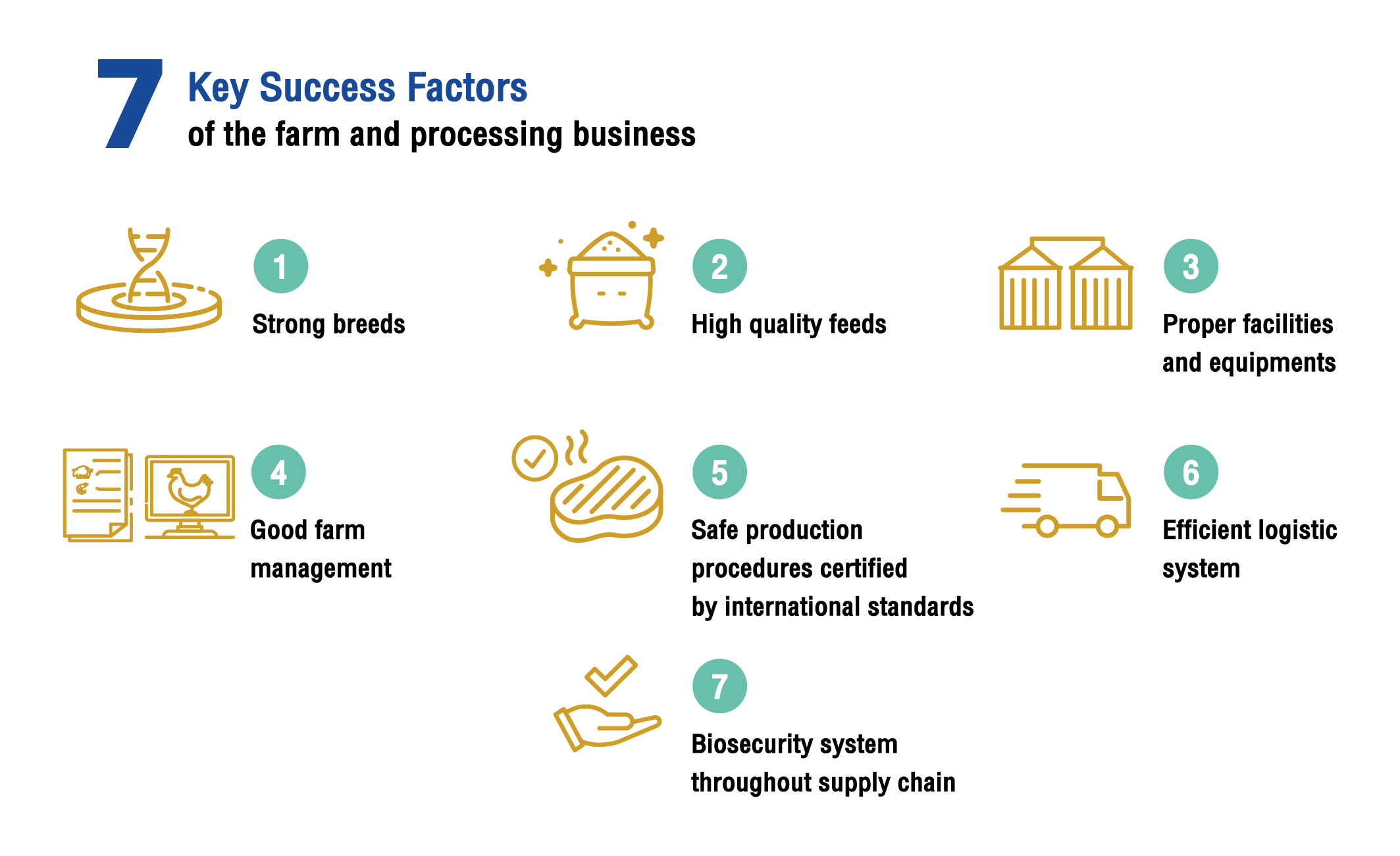 The right farm location is meticulously selected to match farming requirements, taking to account the adequacy of basic infrastructure and the impact on the environment and community based on biosecurity system management to prevent disease transmission and assure animal welfare.

The Company also select and develops animal breeds,/b> which adapt well to different environment and in demand in each market which the Company has presence. The breeding improvement is based on animal genetics principle to produce stronger breeds with high disease resistance characteristics.
The Company continually develops its farming systems and technology to be on par with the related standards. The Company operates in alignment with the Five Freedoms principle while maintaining the farming efficiency ratio; and animals are raised in a hormone-free environment to ensure that they live without distress and are free to express natural behaviours.

Primary meat processing, the Company compile with the animal welfare principle and standards during animal transportation and meat processing.
Packaging, the Company opts for eco-friendly containers to minimize the environmental impact; such as bioplastic trays made from renewable resources known as polylactic acid (PLA), which was produced from plants and biodegradable without affecting the quality of food storage.
Sales and distribution channels for breeds and live animals are mainly at the farms while that of meat parts, meat products, eggs, and by-products are distributed by traditional market dealers and modern trade channels.
The farming business has enjoyed high growth in line with consumer demands due to rising numbers of population and enhanced access to affordable meat.