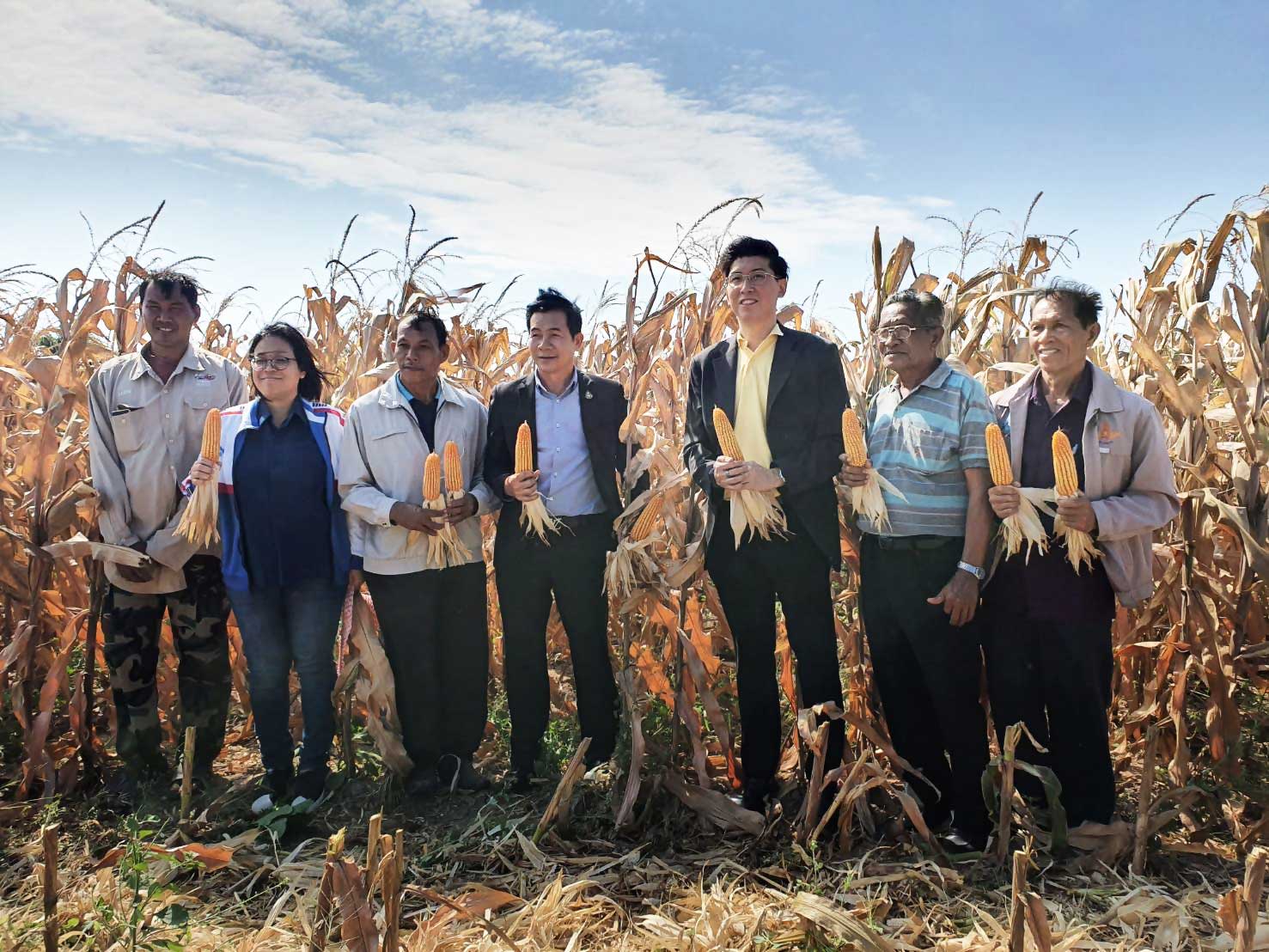 29 Nov 2019
"Banlang model" highlights success of CP's "self-sustaining farmers, sustainable corn" project
"Banlang model" highlights success of CP's "self-sustaining farmers, sustainable corn" project
November 29, 2019 -- Charoen Pokphand Group (CP) is proceeding with its "self-sustaining farmers, sustainable corn" project, set to replicate successful lessons learnt at Tambon Banlang Municipality in Nonethai district, Nakhon Ratchasima province which promote sustainable plantation, productivity, quality as demanded by customers and income while reducing poverty and forest encroachment.
Sub Lt. Thanontorn Kaweekitratana, Tambon Banlang Mayor, said that the municipality's collaboration with government offices and Bangkok Produce PLC (BKP), which handles raw material sourcing for Charoen Pokphand Foods PLC (CPF), under "self-sustaining farmers, sustainable corn" project has entered its fourth year. "Banlang model" has so far involved 814 households and 18,000 rai of land, compared to 184 households and 4,700 rai in the first year. The greater numbers reflect farmers' confidence in "Banlang model" while the municipality has continuously welcomed farmers in nearby areas who want to replicate the model.
"The benefits of "Banlang model" go beyond higher yield per rai and lower production cost. Farmers are more knowledgeable and equipped with technology to lift product quality which hence raises selling prices. They are also better at coping with risks, from drought to epidemics. While community members enjoy a better health, the environmental condition improves as farmers no longer burn corn stubble," the mayor said.
Mr.Woraphot Suratwisit, Vice President of BKP, added that throughout the 4 years, the company promotes the grouping of farmers and has supplied modern machinery and technology to help lift productivity. This year, an application is deployed for the management of harvest and transportation for Tambon Banlang and nearby villages, involving mainly harvest trucks and transport vehicles registered in the areas to ensure income distribution among the locals. As an incentive, farmers using the application and selling their produce directly to CPF's feedmill, will gain extra Bt0.10 per kg on top of regular purchase prices.
"Technology helps us trace corn plantation locations more precisely. It helps us to achieve the project's ultimate goals in modernizing Thailand's corn plantation standards and raising farmers' income to reduce poverty and debts. It also supports our policy under CPF's sustainable supply-chain principles to buy corn only from plantation fields with legal land deeds," Mr. Worapot said.
According to Mr. Phana Songsanthia who farms a 45-rai corn field in Tambon Banlang and joined the project from its beginning in 2016, positive changes have been continuously introduced to the village. Chief among them is higher yields, as farmers have right knowledge in the plantation. They adjust plantation periods accordingly to 10-year rainfall statistics. They have better knowledge about fertilizer use and harvest timing. An application is also ready to facilitate the harvest. Though facing the most severe drought and weed this year, farmers are ready to jointly analyze their lessons and expect improvements in next harvest years.
"Banlang model" marks the first time that government offices, private companies and farmers join hands to improve the corn supply chain. Farmers, who form a big group and farm large plantation fields, enjoy better corn plantation standards and markets. "Banlang model" is an extended part of "self-sustaining farmers, sustainable corn" project which was kicked off in 2014 to equip farmers with knowledge about soil analysis, fertilizer use and correct plantation field management. The project aims to help them raise output and lower production cost, while farmers are encouraged not to burn corn stubble. To date, the project's training programs have involved 9,449 farmers and 239,921 rai of land in 20 provinces.