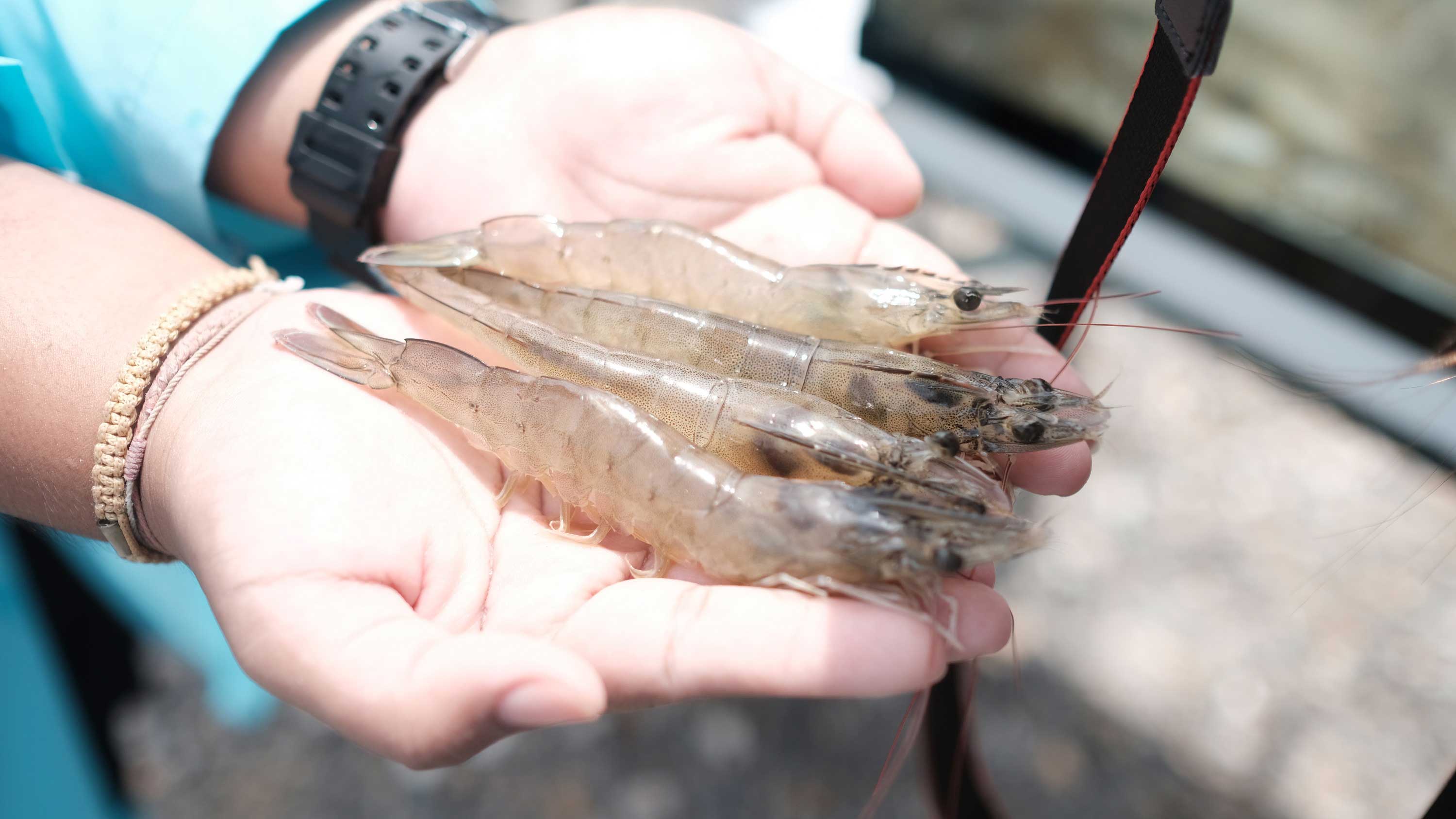 13 Aug 2018
CPF experts predict Thai shrimp business to regain momentum
Bangkok (August 13, 2018) – Experts point Thai shrimp business regains momentum resulting from burgeoning production since newly developed farming technique called "3 Cleaning Approach" system and the company's breeding programs successfully eased wide spreading of Early Mortality Syndrome (EMS).
Dr. Sujint Thammasart, DVM, Chief Operating Officer - Aquaculture Business of Charoen Pokphand Foods (CPF), said the production begins to rebound as shrimp farmers gain confidence from rising local price. Moreover, the EMS outbreaks is no longer a concern due to the successful breeding program and farming technique development.
Five years ago, the wide spreading of EMS has prompted CPF to develop farming system to curb the disease problem. The "3 Cleaning Approach" system which focusing baby shrimp, pond and water, the important factors to be treated. The system encourages shrimp to grow healthier with high survival ratio. Particularly, it can double production.
"During the first three years of struggling, we invented 3 cleaning system. It means pond clean, water clean and the animal clean," he said, "However, it takes time to convince the farmers since they have to make some investments to developed the pond,"
Dr.Sujint added that the company has joined forces with Agriculture Ministry to transfers the clean farming technology to interested farmers in the East particularly in Chanthaburi. The successful attempt in the eastern area was a role model for the farmers nationwide to battle EMS outbreak.
Premium products will be the key for Thai shrimp business revival
During CPF's analyst meeting recently, Dr. Sujint declared that shrimp diseases are one of the threat but there is no emerging disease in the industry at the moment. The main challenge of Thai shrimp business from now is to control production cost to maintain competitiveness.
Once an industry giant, Thailand is losing key customers to major competitors like India and Vietnam because higher cost of operation.
This year, Thai shrimp year-on-year export volume to the US in June dropped by 42%. Moreover, the export to European Union market, once a key market for Thai products, also has been declined since the cut off tax privilege under Generalized System of Preferences (GSP) scheme on Thai shrimp in 2015.
According to the US-based National Fishery Institute reported that world's farmed shrimp production to reach 3.5 million tonnes this year. However, Thai shrimp production is forecast to achieve 290,000 tonnes this year.
To fully wake the sleeping giant, he pointed that the advantage of Thailand is the capability to farm the bigger size shrimp. The company is currently focus on expanding market for value added Thai shrimps, a high quality and large size animals.
"Thai operation will be a base for premium shrimp while India and Vietnam's operation will be the company base for mass shrimp products" he said.
To explain how CPF's premium shrimp are made, Mr. Robins McIntosh, Senior Vice President at CPF, said the company has developed an advance breeding program to genetically improve strong and fast growing shrimps from highly selected broodstocks.
"The company has made countless of breeding program to find a strong and fast growing shrimps," Mr. Robins said "Nowadays, EMS failure rate has dropped from over 40% to 0.1%,"
To ensure shrimps are disease-free, the nauplius is nursed in an advance Hatchery Bio-security and undergo infectious disease testing for diseases like Vibrio Parahaemolyticus, EMS and Microsporidi before sending out to the farmers.
The new CPF's baby shrimps are trusted by farmers thanks to outstanding survival rate, low infection risk and lower farming cost. Furthermore, the broodstocks are being sold to China and Vietnam.