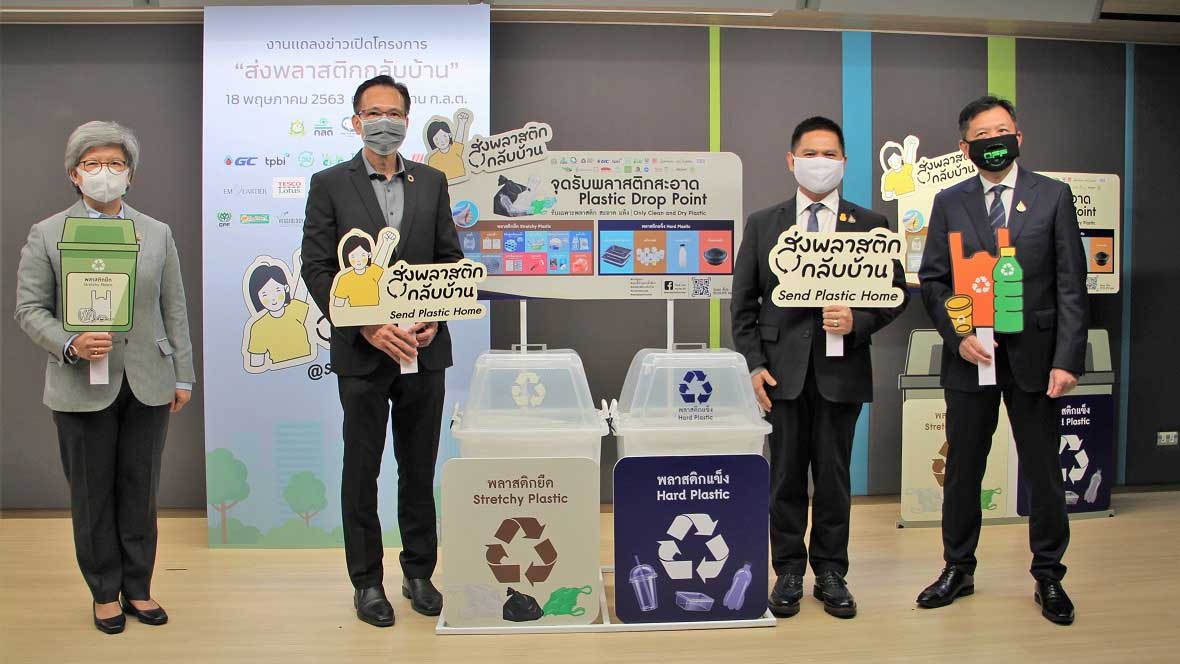 18 May 2020
CPF joins forces with TRBN to promote plastic waste sorting
Charoen Pokphand Foods PCL (CPF) joined Thailand Responsible Business Network (TRBN)'s Send Plastic Home's project to promote recycling and upcycling in Thailand
Mr.Wuthichai Sithipreedanant, Senior Vice President for CSR & Sustainability at CPF, said the company, as a leading food producer, commits to reduce the plastic footprint in order to protect the ocean from plastic pollution, especially microplastics. As a result, CPF launched the Sustainable Packaging Policy and Guiding Principles based on the Circular Economy principle across the value chain to reduce plastic waste and optimize resources used.
Under this sustainability guideline, CPF takes into account packaging use throughout the lifespan as well as designing and developing environmental-friendly packaging.
"CPF is committed to mitigate environmental crisis, creating positive impacts to our society and environment while still keeping food safety as a priority," he said.
TRBN's Send Plastic Home's project is a public-private initiative to promote segregation. People are encouraged to sort their wastes and send seven types of plastic materials, including bag, meal box, cup, mug, bottle, bottle cap, plastic film, to ten drop-off points. The used plastics will be delivered to facilities for recycling and upcycling.
CPF's drop off point is currently located at CP Freshmart on Phetchaburi 38/1 (Sukhumvit 39), Bangkok.
"Waste segregation at source will improve waste collectors' health and safety, reducing number of disposals to landfill and increase recycled resources in Thailand. This approach also contributes to Circular Economy and sustainably solving plastic pollution problems," he said.
Mr.Wuthichai added that COVID-19 outbreak leads to significant increase of household wastes. The amount of plastic waste generated has raised by 15%, from 5,500 tonnes to 6,300 tonnes per day. This is because food ordering has gone up by three times since the lockdown.
However, Thailand recycles only 25% of its total plastic waste due to lack of household waste sorting. To improve the proportion of recycled resource, Send Plastic Home's project will encourage people to sort their waste.
The project is initiated by the Natural Resources and Environment Ministry, the Bangkok Metropolitan and Administration, Securities & Exchange Commission. Drop-off locations are contributed by Tesco Lotus, The Mall Group, Unilever, Thai Beverage Public Company Limited, etc. Meanwhile, plastic wastes will be sent to leading recycling companies such as PTT Global Chemical Public Company Limited, TPBI Public Company Limited, and Kaew Krung Thai Co., LTD.