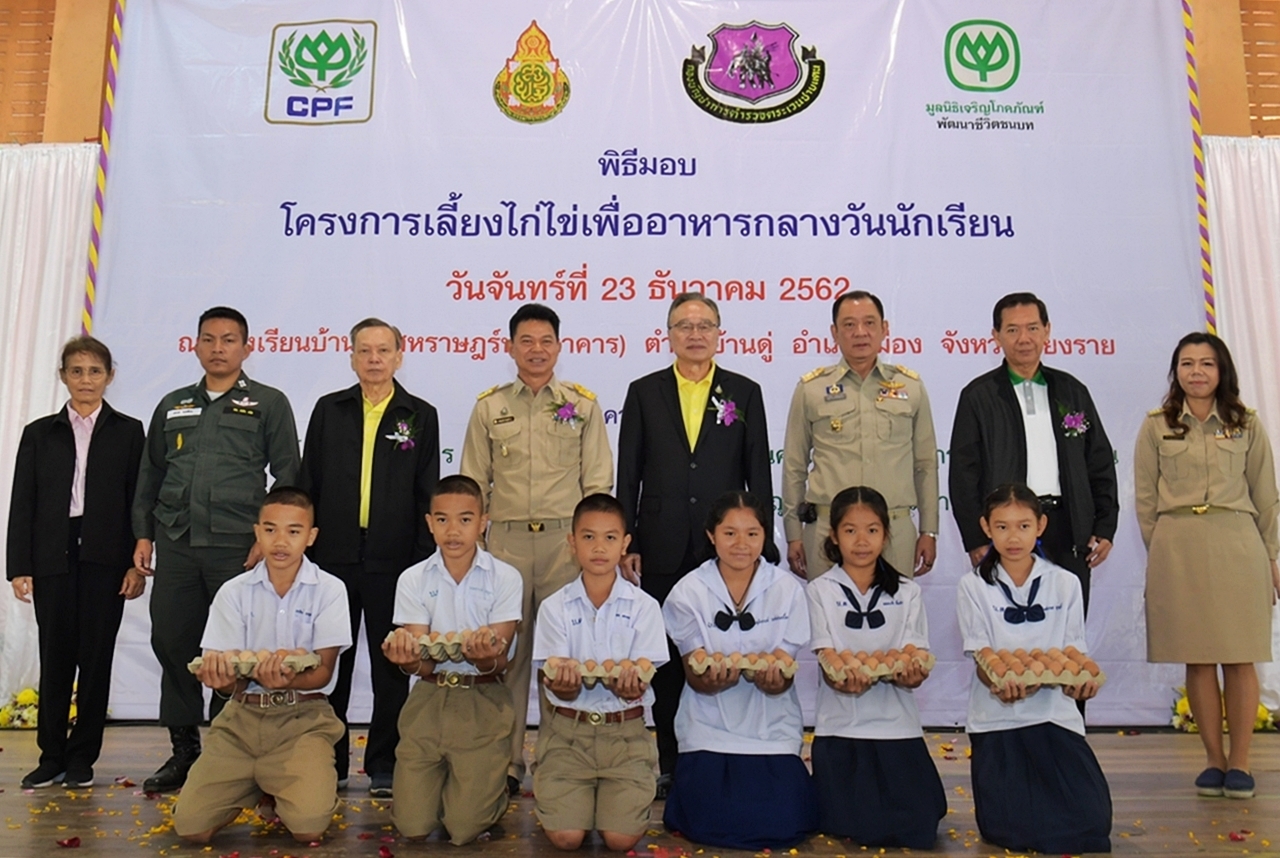 23 Dec 2019
CP Foods celebrates 30th anniversary of good nutrition among Thai students
Charoen Pokphand Foods (CP Foods) and Charoen Pokphand for Rural Lives' Development Foundation jointly handed over the 30th edition of "Raising Layer for Student's Lunch" Project to schools nationwide in an effort to mitigate malnutrition issues in children and youth in rural area.
Since 30 years ago, the project has reached out to over 150,000 children from 824 schools nationwide, enabling students in rural areas to access high-protein food sources from eggs at least 3 days per week.
CP Foods will provide financial supports, layer hens, layer houses, feeds, and guidance from CP Foods to set up and sustainably manage their layer farms.
The project also offers an opportunity for students to learn about the process of raising layers, management of produces, and selling them in the community to generate a revolving fund for the project. The school will be establish as a learning center to share its experience within the community.
CP Foods handovered the layer houses to Ban Du School in Chiang Rai province.
Chiang Rai deputy governor Phasadate Hongladarom, who presided over the ceremony, stated that this project will help students in rural area of Chiang Rai and nationwide improving their growth mentally and physically.
"On behalf of the schools and people of Chiang Rai, I would like to express appreciation to CP Foods and Charoen Pokphand Foundation with a hope that all the selected schools will one day become role models for sustainable development" he added.
Mr. Adirek Sripratak, Chairman of the Executive Committee of CP Foods, said the company has put in place of promoting food security and food safety, especially among children and youths to mitigate malnutrition. Under the project, the company funds 146 million baht to 824 schools.
"30 years, CP Foods' staffs have been working closely with schools, offering both financial support and expertise in layer farming to help the students to access fresh, safe and high quality eggs. In this year, the company has funded 46 schools.
CP Foods has provided animal husbandries to train the students. Under the company's guidance, the students have learnt to effectively manage layer farms as well as basic animal husbandry. Ms. Bua Saimuang, a student at Ban Du School, said she can identify sick hens and being able to remove the sick birds from its group to prevent outbreak.
"I can notice sick hens by looking at their bubbly and watery eyes or noses. I will use these experiences to pursue a career in the agriculture industry," she said.