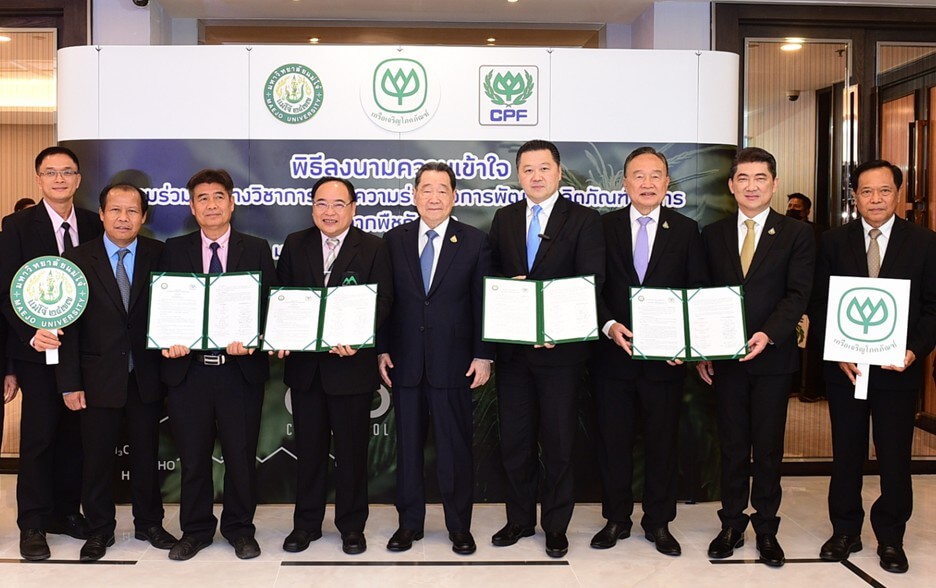 16 Mar 2021
CP Group – CP Foods and Maejo University to collaborate on hemp research and development
Charoen Pokphand Group (CP Group), Charoen Pokphand Foods PCL (CP Foods) and Maejo University (MJU) will work together to advance research and development opportunities for hemp production in Thailand.

The MoU signing ceremony between CP Group and Maejo University at CP Tower, Bangkok, was attended by Mr. Dhanin Chearavanont, senior chairman of CP Group. The agreement was signed by Mr. Soopakij Chearavanont, Chairman of CP Group and CP Foods; and Asso.Prof. Dr. Weerapon Thongma, president of Maejo University.
Other attendees included Mr. Adirek Sripratak, Chairman of CP Foods' Executive Committee; Mr. Prasit Boondoungprasert, CEO of CP Foods; Mr.Sumeth Pinyosanit, CEO of Charoen Pokphand Produce Co.,Ltd.; and Maejo University's professors.
Under this MoU, CP Group, CP Foods and Maejo University will team up to develop, research and produce hemp extracts that are beneficial for consumer's health and as a quality food ingredient from a traceable supply chain. Also, both parties will work on making a systematic and standard guideline for managing the hemp value chain.
The collaboration is in line with Thai government's policy to promote hemp as a new cash crop. It is also in line with the company's "Kitchen of the World" vision to make healthier food choices. Ultimately, this will subsequently boost farmer's income, improving their quality of life.
Asso.Prof. Dr. Weerapon said that the collaboration will greatly benefit hemp research and study in Thailand. Furthermore, CP Foods' RD Center is ready for developing commercial hemp-based product, helping to complete the value chain.
Maejo University has been studying on hemp and cannabis since 2011 and specializes in growing organic methods.
"Research and development of hemp and cannabis plants are of great interest. However, this collaboration offers a complete value chain from field to product like this one. I am sure we will be able to develop great species as well as is a good growing technique and how to make the best use of hemp extracts in food industry. It will benefit farmers, consumers and the country's economy," said Asso.Prof. Dr. Weerapon.
CP Foods' CEO Prasit added that the company placed the utmost importance on health and safety of consumers. The CPF RD Center will create innovative hemp-based food products that can be traced back to species and cultivation sites in order to meet the highest level of food safety.
""Research and development of hemp plants is challenging. It must be within the legal framework and safe for consumers. The collaboration with Maejo University will enable us to produce quality hemp for commercial food production." he said.
Mr. Prasit told that healthy hemp-based ready-made meals from CP Foods are expected to be launched within this year.