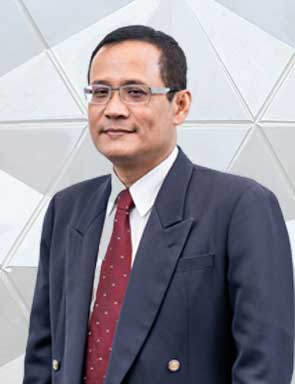 07 Apr 2020
CPF unveils "eco-friendly" chicken feed that promises lower CO2 emissions
31 March 2020 – Charoen Pokphand Foods PLC (CPF) launches eco-friendly chicken feed that combines a proportionate nutrient formulae and enzymes for better nutrient absorption and digestion. In effect, the innovation reduces waste chiefly carbon dioxide (CO2) and hence helps the world combat climate change impacts.    
Dr. Pairat Srichana, Charoen Pokphand Group's senior vice president – Feed Technology Office which researches and develops animal feed for CPF, said the innovative formulae was invented with a right balance of amino acid and proportionate enzymes for animals at different ages. The innovation enhances animals' digestion which brings about health benefits. It also cuts down excess raw materials like corn and protein and hence results in less waste. 
"The goal of innovative animal feed research is to source or invent materials for the production of feed that addresses different nutrient requirements of animals at different ages. The feed must improve digestion for quality growth and good health, produce zero waste and reduce production cost," said Dr. Pairat, adding that the eco-friendly formulae has been registered with the Department of Livestock Development's Animal Feed and Veterinary Product Control. 
The researcher said that the eco-friendly feed can reduce nitrogen by 12-13% and CO2 emission by 103 tons per annum, and lessen foul smell. It will feed 6.5 million laying hens at a complex. Designed in accordance with the biosecurity system for disease control, the integrated complex will accommodate chicken farms, an egg sorting plant and an egg processing plant under the circular economy concept, to reduce the production cost and boost accumulated greenhouse gases for the carbon credit scheme.  
CPF has used eco-friendly feed in its pig farms. In 2018, the feed cut down nitrogen in manure by 20-30% and CO2 by 23,000 tons at farms in Thailand. The feed has subsequently been supplied to pig farms in 7 countries – Laos, Cambodia, Vietnam, the Philippines, China, Taiwan and Russia – which has reduced greenhouse gas by over 41,000 tons of CO2 equivalent. 
Dr. Pairat asserted that his team is currently inventing a new pig feed, which aside from the ability to reduce foul smell will demand less water usage, to help mitigate environmental impacts. The result is expected in 2020.