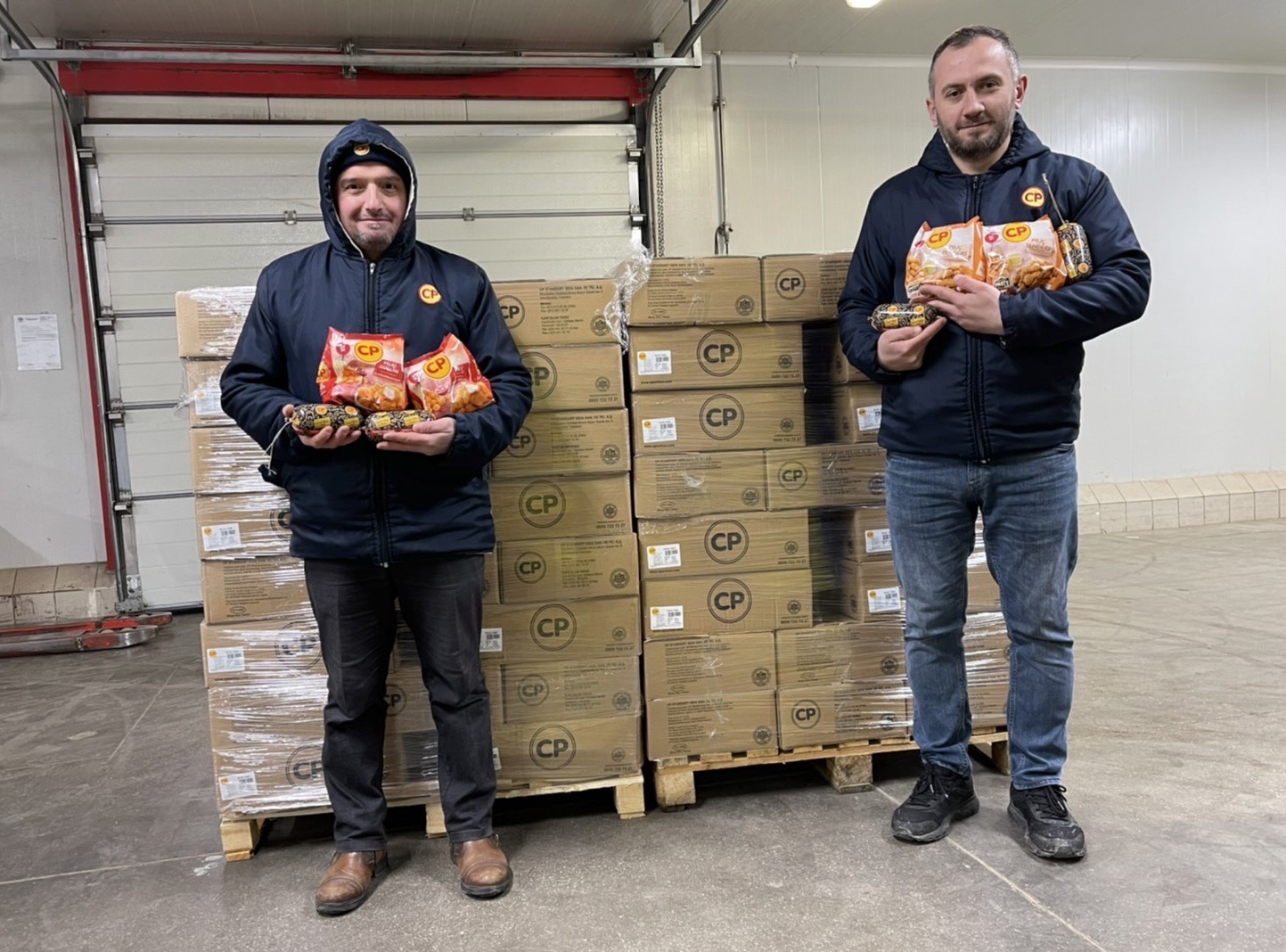 14 Feb 2023
CP Foods-CP Türkiye joins forces to help earthquake victims, assisting the USAR Thailand team in their search for survivors
CP Türkiye has collaborated with Thailand's Charoen Pokphand Group and Charoen Pokphand Foods Public Company Limited (CP Foods) to continue providing relief aid to earthquake victims and to offer food and communication aid to the USAR Thailand team in their search for and rescue of additional survivors from the rubble in Hatay, Turkey.

Mr. Soopakij Chearavanont, Chairman of CP Group and CP Foods, has immediately extended support to Turkey and Syria in the wake of the recent massive earthquake that struck the two countries. CP Foods and CP Türkiye collaborate with the government agencies in offering relief efforts to affected people and its employees working in Turkey.
CP Türkiye has thoroughly examined its operations as well as the impact of the disaster on its employees. The company confirmed that the quake had only a slight impact on its office building and operations, and that all its employees were safe due to risk management measures in place. CP Turkey has activated the company's relief team as part of its contingency plan to provide immediate assistance to earthquake-affected communities.
CP Group, CP Foods and True Corporations has provided a ready to eat food, drinking water, and TrueMoveH sim cards to assist USAR Thailand team before leaving Bangkok on February 9, to support Turkish government in search and rescue earthquake survivors in Turkey. In this regard, Mr.Prasit Boondoungprasert, Chief Executive Officer of CP Foods, handed over 1,500 packs of ready to eat food, 5,000 bottles of drinking water and 50 sim cards to Mr. Boontham Lertsukekasem, Director-General of the Department of Disaster Prevention and Mitigation in Bangkok to support the 10-day rescue operation of 42 members of "USAR Thailand" in Hatay.
CP Türkiye also provided its six voluntary employees, two of whom are Thai and four of whom are Turkish, to assist the Thai rescuers "USAR Thailand" team with translation and communication during their search effort for survivors trapped under the rubble in Hatay. The company hopes that this assistance will make it easier for Thai rescuers to help survivors in a timely and efficient manner.
Previously, CP Türkiye initially delivered survival bags to those in needs while also set up a temporary kitchen in the company's plant area to prepare and serve ready to eat meals to affected people as well as the search and rescue crews.
In addition, the company has dispatched a food truck loaded with chicken meat, fresh eggs, and drinking water, as well as adjusted the logistic route to the affected area to ensure that those in need and rescue teams have enough safe food and clean water.
Citizens of Turkey have widely praised the dedication and commitment of CP Türkiye's volunteer employees in their efforts to aid victims of the devastating earthquake around the clock, especially the relief kitchen's efforts to provide earthquake-affected residents with safe and hygienic food and water to help them overcome the difficult time.
Helping Victims of Natural Disasters is consistent with CP Group's "3 Benefits" philosophy, which encourages employees to prioritize the benefits of the country and people in which the company operates, with the company's benefits coming last.
CP Türkiye, CP Foods' overseas business founded in 1992, engages integrated livestock production including poultry, layers hens and Turkey chicken as well as owning 8 branches of retail CP Shop./