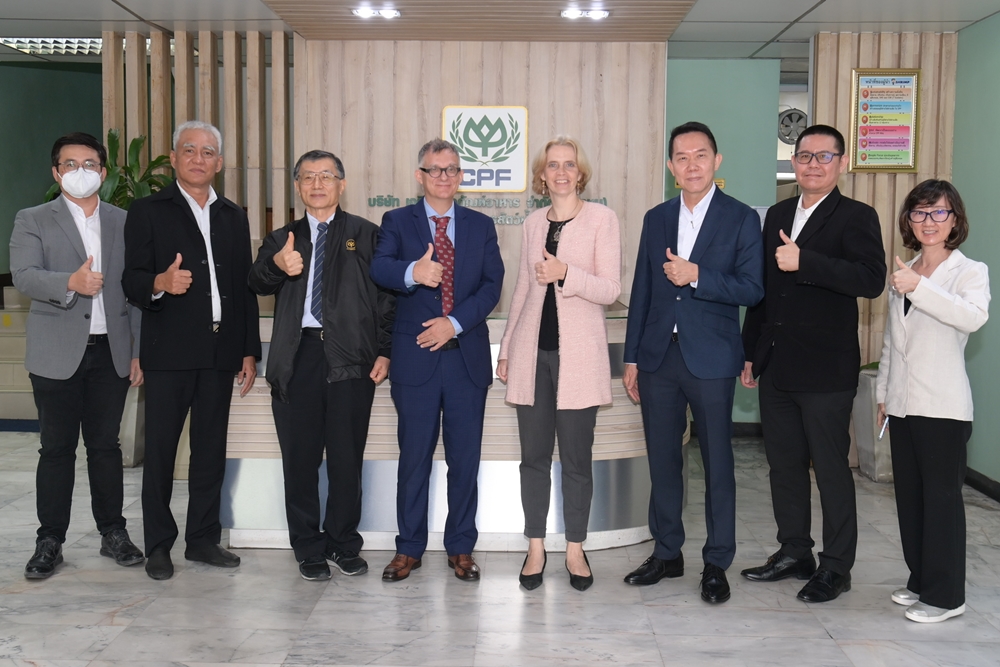 17 Mar 2023
Belgian Ambassador praises CP Foods' Sustainable Aquaculture Practices
The Belgian Ambassador, H.E. Ms. Sibille de Cartier d'Yves, recently praised Charoen Pokphand Foods Public Company Limited (CP Foods) for its dedication to sustainable aquaculture through technology and innovation. The Ambassador expressed interest in fostering cooperation between Belgium and CP Foods to promote growth in the aquaculture industry for both nations.

Ms. de Cartier d'Yves, along with Mr. Peter Christiaen, Economic and Commercial Attaché for the Flemish Region (Thailand), toured CP Foods' aquatic animal health research and development center, as well as the company's central aquatic laboratory and molecular diagnostics laboratory. They were accompanied by Mr. Premsak Wanuchsoontorn, Executive Vice President for Aquaculture Research and Development at CP Foods, Dr. Ming Dang Chen, Executive Vice President for Research and Development of Aquatic Feed, and Ms. Anutara Boonnut, Director of the Aquatic Animal Health Research Center.
During the visit, the Belgian Ambassador commended CP Foods for its strong focus on research and development and its use of eco-friendly, cutting-edge technology in the production of aquatic feed and aquatic animal health products. The company's commitment to transferring knowledge and technology to farmers to enhance the efficiency of aquaculture farming has been instrumental in driving sustainable practices in the industry.
Looking ahead, the Ambassador is eager to explore potential partnerships between the public and private sectors of the Kingdom of Belgium and CP Foods to further advance the aquaculture industries in both countries.