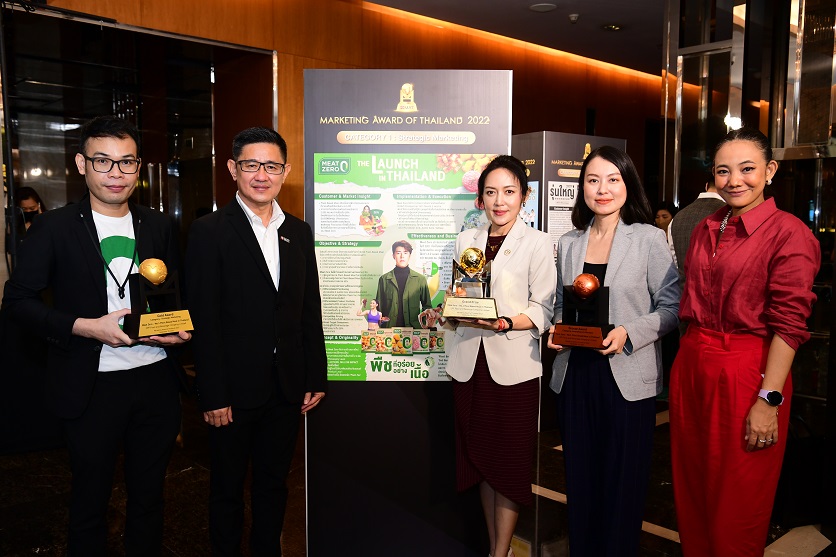 30 Nov 2022
CP Foods wins four MAT Award 2022 trophies
MEAT ZERO receives Grand Prize for Campaign of the Year
Charoen Pokphand Foods Public Company Limited (CP Foods) received 4 awards from Marketing Award of Thailand 2022 (MAT Award 2022), Thailand's largest marketing campaign competition, which is organized annually by the marketing Association of Thailand (MAT), to recognize Thai organization's marketing campaign success.
MEAT ZERO products won Grand Prize for Campaign of the Year, which recognizes excellence in its marketing strategy, execution, creativity, and good results by receiving the highest score of all award categories and the highest votes from the judges, the MAT judges, and the honorary consultant team.
Moreover, MEAT Zero was also granted Gold Award for Strategic Marketing Category to recognize its success in becoming the market leader within 18 months of product launch. Meanwhile, MEAT ZERO and CP Bologna won Bronze Award in Innovations& Martech which recognizes it marketing campaigns that best utilize innovation and technology to propel businesses to a new height.
Anarkawee Choorath, Senior Vice Presidents for Marketing of CP Foods, said we are honored that the plant-based product MEAT ZERO's marketing campaign was also named Strategic Marketing in the MAT Award 2022. According to the results of a consumer behavior survey conducted for a year, up to 28% of Thai population are flexitarian, which is consistent with the global trend. As a result, the campaign focuses on MEAT ZERO's health benefits due to it is made with Plant-TEC innovation, a technique for creating a meat-like flavor. The company raises public awareness through appropriate channels and diversifies distribution channels to increase access to the target group.
In addition, two products received the Bronze award in the category of Innovations & Martech. 1.) MEAT ZERO, which uses technology to gain precise insight into target groups behavior, and 2.) CP Bologna from its "CP Bologna MEWTaVerse" virtual event, which had the most participants in the world since this format was introduced. It also enables those interested in Metaverse trends to visit and learn about them. This award recognizes a marketing campaign for two products that uses modern marketing ideas to make a positive impact and achieve a business goal.