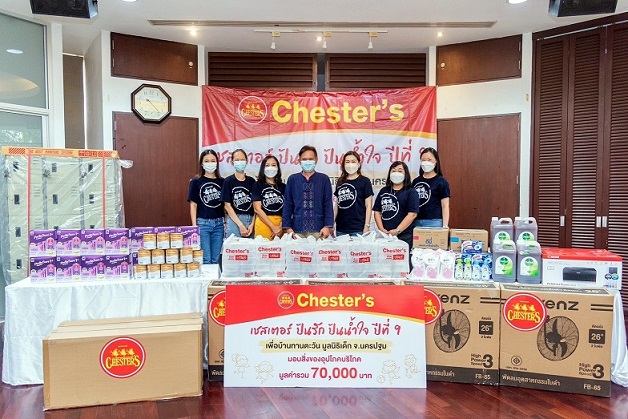 18 Oct 2022
Chester's serves luncheon meal for kids at Foundation of Children
Chester Food Company Limited or Chester's volunteers provided a special luncheon for children at Baan Tantawan of Foundation of Children in Nakhon Pathom province as part of Chester's Sharing Love Charity project, which is now in its ninth year. This initiative demonstrates Chester's dedication to doing good for society and bringing joy to those in need.

Miss Lalana Boonngamsri, Managing Director of Chester's said the company has initiated the Chester's Sharing Love Charity project for 9 year in a row, to encourage management and employees to organize the charity activities for those in needs. This year, we provided the extra luncheon with Chester's menus for kids at Baan Tantawan of Foundation of Children, which was established for the orphans and underprivileged children.
Additionally, the volunteers cleaned up the surrounding area, the playground area and gave the foundation basic things worth 70,000 baht.
With the intention of supporting the foundation's work to generate value for children, Chester's staff members and customers from more than 200 branches across Thailand donated the money. Chester's bring the donated money to buy supplies for assist the foundation.
Chainarong Chimchoojai, director of kindergarten schools for the Foundation of Children said Chester's is appreciated for doing goods for kids. The special luncheon's high-quality and delectable food increase children's happiness.
Chester's established the "Chester's Sharing Love Charity" in an effort to give Thais access to food security and to raise employee awareness of doing good deeds for society.