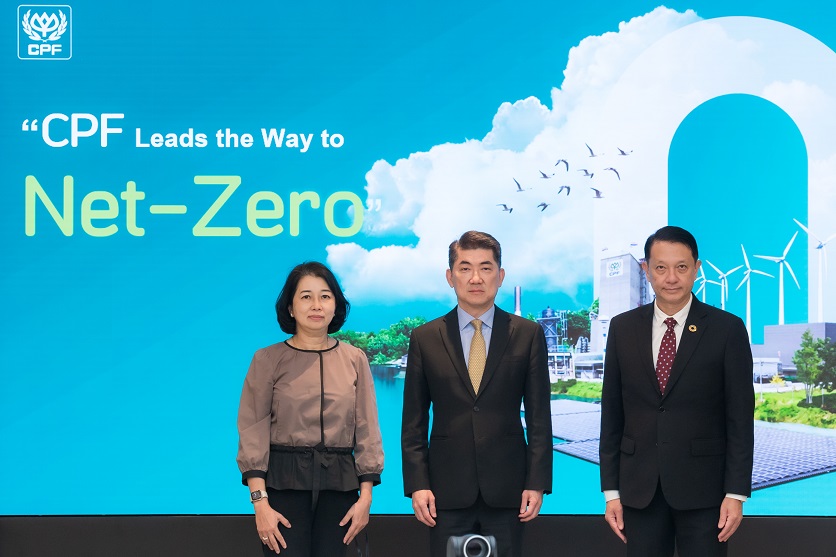 18 Jan 2023
CPF unveils roadmap towards Net Zero, kicked off with 100% abandonment of coal use in Thailand
Charoen Pokphand Foods Public Company Limited (CPF) unveils the roadmap towards the Net Zero Greenhouse Gas Emission target and the 100% stop of coal use for the operations in Thailand under the Coal Free 2022 target.  For food security, the 3Smart approach – Smart Sourcing, Smart Production and Smart Consumption – will be implemented to drive business from upstream to downstream towards conservation goals with supports from innovation, technology and automation systems. 
Mr. Prasit Boondoungprasert, Chief Executive Officer of CPF; Mr. Peerapong Krinchai, Executive Vice President – Corporate Engineering and Mrs. Kobboon Srichai, Head of Corporate Affairs and Investor Relations at CPF joined the press conference to unveil the plan towards Net Zero and the achievement of Coal Free 2022 target at CP Tower Silom Building.  
Mr. Prasit said that risks from the climate change and the COVID-19 pandemic have sent impacts on the global food security. As a leading integrated agro-industrial and food business operator, CPF is aware of its role in producing sufficient food and satisfying customer demand in normal time and time of crisis as well as supporting the global commitment on climate impact mitigation and the United Nations Sustainable Development Goals (SDGs). All drive CPF to announce the Net Zero 2050 target. 
2023 marks a significant beginning of the moves towards the target, after CPF achieves the 100% stop of coal use in Thailand under the Coal Free 2022 target. In line with the Bio-circular Green Economy (BCG) concept honored by Thailand and the global community, the Thai operations has shifted its focus to biomass energy. Renewable energy now contributes 30% of energy use, making CPF one of the top-tier food companies in terms of renewable energy consumption. The switch has also reduced greenhouse gas emissions by more than 600,000 tons of carbon dioxide equivalent. 
Under the Net Zero target, CPF has introduced innovation, AI/IoT technology and automation systems to enhance production efficiency. Under the 3 Smart approach, CPF's business chain, from upstream to downstream, will strive to materialize Smart Sourcing, Smart Production and Smart Consumption.  
Smart Sourcing:  Ensuring sustainable sourcing throughout the supply chain. The sourcing of key agricultural materials including corn and soybean must be traceable, to ensure they are not from encroached forest areas.
Smart Production:  Harnessing power from biomass sources in replacement of coal. Animal manure and wastewater is turned to energy (Waste to Energy). The biogas system is deployed to process manure and wastewater from pig and layer chicken farms. Methane gas deriving from the process is used to produce electricity for the farms' internal use, saving electricity use by 50-70%.
Smart Consumption: Calculating the carbon footprints of food products for the formulation of an emission reduction plan; and emphasizing eco-friendly packaging. 
Mr. Prasit added that in 2023, all CPF business units in Thailand and abroad will jointly devise a roadmap and Climate Transition Action Plans, based on the group's greenhouse gas emission data in 2020. The roadmap will guide CPF towards the Net Zero short-term target (2030) and long-term target (2050), taking into consideration the best and scientifically-proven standards under the Science Based Initiatives (SBTi). The SBTi is a partnership between CDP, the United Nations Global Compact, World Resources Institute (WRI) and the World Wide Fund for Nature (WWF). After its launch in 2015, more than 2,000 companies have joined SBTi's call to set emission reduction targets with science-based initiatives, to keep average global temperature from reaching 1.5 degrees Celcius above pre-industrial levels.
CPF has implemented a program to increase green areas at operating sites, aside from conservation and rehabilitation projects for terrestrial forests and mangroves under the target to enhance green areas by at least 20,000 rai within 2030. The "CPF Rak Nives at Phraya Doen Thong Mountain Project" in Phatthana Nikhom District, Lopburi province and the CPF Grow-Share-Protect Mangrove Forestation Project in Rayong, Samut Sakhon, Chumporn, Songkhla and Trat provinces have covered more than 14,000 rai.