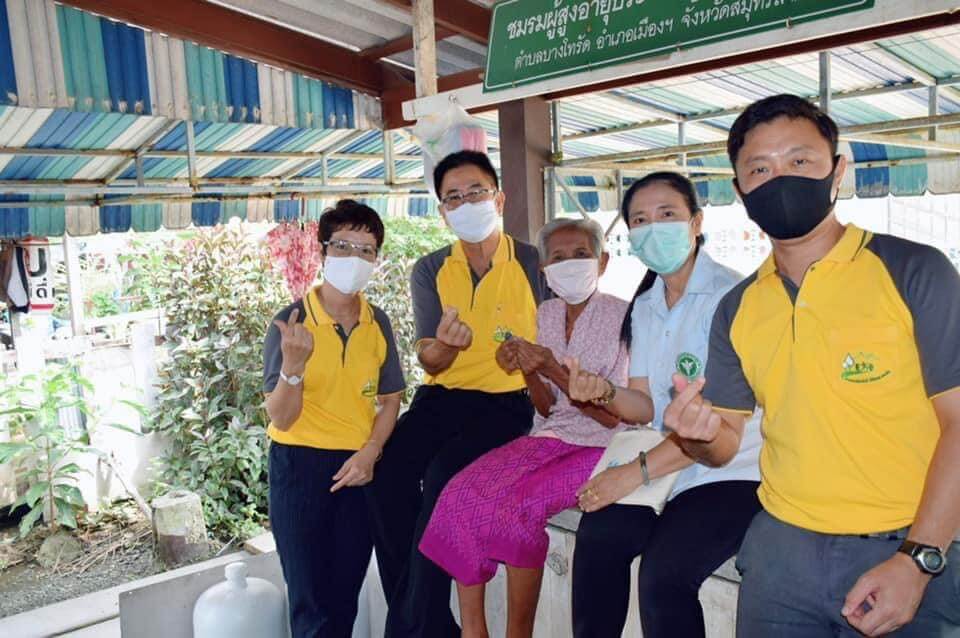 21 Oct 2020
CP Foods promotes the quality of life of the elderly, creating a caring society
Charoen Pokphand Foods PCL (CP Foods) creates a society of happiness through "CPF Fund for Elderly" project to help and take care of the elderly, around the farms and factories of the company throughout the country.
"CPF Fund for Elderly" is a project that CPF has operated since 2011 until to help the elderly who cannot support themselves. For almost 10 years, the project provides lifelong assistance to 800 elderly until they have passed away. As of October 2020, the number of elderly people nationwide that CP Foods' currently supported is 357.
During the COVID-19 epidemic, CP Foods has coordinated with the Tambon Health Promoting Hospital and Village Health Volunteers to conduct a home visit for general heath check-up.
Mrs. Thongthiam Changpradit, age 84, from Ayutthaya province, joined the project in 2016 under the supports and supervision of CP Foods' Tha Ruea Feed Mill. She was suffering from lower half paralysis and hearing loss.
She is living in a small pavilion of the Tha Luang Municipality, receiving 3 meals a day from people at the nearby Dharma Center. The government gave her 800 baht per month for disability living allowance, and another 800 baht for elderly living allowance on monthly basis. CP Foods is giving 2,000 baht per month in addition to the government's support.
Mrs. Buaphan Malailin, Age 81, is also being taken care by the Tha Ruea Feed Mill since 2011. She has a high blood pressure and living with his paralyzed son. Her only source of income was from the elderly living allowance of 800 baht per month. Since she joined the project, the company has funded her 2,000 baht per month.
In addition, CP Foods staffs made a home visit to improve living condition such as buying a new mattress, replacing the old one that is not in usable condition.
Mrs. Pue Waiwong, 90 years old from Samut Sakhon Province, joined the project in 2019 under the care of CP Foods' Mahachai aquaculture feed mill. She has problems with eyesight and uneven legs. She is living alone while her neighbors visit and provide assistance from time to time. She is now receiving 900 baht per month from the company.
CPF Funds for the Elderly project aims at supporting the elderly above 55 years old living within a radius of 5 kilometers from the company's farms and factories who are neglected, unaided, or impoverished. Under the scheme, CP Foods provides financial support for 2,000 Baht per person every month for a life time as well as providing foods, necessaries and a monthly visit.