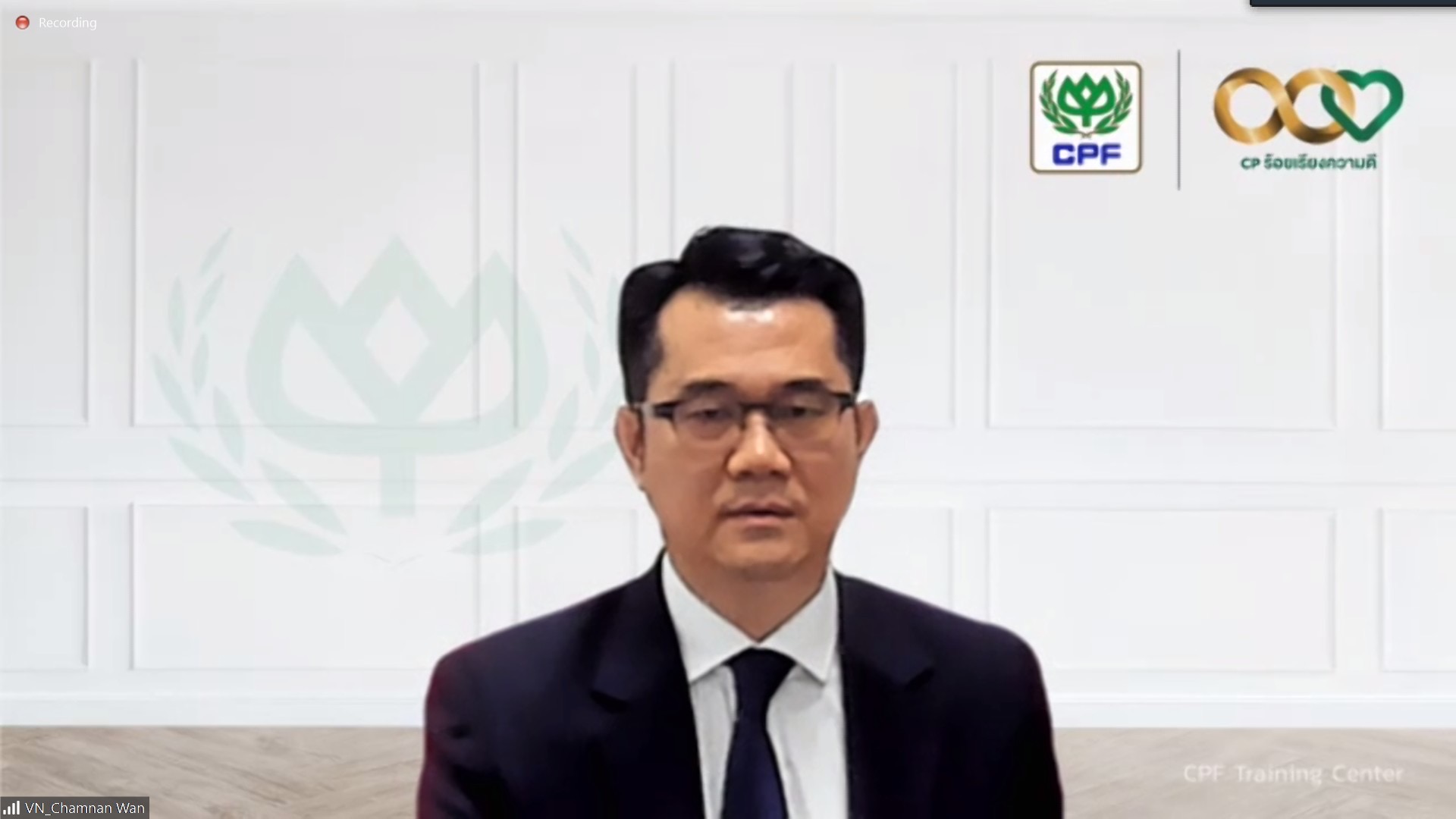 29 Dec 2021
C.P. Vietnam hosts "Capacity Building for Partnership 2021"
With the vision of "Kitchen of the World", as a leading company in agro-industrial and food business, C.P. Vietnam Corporation (CPV) has been and will be determined to bring high-quality food, nutritious, quality and safety to consumers based on food safety standards, environmentally friendly materials and socially responsible business operation strategies.
C.P. Vietnam has always recognized that "Suppliers" is the key to the success for CPV vision and mission. The Sourcing Development and Audit Department of CPV has cooperated with SGS Vietnam Co., Ltd. to organize the conference "Capacity Building for Partnership" the 2nd time by online on December 29th, 2021. We have invited suppliers of ingredient and packaging group which providing material for food factories to join in sharing ideas, directions and experiences in collaborating and strengthening business activities towards sustainable development.
Mr. Chamnan Wangakkarangkul, Executive Vice President - Agro Feed and Food Products Business cum President of Sustainable Sourcing Committee of C.P. Vietnam and the CPV Board of Directors attended the event. Represent for SGS Vietnam is Mr. Lam Hoang Quan – Assessment & Training Expert along with more than 80 suppliers.
Speaking at the conference, Mr. Chamnan Wangakkarangkul shared: "We are always aware that 'Suppliers' are considered a very crucial link in the supply chain for success. Therefore, sharing ideas and implementing cooperation together is considered an essential, necessary and meaningful activity in business which towards effective cooperation and sustainable development.
At the event, suppliers also shared information about the "Standards applicable in Food Safety and Hygiene" from SGS so that Suppliers can learn and apply to their company's policies.
Cooperation, sharing and engagement is an opportunity for CPV and suppliers to accompany and develop for a long-term partnership, which is  why the conference has been held for many years to create opportunities for the parties to interact, exchange ideas and improve competitiveness among partners. Hopefully, the partnership between CPV and suppliers will get better and better and lead to greater success in the future.