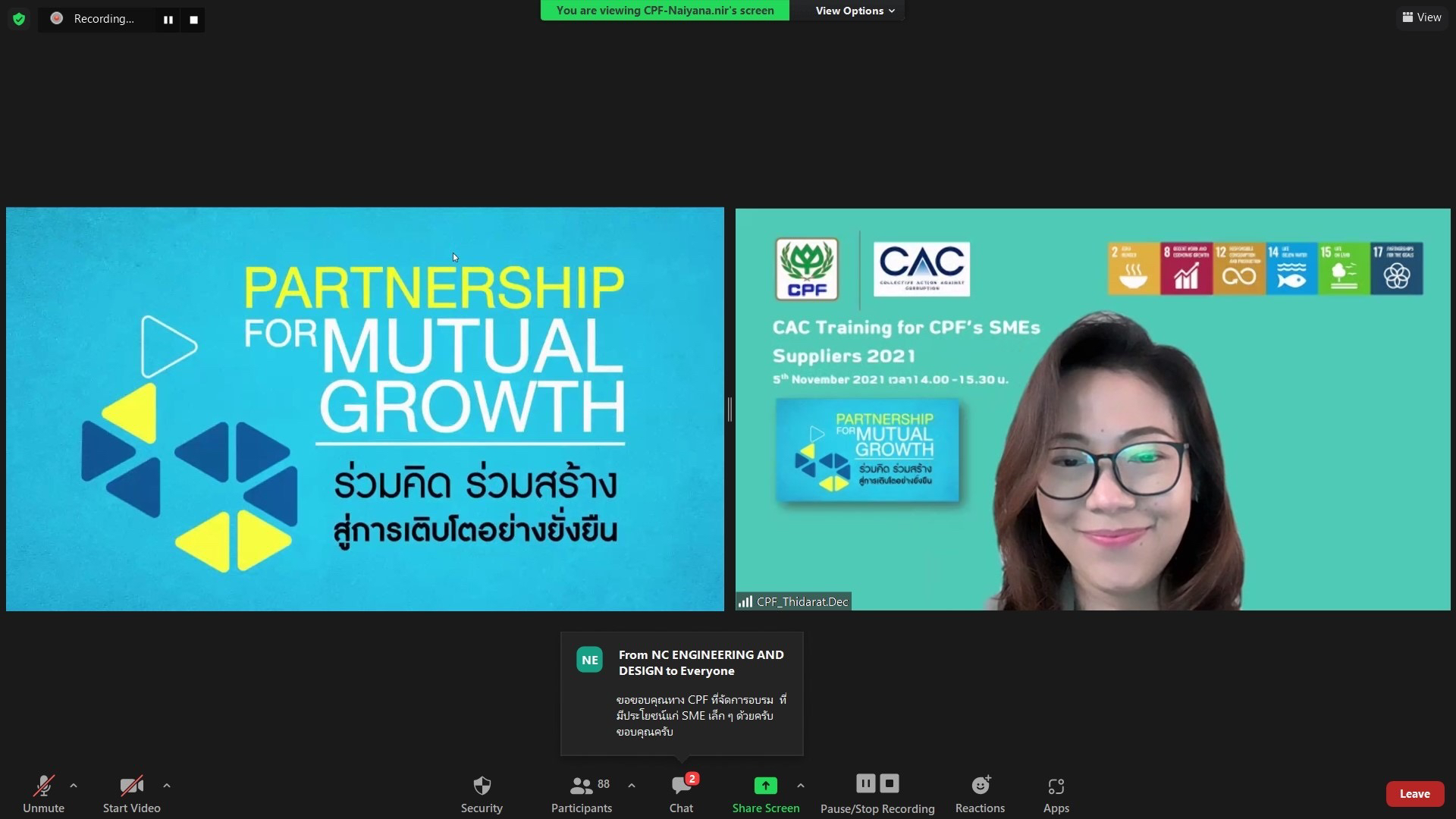 16 Nov 2021
CP Foods encourages SMEs partners to fight against corruption
Charoen Pokphand Foods Public Company Limited (CP Foods) joined hands with Thai Private Sector Collective Action Coalition against Corruption (CAC) to arrange

"CAC Training for CPF's SMEs Suppliers 2021" to guide 120 SMEs partners toward a more transparent practice and in return reducing corruption risks in the business.
CAC Director Pana Ratanabanangkoon said that nowadays, consumers focus on ethical businesses in accordance with ESG (Environment Social Governance). As a result, CP Foods and CAC have initiated this training session to raise awareness on prevent corruption risk with sustainable ways and innovations. He added that transparency will also boost credibility for the SMEs, making them competitive enough in the local and international markets.
CAC, as a non-profit organization, was established by private sectors to create a business alliance against corruption. The purpose of CAC is in line with CP Foods' Sustainable Sourcing Policy and Business Partner Guidelines in which business partners must not be involved in corruption and they must implement policies and mechanisms to manage, control, and find ways to prevent corruption in operations.
Pana suggested to SMEs that the heart of preventing corruption actions are a risk assessment, transparent management, policies and continuous training to help employees put the policies into practice. The SME owners must constantly monitor their business in order to systematically control and prevent fraud as well as being able to solve problems in a timely manner.
Moreover, communication to business partners and stakeholder groups is needed in order for them to understand and follow.
Thidarat Dechayonbuncha, Vice President of CP Foods, said that as a member of the CAC Change Agent, which is responsible for driving a business network adheres to good governance principles and transparency to partner companies
CP Foods aims to encourage its SMEs partners to join the CAC SME project will improve competitiveness among SMEs entrepreneurs under the concept "Partnership for Mutual Growth, urging SMEs to build up a transparent working procedure and
tools to combat and prevent all forms of corruption. This is important to building the credibility of the organization as well as providing opportunities for SMEs entrepreneurs to grow stably in the future.
CP Foods also encourages SMEs to participate in the CAC SME Certification project and be a part of the CAC network. The company will share the expertise and support of further document assessment for SMEs that are interested in the project.