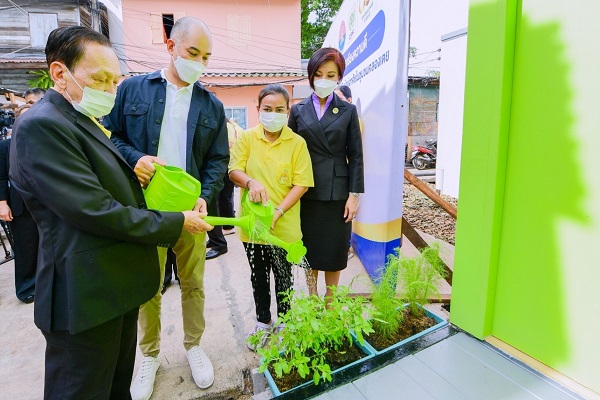 02 Jun 2022
Royal Thai Army-CP-CP Foods continues to deliver houses for vulnerable group in Klong Toey
The Royal Thai Army teamed with CP Group and Charoen Pokphand Foods Pcl. (CP Foods) to hand over six new built houses from a total of 47 houses to the residents of Khlong Toey community as the royal charity for the birthday celebration of Her Majesty the Queen on June 3, 2022.

The cooperation also gave away necessities as well as herbal medicine from Andrographis paniculata and vegetable gardening kits from CP Group to improve the quality of life and create good hygiene food for vulnerable groups within the area.
The Royal Thai Army has collaborated with CP Group and CP Foods in an effort to improve dwelling condition for the residents of Lot 4-5-6 community in the Khlong Toey area. The project has built the better condition of micro-houses instead the old ones for vulnerable families. with the total of 87 houses. The first phase achieved to deliver 40 modern houses while, as of today, the ongoing second phase the company already delivered 40 houses, while remaining 7 houses will be handed over to the residents by this year.
The handover ceremony at Lot 4-5-6, community in Khlong Toey district was participated by 1st Army Area Commander, Lt.Gen. Suksan Nongbualang, and Pong Visedpaitoon, Chairman of Agro Industry Business Group ( Aquaculture) India Area at CP Foods. The purpose of this housing project is to improve the quality of life and create good hygiene for vulnerable groups under the second phase of "Building and Repairing Housing for the Underprivileged Project" operated by the army and financial supported by CP Foods. The project also provided a survival bag, consumer goods, necessities including a vegetable garden set from Chia Tai and herbal medicine Andrographis paniculata from the CP Group
Lt.Gen. Suksan said that the donation is a part of "We Do Good Deeds by Heart", a Royal Initiative Volunteers Project. This is the 4th batch of the project. Meanwhile, the third batch was delivered in April 2022. CP Foods has always been the support in this project, reflecting the public and private collaboration to create opportunities for underprivilege people. With the new house, they can access to safe and comfortable living
Mr. Pong congratulated the owner of the new house along with thanks to all the parties participated for providing cleaner, safer and more comfortable houses. The residents will have a better quality of life in a suitable living environment. He added that this activity is initiated by Dhanin Chearavanont, senior chairman of CP Group, in line with "3-benefits" principles aims to create prosperity for the country, local communities as well as the company and its people.
All microhouse were designed by Vin Varavarn Architects Ltd. as a semi-custom-made house in a response to each family requirement and to harmonize with surrounding community. The design focuses on small space utilization with bright colors according to the needs of the residents themselves.