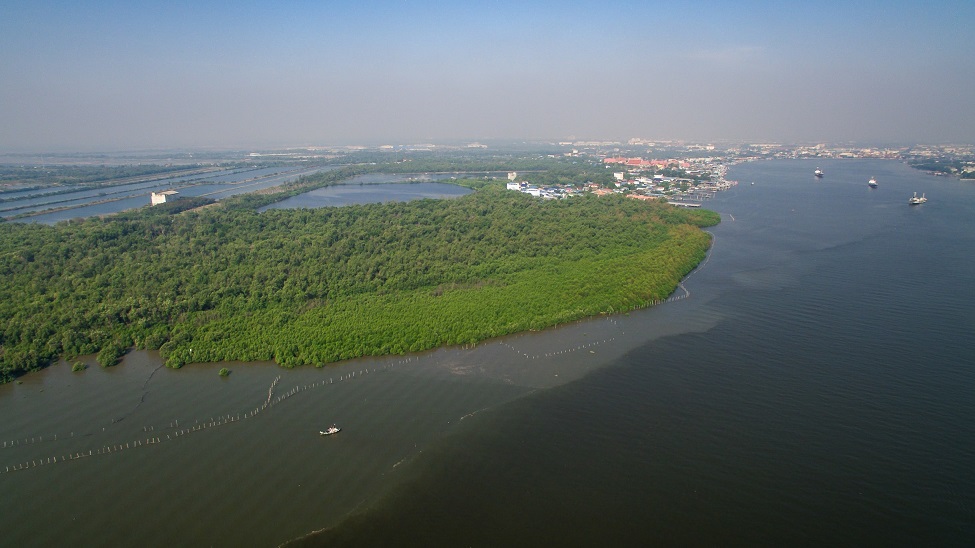 05 Jun 2022
CPF joins global environmental conservation efforts for sustainable food security
Charoen Pokphand Foods PCL (CPF) celebrates the World Environment Day with a vow to further reduce greenhouse gas emissions and nurture biodiversity as well as the environment, leveraging its modern and innovative food technology for sustainable food security, lifestyles and consumption.

Mr.Wuthichai Sithipreedanant, Senior Vice President – Social Responsibility and Sustainability Development of CP Foods, as a leading integrated agro-industrial and food business operator that supplies products worldwide, CP Foods realizes the importance of actions to mitigate environmental impacts throughout the supply chain, particularly in the past few years following the COVID-19 outbreak as well as climate change. As all lives on Earth witness the impacts, all should act now to protect the environment and natural resources which are the sources of our food.

"Under CPF 2030 Sustainability in Action Strategy, CP Foods is ready to take actions in driving the organization towards sustainability. We will join environmental conservation efforts and act accordingly to the United Nations Sustainable Development Goals (SDGs)," Mr. Wuthichai said.


To achieve its goals, CP Foods emphasizes the reduction of greenhouse gas emissions which significantly affect ecosystems and biodiversity across the globe. The circular economy concept has been adopted in managing resources, to reduce utilization and maximize production efficiency. CP Foods has promoted renewable energy; embraced innovation, robotic technology and automation in the production line; and enhanced the water management efficiency under 3Rs principles (Reduce, Reuse untreated water, and Recycle treated water).

CP Foods's emphasis is extended to cover the oceans. In collaboration with partners and communities, CP Foods has launched activities aimed at balancing coastal and marine ecosystems; for example, Trap the Sea Trash Project. Under this pilot project, CP Foods and communities in Tambon Bangyaphraek in Samut Sakhon province collected and sorted garbage in canals to prevent leakage to the sea. The "Returning trash to shore" Project has encouraged fishermen to stop dumping waste into the sea.
CP Foods has also launched activities to collect beach trash near its aquaculture business premises as well as coastal and marine debris, following the success by Fishermen Life Enhancement Center (FLEC).

Mr. Wuthichai asserted that in dealing with plastic waste which sends direct and indirect impacts on the environment, CP Foods has conducted research and development of sustainable packaging. To reduce packaging waste, CP Foods promotes environmental-friendly materials. At present, 99.9% of the company's food packaging is recyclable, reusable or degradable. The Company also announced the policy on food loss and food waste to alleviate environmental impacts and challenges induced by climate change.


Portraying the company's efforts to nurture the environment is the policy to achieve zero deforestation in 2030. The policy encompasses CP Foods business as well as the suppliers of principal agricultural materials like corn, fish meal, palm oil, soybean, and tapioca. CP Foods also embarks on the projects to protect biodiversity, rehabilitate upstream watersheds, grow trees in forests and mangrove forests for wildlife habitats, and grow trees at premises. These initiatives include "CPF Rak Nives Pasak Watershed at Phraya Doen Thong", Lop Buri province where trees have been planted on 6,971 rai and "Grow- Share-Protect Mangrove Forestation" that has covered 2,388 rai. CP Foods aims to expand mangrove forests in Samut Sakhon and Trat provinces by another 1,871 rai between 2019-2023.


CP Foods employees have been engaged to take part in environmental conservation projects, like tree growing at their work places. Employees are encouraged to grow trees at home under "Forest in the City" project and produce minimum food waste under "Empty Plate…Save the Planet". The projects have won warm responses.


World Environment Day is the United Nations day that falls on June 5 of each year. Under the 2022 theme "Only One Earth", the focus is placed on "Living Sustainably in Harmony with Nature"