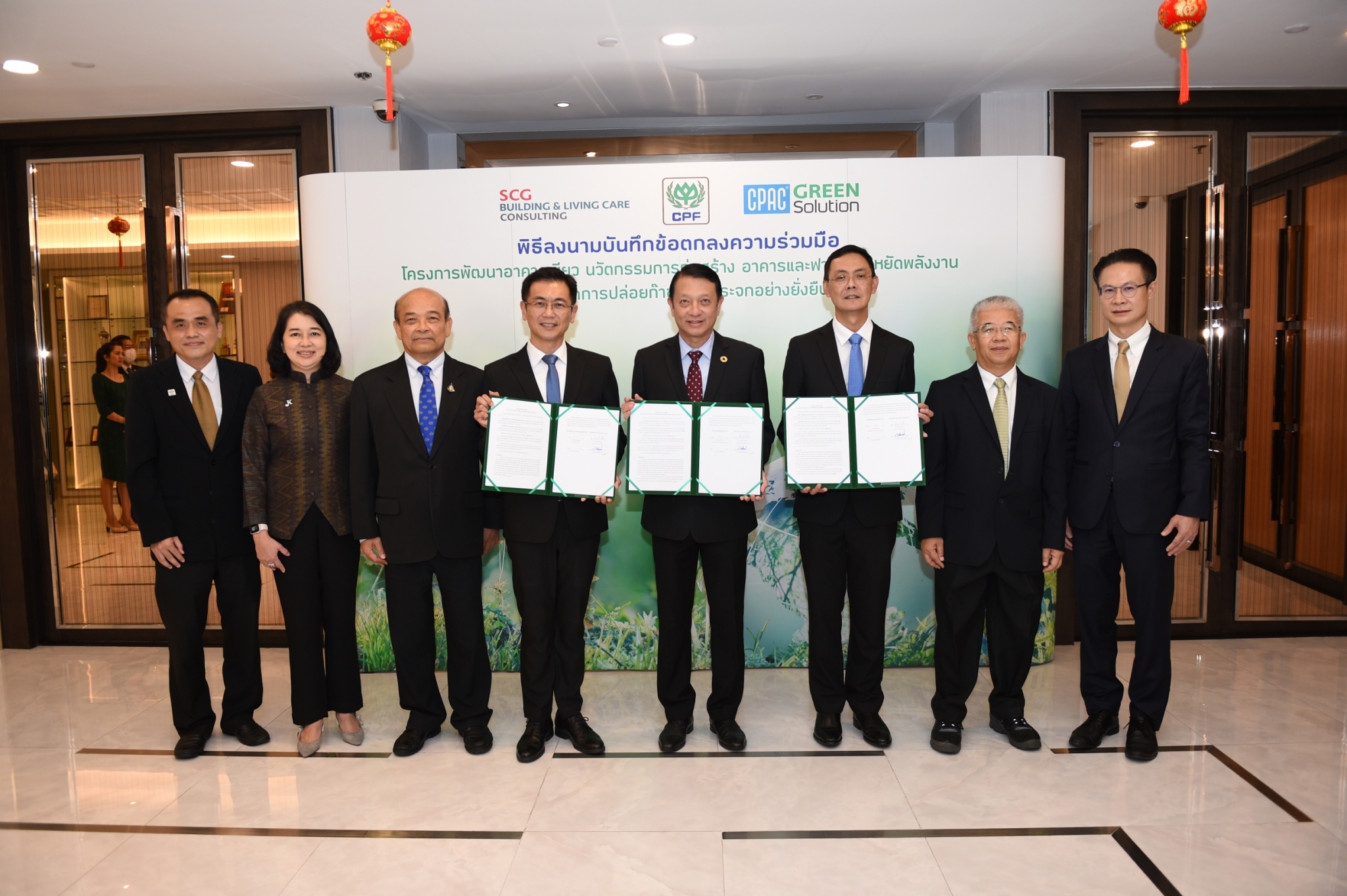 22 Mar 2023
CP Foods and SCG team up to develop green building certification to reduce carbon emissions
Charoen Pokphand Foods Public Company Limited (CP Foods) has partnered with SCG Building and Living Care Consulting Company Limited (BLC) and Concrete Products and Aggregate Co., Ltd. (CPAC) under the cement-building materials business of the SCG group to sign a Memorandum of Understanding (MoU) on cooperation for the "Green Building Development, Construction Innovation Adoption, and Energy-Efficient Buildings and Farms for Sustainable Greenhouse Gas Emissions" project.
The three-party MoU was signed at CP Tower Silom, with Mr. Peerapong Krinchai, Head of Engineering representing CP Foods, Mr. Wachirachai Koonamwattana, Managing Director of BLC, and Mr. Surachai Nimlaor, President-Green Solution Business at CPAC, cooperating to establish the program of green building development and innovative solutions adoption in the design, construction, and renovation of factories and office buildings in CP Foods' operations, with the aim of expanding green building certification. This pact will launch three pilot projects at CP Foods' operations, including the pork slaughterhouse in Srisaket, the aquatic laboratory and office in Samutprakarn, and the pet food manufacturing plant in Saraburi province.
Mr. Peerapong stated that CP Foods prioritizes technologically advanced operations that maximize resource efficiency, and its social and environmental responsibilities are in line with international standards. This agreement is essential for the companies to fulfill their pledge to reduce their greenhouse gas emissions.
These three pilot buildings will serve as a model for the company's ongoing development of environmentally friendly, energy-efficient, and low-emission buildings in response to the company's Net-Zero goal and as a step toward its goal of consuming 100 percent renewable energy by 2050. In addition, the project will improve the health and well-being of employees and contribute to the development of a low-carbon society.
Mr. Wachirachai stated that the SCG group aims to encourage Thai organizations to develop eco-friendly and sustainable building designs in accordance with the green building standard. Under the terms of the collaboration, BLC will offer its expertise and professional advice to help CP Foods construction projects obtain green building certification. They are pleased to provide invaluable technical consulting to encourage the adoption of innovative solutions in green and energy-efficient building construction, in accordance with CP Foods' 2050 Net-Zero and 100 percent renewable energy consumption goals.
In addition, Mr. Surachai affirmed that CPAC will provide innovative building construction and renovation solutions that require less time, labor, and construction site waste. This will respond to the sustainability strategy of CP Foods and SCG by adopting green and low-carbon building materials and management.