CP Foods handed over herbal medicine to support police officers during the new year festival 2022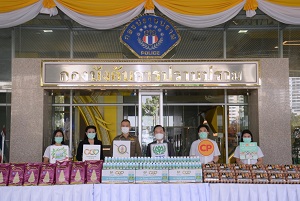 30 Dec 2021
CP Foods handed over herbal medicine to support police officers during the new year festival 2022
Charoen Pokphand Foods Public Company Limited (CP Foods) donated 10,000 of fresh chicken eggs and 2,500 kilograms of rice, along with Andrographis paniculata herbal medicine from Charoen Pokphand Group (CP Group) to the Central Investigation Bureau (CIB), Royal Thai Police, in order to support their works during the New Year Festival 2022.
Pol Lt Gen Jirabhop Bhuridej, thanks CP group and CP Foods for providing quality food supplies to the police officers who perform missions to facilitate people in traveling back to their hometowns across the country. Meanwhile, the herbal medicine will be distribute to officers and front line personnel who are at risk from the Covid-19 situation.
 "As for this new year's festival, wishing you all happiness and being careful when traveling. If there is an accident, the officers can be contacted immediately." He said.
Voravit Janthanakul, executive vice-president of CP Foods, says police officers has been dedicated themselves to keep people safe during holidays. Therefore, CP Foods would like to be a part of sending encouragement to all officers.
The project is a part of "CPF Food from heart against COVID-19" project, and "Growing Andrographis Paniculata" project, on-going COVID-19 relief schemes initiated from Dhanin Chearavanont, senior chairman of CP Group.
Cpfworldwide.com use cookies for the best experience on our website, including to provide ads of products/service for your personalize content.
For more information see our information on
Cookies Policy