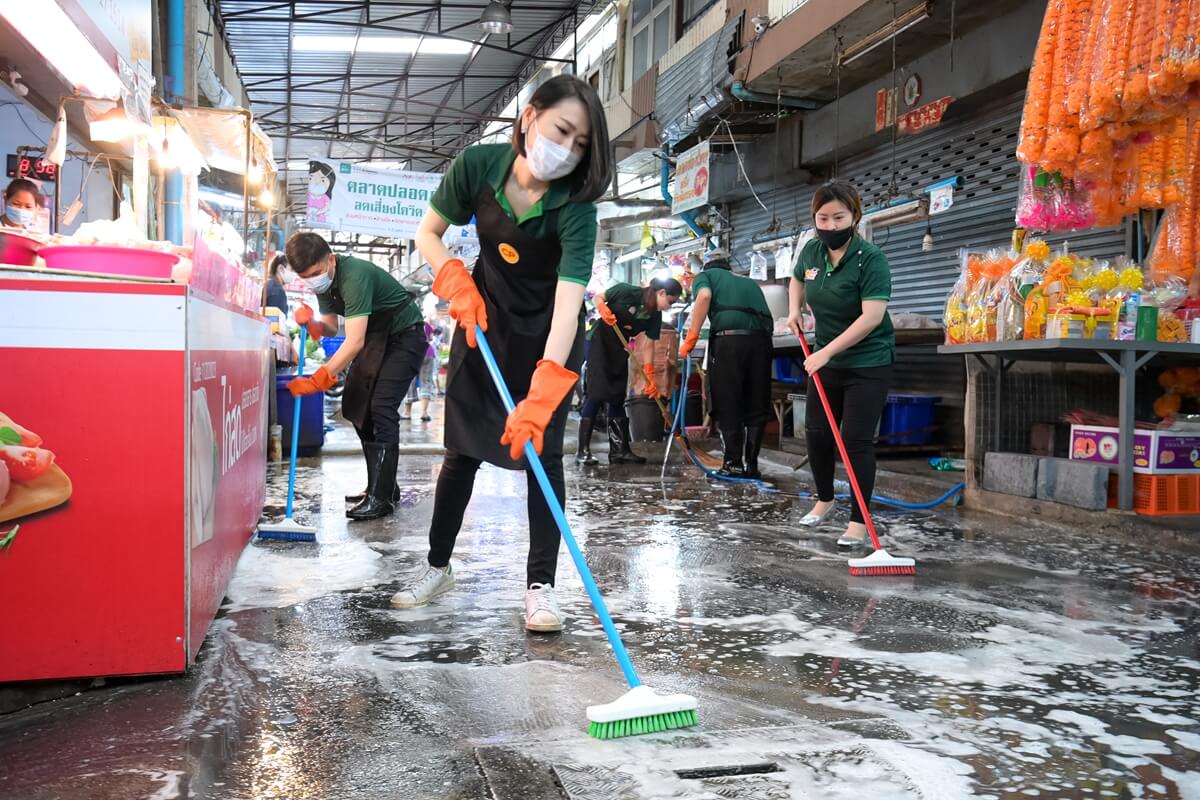 28 Jan 2021
CP Freshmart and partners joined forces to promote safety of local fresh markets nationwide
CP Freshmart, the retail arm of Charoen Pokphnad Foods PCL (CP Foods), joined forces with True Corp and community volunteers, hosted a "Big Cleaning Day" event to prevent the spread of the COVID-19, ensuring food and customer safety at local fresh markets nationwide.
CP Freshmart volunteers joined forces with True and Bangsue's community cleaned up Tao Poon market, Bangkok. Also, the volunteer group donated disinfectants, cleaning tools and alcohol gels to Tao Poon martket's sellers.
The efforts aim at boosting customer's confidence in visiting the fresh market and, in turn, making sure that sellers, including CP Foods' partners, are working in a safe environment.
Aside "Big Cleaning Day" event, Ms. Darunrut Apikasemsant, general manager at CP Foods and CP freshmart volunteers, added that CP Freshmart has teamed up with True Corp to to upgrade Tao Poon Market to be Market 4.0 by installing Wi-Fi so that sellers will be able to use True Smart Merchant, supporting a cashless transaction. The contactless payment will promote good hygiene and social distancing, keeping both shops and consumers with minimal infection risk during the outbreak. The transition is expected to be completed by March 2021.
Mr. Songwut Thongcharat, owner of Tao Poon Market, Bang Sue District, said that the market takes into account the cleanliness and safety of consumers. There are intensive preventive measures such as temperature scanning at the entrance and a mask wearing policy. Moreover, every shop in the market must provide an alcohol gel for customers.
"Thank you CP Foods for supporting Tao Poon Market community. This project is reassuring consumers that our market has a stringent safety standard in line with the government's policy," he said
In addition to Tao Pon market, CP Freshmart has supported safety measures in multiple fresh markets in Bangkok and nearby areas such as Saeng Charoen Market in Samut Prakan Province, Bang Yai market in Nonthaburi province, Inter Mart market in Pathumthani and Yingcharoen Market in Bangkok.
CP Freshmart has continuously maintained safety measures to prevent the spread of COVID-19 at it own branches nationwide, along with hosting "Big Cleaning" activities in cooperation with surrounding communities and fresh markets throughout the country to build consumer confidence in products and services that are fresh, clean, and safe, helping its partners overcome the COVID-19 crisis.