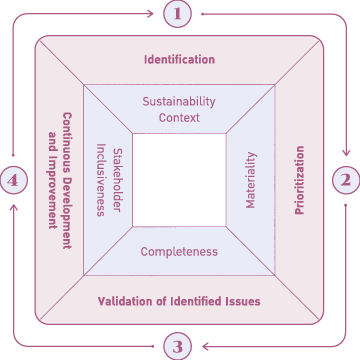 The material sustainability issues determined in our sustainability strategy and sustainability report were internally and externally assessed. The Company abides by the four principles of GRI Standards including Sustainability Context, Materiality, Completeness and Stakeholder Inclusiveness. The process used to assess the material sustainability issues is as follows:
STEP 1 Identification
The Company identified material issues based on the internal and external factors of the organization, which are CPF Strategic Direction, CPF Sustainability Direction, CPF's risks, CPF's material issues identified in 2018, material issues benchmarked against industry peers, national and global sustainability trends identified from international sustainability standards, and benchmarking indices. In addition, the Company gathered stakeholders' opinions and views from stakeholder engagement surveys.
STEP 2 Prioritization
Executives/Heads of relevant departments and eight groups of stakeholders prioritized the issues identified in Step 1 based on two considerations: significance to CPF (impacts of the Company on economic, social and environmental dimensions) and significance to stakeholders.
STEP 3 Validation of Identified Issues
The Company's Corporate Social Responsibility and Sustainable Development (CSR&SD) Office primarily reviewed the identified material issues and conducted interviews with external stakeholders, to gather their opinions on the issues that are significant to the sustainability of the Agro-industrial and Food business. Stakeholders' views on how to manage these sustainability issues were also collected via interviews. The material issues were later presented to the Executive Committee to approve and confirm the issues, under the boundary of the organization's internal and external impacts. Moreover, an external party was commissioned to verify and validate our sustainability reporting process based on the GRI Standards and the reliability of the selected data set.
STEP 4 Continuous Development and Improvement
The Company provides channels to receive feedback, views and suggestions in order to develop and improve the content for the next year's report. We continue to adhere to the Stakeholder Inclusiveness and Sustainability Context Principles.
Details of CPF materiality in 2021 are available in our Sustainability Report 2021, page 16-17