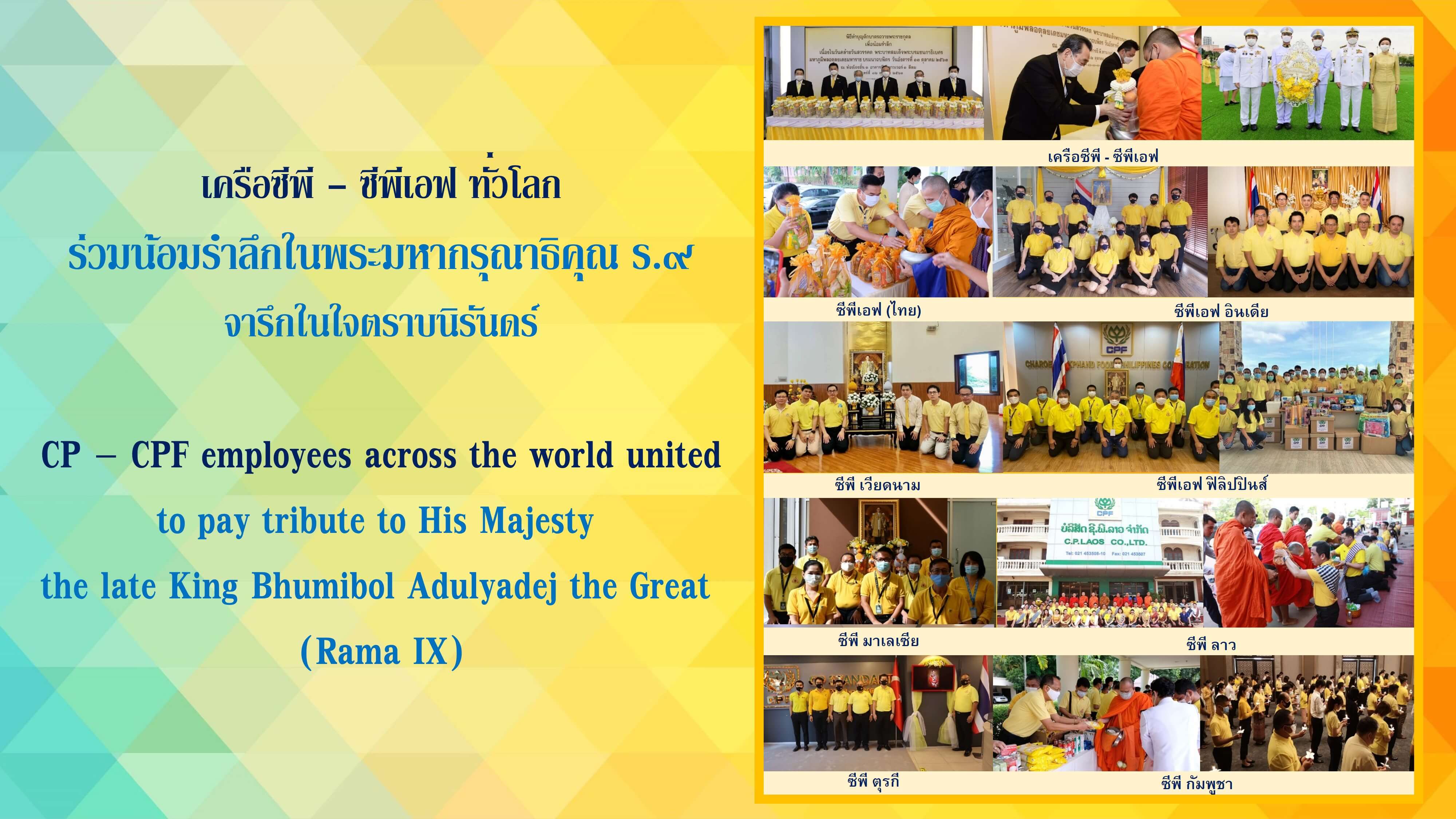 14 Oct 2020
CPF and CP Group host activities in commemoration of King Rama IX
Charoen Pokphand Foods PLC (CPF) together with Charoen Pokphand Group organized a number of events on 13 October to mark the 4th anniversary of His Majesty King Bhumibol Adulyadej The Great's passing.
Overwhelmed by the gratitude to King Rama IX who had devoted himself for Thais' well-being throughout his long reigning period, CPF's executives and employees stationed in Bangkok, provinces and abroad gave alms to monks and joined commemorative events in tribute to the late His Majesty. In Bangkok, an alms-giving ceremony was organized at CP Tower Silom and CPF was one of private organizations participating in a public event to give food to 89 monks and novices, lay garlands and pay respect to the late His Majesty's portrait at Sanam Luang.  In provinces; for example, the feed mill at Bangna KM 21 and the water animal feed mill in Ban Bueng; executives and employees were invited to a ceremony to give monks dried food and pay respect to the late His Majesty's portrait  as a way of remembering the unfathomable depths of his benevolence.
The executives and employees of CPF abroad, Thai and foreign, were invited to commemorative events. CP Vietnam together with the Thailand-Vietnam Business Council hosted an event to present necessities to 8 monks at Buu Long Temple in Ho Chi Minh City. Joining the event were executives, employees and Thais residing in Vietnam.
In Cambodia, Thai and Cambodian executives and employees of CP Cambodia joined Thais in Cambodia in a merit-making event at the Royal Thai Embassy in Phnom Penh. CPF Philippines' livestock business organized a ceremony to pay respect to the late His Majesty's portrait at the headquarters in Manila, while the aquaculture business hosted a commemorative social event whereby executives and employees handed out lunch, consumer products, face masks and alcohol to an orphanage in Bataan Province.
At the head offices of CPF abroad like India, Laos, Malaysia and Turkey, food was presented to monks and organization members paid respect to the late His Majesty's portrait. On the day, all executives and employees in Thailand and abroad wore yellow shirts, showing the world their unwavering loyalty and gratitude to King Rama IX who will forever stay in Thais' hearts./