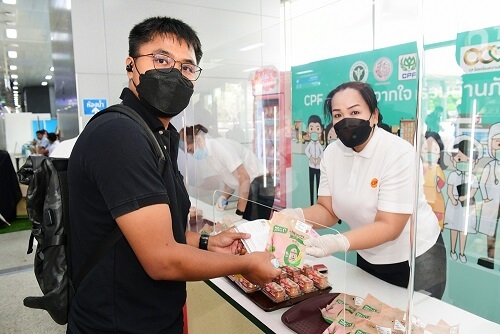 15 Jul 2021
CP Foods gives away the delicious products to medical team and vaccinated people at Bang Sue Central Vaccination Center
For over a month, Charoen Pokphand Foods Public Company Limited (CP Foods), a leading food producer, has brought food expertise to support medical staffs and people who received Covid-19 vaccine at Bang Sue Central Vaccination Center, Bang Sue Railway Central Station, Bangkok, for helping Thailand achieving Heard Immunity.
As a part of a COVID-19 relief project, "CPF Food from the Heart against COVID-19" program, the company joins forces with CP Meiji and CP Intertrade to provide quality food, milk, and beverages to help reduce the burden of food preparation for medical staffs, officers and volunteers working in the Bang Sue Central Vaccination Center.
In addition to the staffs, the project also distributes free food for people who received the vaccine as a token of thanks for supporting Thailand, mass vaccination plan.
Ms. Kawinnat Thongbansai, who received the vaccine at the centre, thanks all the agencies that involved in this campaign, including good food product from CP Foods. "Thank you for being by our side in times of crisis like this." she said.
Other vaccinated person, Ms. Phannapha Phokhawanich, praises the fast and highly organized system at the vaccination site. "The staff will guide you every step of the way, every point and before you go home. also get a variety of food from CP Foods. Thank you very much."
Institute of Dermatology director Dr Mingkwan Wichaidit says "the medical team are working tirelessly to increase the number of people who received the vaccine as much as possible. She pointed out that the vaccination is a key for the country's health and economic and social development.
"CPF Food from the Heart against COVID-19" program is an ongoing mission of CP Foods to support Thai people in the time of crisis. Since the beginning of the outbreak in 2020, multiple COVID-19 relief efforts have been made. CP Foods has provided millions of packs of ready-to-eat food, ingredients, beverage and other essentials to medical personnel and Thai people at over 500 locations nationwide, including the hospitals, field hospital, vulnerable group, and vaccination center.