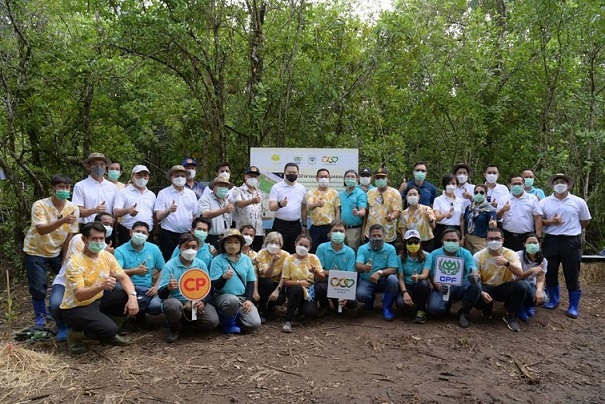 22 Jun 2022
CP Group and CP Foods make reforestation collaboration to promote biodiversity and local economy in Trat province
The CP Group and Charoen Pokphand Foods Public Company Limited (CP Foods) jointly kicked off a mangrove reforestation collaboration in Trat province, covering the area of 1,300 rai, under CPF Grow-Share-Protect Mangrove Forestation Project. The aims are to: promote biodiversity, protect wildlife and marine life in the area, driving local economy and, subsequently, improving quality of life for the communities surrounding the mangrove areas.

The volunteers from the CP Group and CP Foods led by CP Group chairman, Soopakij Chearavanont, also released multiple species of marine life into the mangrove areas to promote marine biodiversity.
Asides the reforestation project, the volunteers and executives visited Baan Thammachart Lang subdistrict in Trat to see the successful outcome of the Community Enterprises in Baan Thammachart Lang and Pak Nam Prasae, which utilized local wisdom into products with the guidance of CP Foods. The visit was joined by Trat governor Chamnanwit Terat.
During the visit, Mr. Chamnanwit said that the collaborative effort between the government, Baan Thammachart Lang community enterprise and CP Foods, has significantly boosted local economy. The community's eco-print products, using fabric made of materials from forest, herb and mangrove and dyed in natural color, has become a well-known thanks to the support from CP Foods. The Community Enterprise also showcases other products such as Nano Fertilizer and community-run drinking water.
"The goal is turning waste into gold in line with the provincial strategy, "Trat…. Protecting the Earth, Conserving the environment"," he said, adding that all of these local wisdoms have come to fruition thanks to the mangrove reforestation and the support from private sector like CP Foods. Today, Baan Thammachart Lang model has become a best practice for other Community Enterprises.
Pairoj Apiruknusit, Senior Executive Vice President of CP Foods, said that, under the vision of "Kitchen of the World, the company operates its business with social and environmental responsibility to ensure food security. Therefore, it is important to participate in maintaining the balance of the ecosystem and increase green areas for Thailand under the concept of "From the Mountains to the Mangrove Forests".
CP Foods has continuously carried out CPF Grow-Share Protect Mangrove Forestation Project since 2014, helping to conserve and restore mangrove forests totaling 2,388 rai in the first phrase (2014-2018). Meanwhile, the second phase (2019-2023) goal is to conserve, restore and plant 2,900 rai more of mangrove forests in Trat, Rayong and Samut Sakhon provinces. The project has resulted in the abundance of mangrove ecosystems that serve as the nurseries for marine lives, has brought back marine animals to the areas and thus has allowed the surrounding communities to utilize the restored natural resources.
"The project will help to restore biodiversity of the mangrove forest. The community surrounding the area can be benefited from the abundant natural resource. This will prove that communities and forests can coexist in a sustainable way." he said.