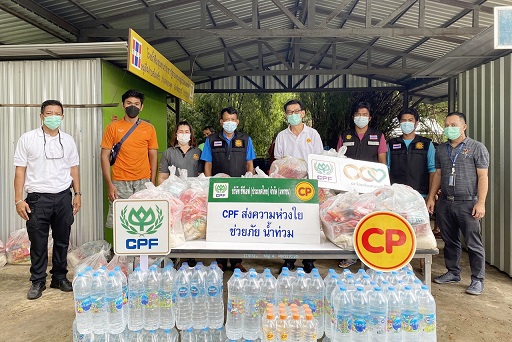 18 Oct 2021
CP Foods Volunteers continues provide aids for flood victims
Charoen Pokphand Foods Public Company Limited (CP Foods) has continuously supported flood victims in Phai Liu Sub-district, and Don Phut District,Saraburi Province as a part of "CPF food from the heart against flood disasters" project.

CP Foods's volunteers visited both villages and donated 100 sets of survival bags and 600 bottles of of drinking water. "In Phai Liu Sub-district, over 200 homes are affected from large amount of flood, many of which are still flooded and there is also a shortage of supplies." Phai Liu headman said.
Those flood victims received a survival kit, including rice, dry food, vegetable oil, drinking water, and other household items from CP Foods.
"Thank you CP Foods for always rally support to the people of Saraburi," said Phai Liu headman.
Wisut Daoloi, one of the Phai Liu Sub-district resident, said the people's can hardly access to food and drinking water. Even though, they have received help from many agencies, including CP Foods that has been helping the community since the beginning.
"CPF food from the heart against flood disasters" project provides continuous assistance to Thai people in many areas such as Phitsanulok, Phetchabun, Nakhon Sawan, Ang Thong, Phra Nakhon Si Ayutthaya, Saraburi, Nakhon Ratchasima, Chaiyaphum and Khon Kaen./
Cpfworldwide.com use cookies for the best experience on our website, including to provide ads of products/service for your personalize content.
For more information see our information on
Cookies Policy