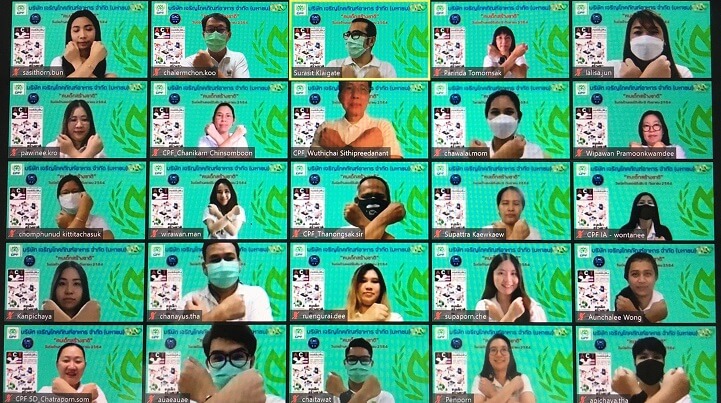 06 Sep 2021
CP Foods' employees join forces to the fight corruption
Charoen Pokphand Foods PCL. (CP Foods) participated in the Anti-Corruption Day 2021 (ACTDay 2021), managements and employees of Charoen Pokphand Foods Public Company Limited (CP Foods) led by Executive Vice President Wipawan Pramoonkwandee and Senior Vice President Wuthichai Sithipreedanant joined to declared their intention to oppose corruption in all forms together with nationwide organizations, members of Thai Private Sector Collective Action Against Corruption (CAC) via social media.
Due to the Covid-19 pandemic, the annual event in 2021 was organized by Anti-Corruption Organization via Facebook Live, under the theme "Cultivating New Gens establishing Corruption-Free Thailand". At the event, CP Foods showed the company commitment in conducting business with responsibility, and transparency in accordance with good governance principles.
To put this commitment into practice, the company announced an anti-corruption policy to prevent and fight against all forms of corruption, which is an important part in creating sustainable organization that make a positive impact for the country's economic, society and the environment.
This year, ACT Day 2021 focused on young generation who help bring about change for a better society with their knowledge and determination to create new solutions for preventing corruption and country development.
Cpfworldwide.com use cookies for the best experience on our website, including to provide ads of products/service for your personalize content.
For more information see our information on
Cookies Policy