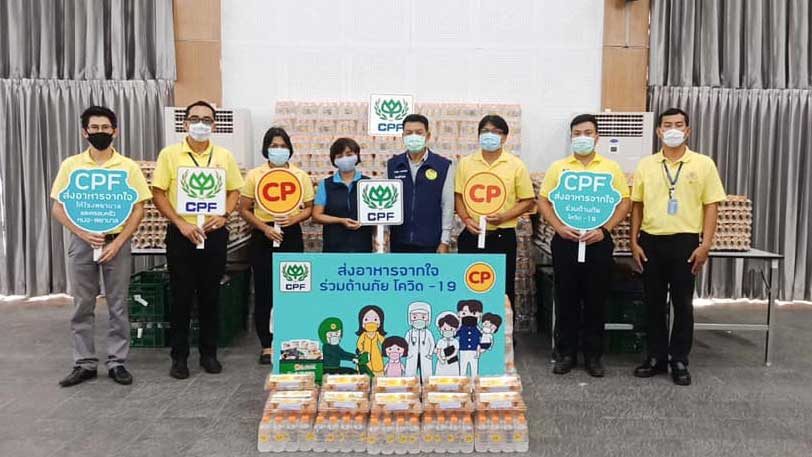 08 May 2020
CPF provides a series of supports for people affected by COVID-19
The COVID-19 outbreak has caused "catastrophic'' impact on economy and people's lives, especially on lower-income workers who have lost their jobs. Many of them are barely able to afford basic items like food.
At Ban Khao Keaw village, Kanjanaburi, 400 people from 130 households have lost most of their incomes since the coronavirus lockdown.
"Many of us are daily wage workers. We have lost our jobs or reduced the number of work hours. People at the local market have less customers while farmers are severely affected by drought," Kanueng Sueb-in, a village chief at Ban Khao Keaw village, said. "Thankfully, Udomsuk farm that located nearby our village gave food supplies and rice to all 130 households. These supplies help our community a lot,"
Udomsuk fam, a pig farm owned by Charoen Pokphand Foods PCL (CPF), is among many of the company's operations across the country that initiated a COVID-19 relief program to support local communities affected by the pandemic.
CPF has joined forces with local governments and volunteers to aid people in need. For example, its Feed Mill Bangna KM.21 supported 3,000 eggs and 1,200 bottles of water to Sisa Chorakhe Yai's Subdistrict Administration Organization in Samut Prakan for using in community kitchen program at local temple.
In Nakhon Ratchasima, CPF donated 17,000 eggs to support 3,840 villagers in Don subdistrict. Meanwhile, 6,000 eggs are donated to people Ban Pong district in Ratchaburi by the company's local feed mill operation, 14,000 eggs and 6,360 bottles are donated by Nong Khae's feed mill im Saraburi.
In the south, the Aqua-Feedmill Banpru, Songkhla, donated infrared thermometers to local village health volunteers and 150 bags of rice to vulnerable people in the same area.
Since the outbreak, CPF has provided free food supplies to frontline medical staffs in 200 public hospitals nationwide, 20,000 individuals returned from abroad to self-quarantine, and 20,000 families of frontline nurses and doctors.

The company in collaboration with the First Army region offered free foods to 8,499 households in Khlong Toei community. It also teamed up with Ministry of Agriculture and Cooperatives and government agencies to feed low-income communities in Bangkok Noi and Bang Phlat. Moreover, CPF offered CP Freshmart's special discount coupons to reduce living costs for 1,042,372 village heath volunteers who are working tirelessly to combat virus outbreak.