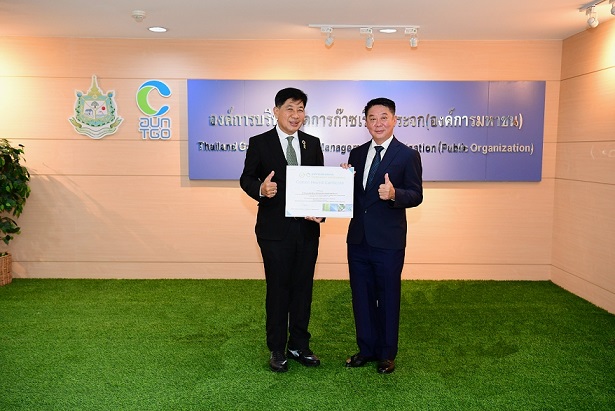 27 Sep 2022
CP Foods' Pakthongchai Feed Mill becomes Thailand's first "Carbon Neutral" feed mill
Pakthongchai feed mill of Charoen Pokphand Foods Public Company Limited (CP Foods) has been certified "Thailand Greenhouse Gas Management Organization (Public Organization) or TGO, making it the first carbon neutral feed mill in the country.

TGO Executive Director, Kiatchai Maitriwong, who presented the Carbon Neutral Organization certification to the CP Foods' feed mill, said that it is TRGO goal to urge all parties to work together to solve climate change problems and reach Net-Zero Emission goal accordingly to The UN's Global Roadmap.
He pointed out that the trend of reducing greenhouse gas emissions is important to the world and it is crucial for the business sector to set an example. The CP Group and CP Foods are leading the action in this regard. The Pakthongchai feed mill being a cerified Carbon Neutral Organization, demonstrating the company's sincere effort to tackle global warming and climate change.
Rewat Hathaisattayapong, Executive Vice President at CP Foods, revealed that the company's animal feed business strives to mitigate environmental footprint continuously. Many efforts have been implemented at the feed mill to reduce greenhouse gas emissions as well as saving energy projects and increasing production efficiency such as the use of biomass energy, solar power, automation that reduce losses, etc., These are to minimize greenhouse gas emissions.  To achieve Carbon Neutrality status, the Feed Mill has have made carbon compensation to balance unavoidable GHG output.
"This Carbon Neutral certification from the TGO shows that Pakthongchai Feed Mill is a model for sustainable feed production. CP Foods will continue to move forward to reduce greenhouse gas emissions to achieve the net zero greenhouse gas emission target together," said Mr. Rewat.
Also, TGO has awarded certificates for the Low Emission Support Scheme (LESS) project to 12 factories in CP Foods feed business. All of them were able to reduce greenhouse gas emissions by,476 tons of carbon dioxide equivalent throughout the year 2021 and the beginning of 2022./