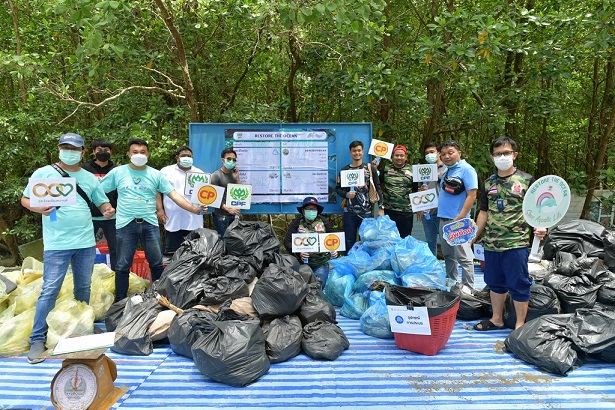 17 Sep 2022
CP Foods employees and partner clean-up trashes in 7 coastal areas across Thailand
Charoen Pokphand Foods Public Company Limited (CP Foods) collaborated with local authorities, communities, and volunteers in seven provinces to clear up trashes on beaches and mangrove forests on the occasion of the "International Coastal Cleanup Day" to raise awareness on ocean sustainability and to promote circular economy practices by bringing back marine plastic waste and other debris back for recycling as part of its ongoing the Restore the Ocean project. 

The activities, which took place in seven provinces along coastlines of Thailand, including Samut Sakhon, Rayong, Trad, Chumporn, Phang Nga, Songkhla and Nakhon Si Thammarat province, aimed at protecting the environment from ocean waste pollution. 
Over 2,000 volunteers from CP Foods, government officials and communities took part in this coastal cleaning initiative during September 15 and September 17. 7,153 kg of trashes were collected in total.
CP Foods' senior vice president for social responsibility and sustainable development, Wuthichai Sithipreedanant, said the company has operated business with social and environmental responsibility. This also includes collaborations with partners worldwide to raise awareness and take action against all kinds of global issue that affected food security and, ultimately, driving food industry toward sustainability. In seafood business, the company has joined Seafood Business for Ocean Stewardship (SeaBOS) in order to conserve natural resources and marine environment while also eradicating the IUU problem throughout the value chain.
The "Restore the Ocean" program is an initiative to mitigate ocean waste problem in accordance with the circular economy principle as a part of CP Foods' kitchen of the World vision, building safe and sustainable food system. This is also in line with the company's sustainable strategy, "CPF Sustainability in Action 2030", and supports the United Nations Sustainable Development Goals (SDGs).