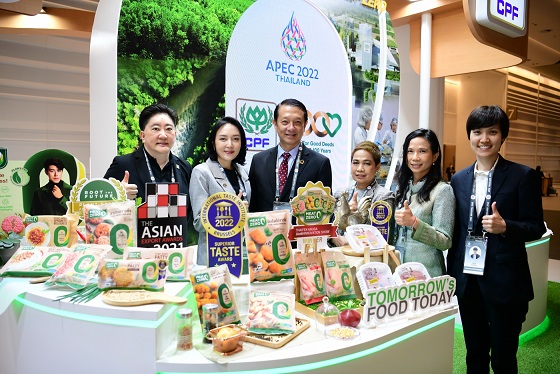 21 Nov 2022
CP Foods highlights sustainable production and products towards Net Zero emissions at APEC 2022
Charoen Pokphand Foods PLC (CP Foods) participates in the Asia-Pacific Economic Cooperation Forum (APEC 2022) as a leading integrated agro-industrial and food company, ready to showcase its production and product development that follow the "Sustainable Kitchen of the World Towards Net-Zero" concept.
Mr. Peerapong Krinchai, Executive Vice President – Corporate Engineering ; and Ms. Anarkawee Chooratn, Senior Vice President – Corporate Marketing of CP Foods, welcomed media member to CP-CP Foods booth to witness the highlights of sustainable business operations that underpin the Bio-Circular- Green- Economy Model (BCG) and the corporate goal to fulfil Thailand and global aspiration towards Net Zero greenhouse gas emissions in 2050.
Peerapong said that CP Foods has concrete plans to achieve net zero emissions in 2050. Innovations and technology that are clean and reduce emissions have been applied throughout the supply chain. For example, CP Foods targets to harness 100 megawatts of electricity from solar power in 2025. The feasibility study is underway to bring in electric vehicles (EV) and use IoT technology in production data storage for improvement in production efficiency. Under the BCG model, layer chicken farms generate electricity from biogas which is originated by the decomposition of chicken manure. By the end of this year, CP Foods has the policy to phase out coal use for all operations in Thailand and switch to biomass energy (from wood waste, for example). At present, renewable energy accounts for 27% of all energy consumption and CP Foods strives to further raise the ratio.
In line with CP Group's "3 Benefits" philosophy, CP Foods' actions are driven chiefly by the benefits to the country and the general public, while the benefits to the organization are put in last place. CP Foods aims to address global sustainability issues, following the severe impacts from the global warming that has caused flooding and drought. CP Foods' sustainable operations are expected to support and drive other organizations towards sustainability goals. As a leader in livestock and food business, CP Foods ensures its actions have encompassed the supply chain as suppliers are part of CP Foods' moves towards sustainability.
Ms. Anarkawee added that CP Foods has continually put its efforts in new product development, taking into account 3 factors: innovation, wellness and planet. Regarding Innovation that has always been CP Foods' emphasis, food innovations are aimed at churning out products that fit consumer demands, are environmental-friendly, and come from a sustainable production process. On Wellness, the products can improve consumer health. For instance, the newly-launched CP Selection comes from pigs and chicken raised with probiotics and without antibiotics. On Planet, CP Foods, RD Center, the engineering team and the supply chain have worked together to ensure all products in our supply chain address sustainability issues.
CP Foods also takes pride in presenting special menus made from our sustainable products, which are Meat Zero-branded plant-based meat and Benja Chicken, for the APEC CEO Summit Reception 2022. The supply chain of both products has followed the BCG Model, to deliver quality and yet reduce emissions.