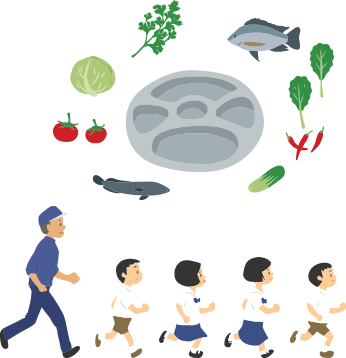 "
...Children and youth have good nutrition
& healthy body, develop a habit of learning
honesty, saving and patience and obtain
both academic and vocational knowledge
and skill as key fundamentals of living...

"
A part of the ultimate goal according to the Development plan of Children and Youth in Remote Area initiated by HRH Princess Maha Chakri Sirindhorn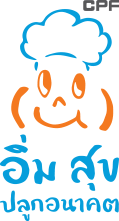 Concept of CPF Growing Happiness Growing Futures Project
Give a man a fish, you feed him for a day. Teach a man to fish, you feed him for a lifetime.
CPF believes that when children are and can feed themselves by learning how to produce their own food
and obtaining knowledge about healthy diet and nutrition,
they will have not only good health but also clear mind to play and learn new things,
which is called physical, mental, social and intellectual .
This is considered and essential element of
for children and youth,
the key drivers leading the country towards stability and progress.
Nutritional Status of Children and Youth
Children and youth around the world are facing nutritional problems including undernutrition that makes children become thinner and shorter than the growth standards or overnutrituin that causes obesity or overweight in children, due to economic, social, environmental, belief and cultural differences. These problems can affect the development of children who are the nation's future, in terms of physical, intellectual, emotional and social. Therefore, the joint collabouration to mitigate and solve the malnutrition issues in children and youth is considered an urgent agenda which id crucial to driving the country forward.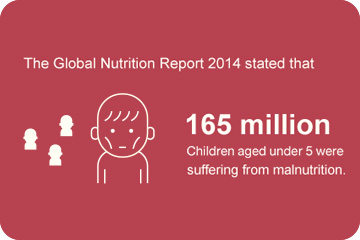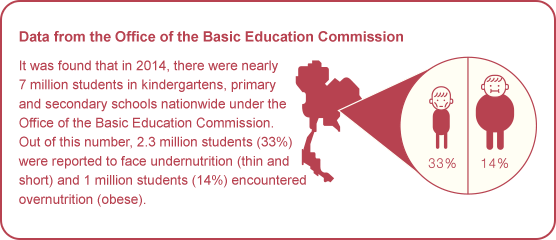 In the ASEAN region, the South East Asia Nutrition Survey (SEANUT 2012) report that
children aged 6 months - 12 years were facing malnutrition
including both a nutritional deficiency and an excessive intake of essential nutrients.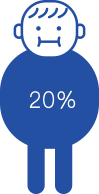 20% of them were overweight or considered obese
due to eating habits and receiving inappropriate amount of nutrients.

While 60-70% of them consumed less essential nutrients than the body requires.
Some children might receive an adequate amount of food but experiened imbalance diet.
*According to research on Thai children sample in 2012

Children and youth are the nation's future and the building block of a strong, stable society. One of the mechanisms driving the future of children and young people in Thailand is
"good nutrition"
, which is fundamental to child growth and development in all areas, especially physical and intellectual
Charoen Pokphand Foods Public Company Limited (CPF) as Thailand's leading agro-industrial and food conglomerate is fully conginzant that nutritional status is particularly important in children and youth. In cooperation with the Rural Lives Development Foundtion under the patronage of CP Group and its employees, the Company has carried out
Raising Layer for Student's Lunch Project in schools
in rural areas since 1990. This project has supported over 110,000 students in 460 schools nationwide to have access to adequate food and better nutrition.
In 2015 the Company collabourated with the Office of the Basic Education Commission, Ministry of Education to initiate and develop
CPF Growing Happiness Growing Futures Project
in order to extend the commitment in building good nutrition among children. The project was aimed to implement during 2015-2019 with the aims to expand learning process, promote an access to quality, safe and nutritious food for over 14,000 students in more 60 schools around our plants and farms, as well as support learning platform development in schools and communities.
The Roadmap to "Growing Happiness, Growing Futures"
Learning
Provide knowledge concerning food production and healthy consumption
Sharing
Promote efficient management of product from the project
Networking
Create learning platform for schools and communities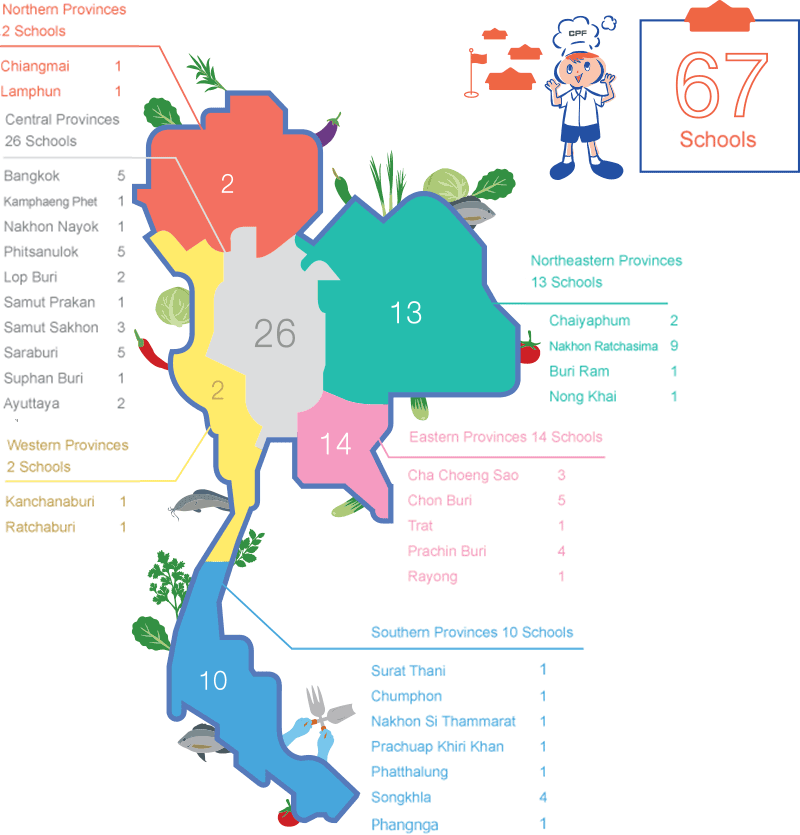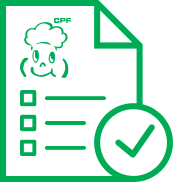 Community Satisfaction Survey
CPF Growing Happiness, Growing Futures Project : Promote an access to quality, safe and nutritious food of Children and Youth. Charoen Pokphand Foods Public Company Limited (CPF) as Thailand