We know that communication and engagement could contribute to happiness at work. Since 2018, CPF has continuously conducted the survey to measuring employee engagement across the organization. The survey results identified areas of strength and areas for development at the organizational and functional levels. CPF has developed an action plan to boost overall employee engagement score, encouraged business representatives to learn survey result interpretation, and engaged them to participate in action plan development. Moreover, the business representatives have been invited to become the "Change Agents" who play an important role in change management process. The change agents support and promote new ways of doing things, communicate the reasons for the change and persuade others within their responsible departments to join the initiatives. Ensuring the success of program is one of the change agents responsible. They have to drive activities and follow up action items that developed in response to factors influencing organizational engagement.
The Result of Employee Engagement Survey 2017 - 2020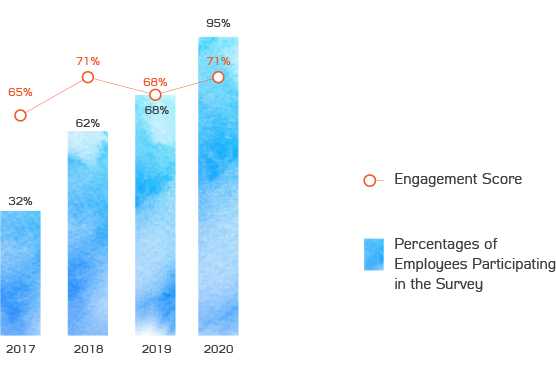 In 2022, CPF expects to raise our employee engagement score from 71% to 74% after launched the series of activities in 2021. The series of activities aim to improve our employee well-being in the workplace under the project named "CPF@HEART" which includes two sub-projects; "CPF WE CARE" and "CPF LOVE&SHARE", with details as follows:
"CPF WE CARE" project pays attention to listening to the feedback of employees by conducting employee engagement survey. We review the result to plan on improving our employee well-being in terms of the workplace environment, career growth, and building CPF as a sustainable organization in the global level. The project includes:
CARE FOR CAREER: putting the right man, in the right job, and upskilling and/or reskilling our human resources to grow professionally.
CARE FOR CULTURE: promoting our corporate culture "CPF WAY" throughout the organization, as well as, encouraging the open for suggestion leadership, and the employee achievement appreciation to and for all employee levels in the organization.
CARE FOR BENEFITS: supporting to build employee awareness and access to employee benefits which can resulting to their happiness to work with CPF.
CARE FOR WELL-BEING: building an organization of happiness because working can go along the way with fun from internal activities and easy to access platforms.
"CPF LOVE&SHARE" project encourages employees to become "Corporate Ambassador" who can show their love to and belief in the organization. The Ambassadors are those who willing to support and protect the corporate branding, to put effort into their works, and to support the improvement of business efficiency. They also have their responsibilities to inform and spread the information about employee benefits to colleagues and for their families, especially through social medias, for example:
Employee Relationship Platform (ERP)
Discounts to buy products and services by companies within CP Group for family members and friends of employees
Love & Share activities on Social Media
CPF Ambassadors
We promote our employee well-being and quality of life in workplace that fits with the current context for all levels of employees. For example, the "Work-from-Home" policy during the COVID-19 pandemic that have been on going for more than 2 years, the policy makes the work more at ease for everyone by the development of the internal systems/platforms. We have been developing systems and platforms to support the work for employees that allow them to work from anywhere i.e. HR-eXp is an internal human resources management system that opens for employee to request for HR services from anywhere and anytime, do not required an access from a CPF's office only like before. E-Signature system is a document management system that also implement e-signature authorization within the process.
In addition, to build workplaces that are friendly to everyone, CPF has provided lactation rooms for nursing mothers to support breast-feeding at work. We provide the facilities within our operation sites and offices to be the areas that our female employees can express milk and store it. The nursing mothers can bring their breast milk home safely and in a hygienic way. We support nursing mothers to be able to continually breastfeeding their children after return from work, especially during the critical nursing period. We believe that, if we can help our employees to fully contribute their maternity, they can also be able to boost their working efficiency, too. In the mean time, employees are eligible to take maternity leaves for doctor visits and delivery according to the law. Furthermore, we arrange activities and communication to raise awareness and understanding on adjusting appropriate work for pregnant employees and on the preparation to become a mother among our employees.
CPF also offers part-time working employment option and provides flexible working hours option to schedule the work by employees themselves. The working options are to provide an alternative for employees to schedule their own working hours that is best for their daily life, and to have more flexibility for employees. The options not only allow employees be able to work on the period that best suite their daily life, but also help to support students to be able to create more income while they are full-time students. They can apply for jobs via the partnership projects with vocational education institutes, at any restaurant branches in CPF's restaurants, or food courts and catering business (also known as Food World). The positions are to work in restaurants, for example, Chester's, Dak-galbi, Farm Factory, or pop-up stores or outlets in an event that CPF participates. The options were adopted due to the business circumstance and context of a highly competitive business. The employment includes the details of wages and benefits in accordance with the laws.
Moreover, we have the working systems that help to support employees for the better work experiences, create encouraging culture, and support engagement between leaders and colleagues which is also important for the organization. The systems also work as a channel to support employees to be happy, proud, and put their effort to become a "Talent", that in line with our corporate values or "CPF Way". The systems were developed from the previous platform that CPF had to allow employees to start giving a compliment to colleagues easier. They work on smartphone and can send a compliment to colleagues right away and at any time. The systems correspond to the working conditions during the pandemic that need to be distanced but also allow employees to continue their good relationships between each other.

(See additional information in the Sustainability Report 2021 in "Self-Sufficient Society" under the ambition: "Lifelong Learning")