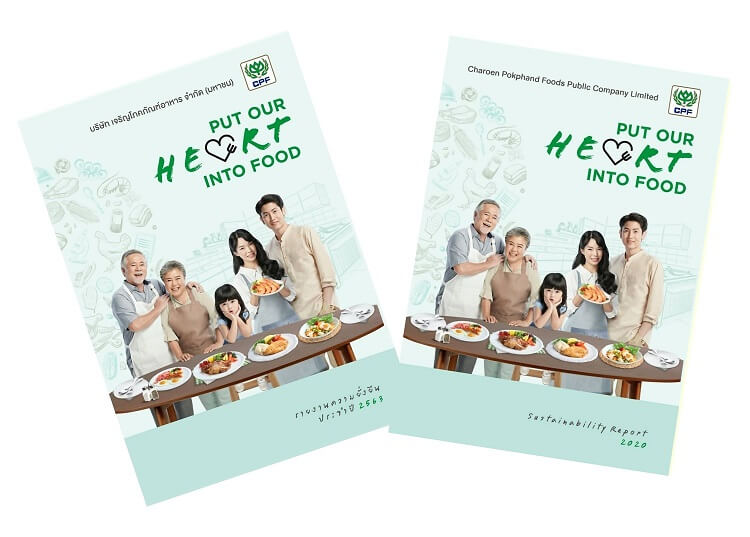 08 Sep 2021
CP Foods wins global sustainability report awards, highlights its excellence in communication
Bangkok -- Charoen Pokphand Foods Public Company Limited (CP Foods) was honoured from the International ARC Awards 2021 to recognize the company's Sustainability Report in 2020 has made an outstanding in disclosure of corporate sustainability development information. CP Foods become the only Thai company in Asia Pacific region to win this prestige awards reflecting the commitment to drive the business towards sustainability.

Mr.Wuthichai Sithipreedanant, senior vice president – Corporate Social Responsibility and Sustainable Development of CP Foods, said that the comapany's Sustatinability Report 2020 granted the global ARC Awards 2021 - silver class in Asia/Pacific's Specialized Anuual Reports in Sustainability Report. This marked CP Foods as the only Thai company and the only ony in South East Asia region to receive the award, emphasizing its report has outstanding disl in term of clarity, creativity and effectiveness.
The ARC Awards has come under Mercomm Internatonal Awards Programs established by MerComm Inc. to honour worldwide organizations create the standard of excellence in the communications fields and to recognize the organizations whose work has made an outstanding annual report or sustainability report with clearity data and efficient disclosure, creativity and design
"CP Foods are prouded of this award which emphasized the effectiveness of the communication of our Sustainability Report with creativity, clarity and covered information. These showed the company's commitment on sustainable operation and also encourage all of its stakeholders throughout the supply chain to learn more on the value of the sustainability," said Mr. Wuthichai.
Mr.Wuthichai added that this award has been considered by independent experts in communication, economy, technology from around the world with blind judgement. The final round will be decided by executives from MerComm by cutting score in line with award's criteria. The winner must have the score higher than 70%./